Sundried Tomato, Olive, Pesto & Almond Cheese Terrine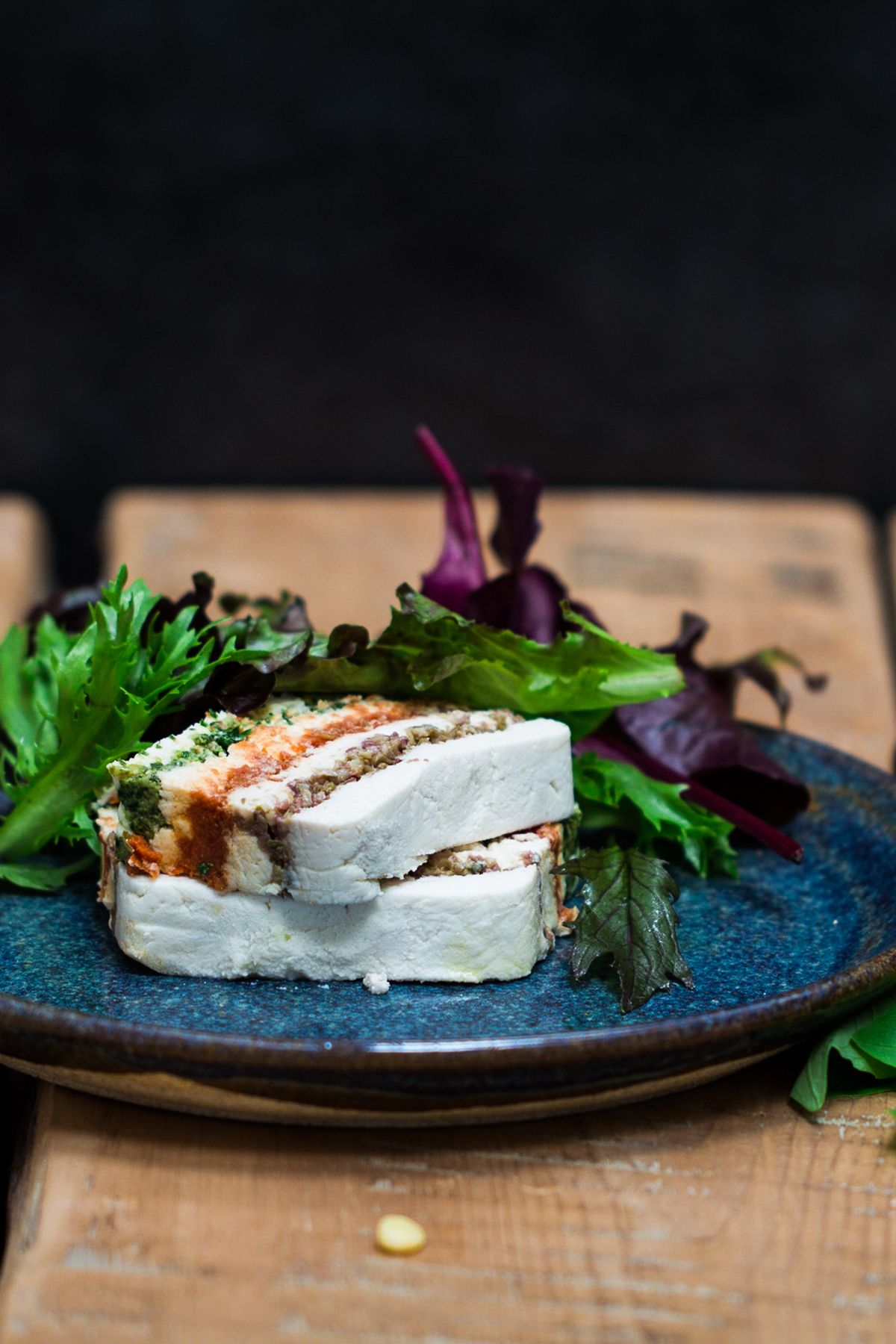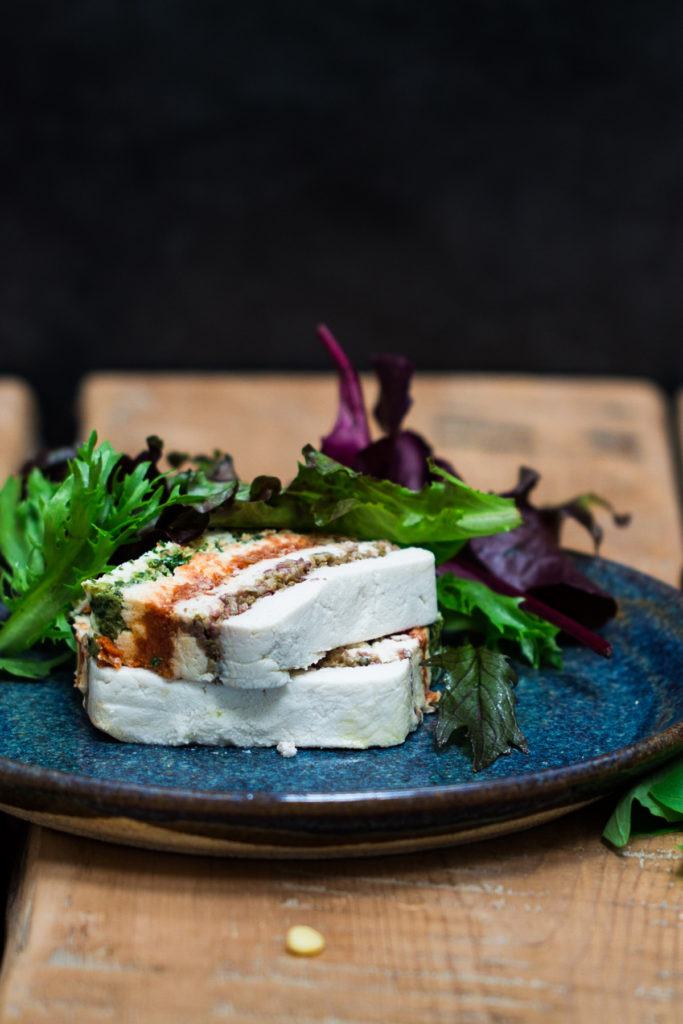 There's a few steps to this one, but it's oh so worth it. Especially if you're going to a potluck (I won a prize at my very first potluck for the best dish, before I was a chef, with something similar to this), or having some friends over for dinner to show them what you can do.
If you want to make a simpler version, you could leave out the tapenade, leaving the sundried tomato and pesto layers, which are so full of flavour themselves, you'll have an equally gorgeous dish on your hands.
Depending on the size of tin you use, you may well have some leftover, which is never a bad thing. Making up a salad of the leftovers, with some greens and maybe a little avocado and spiralised veg would be a fantastic little lunch. Or maybe this Butter Lettuce Salad.
Rate This Recipe
Sundried Tomato, Olive, Pesto & Almond Cheese Terrine
The almond cheese terrine is great for dinner parties, or when you want to do something really special.
Nutrition (For one serving)
Calories:
348
kcal
Carbohydrates:
16
g
Protein:
11
g
Fat:
30
g
Saturated Fat:
3
g
Sodium:
678
mg
Potassium:
660
mg
Fiber:
7
g
Sugar:
6
g
Vitamin A:
669
IU
Vitamin C:
10
mg
Calcium:
121
mg
Iron:
3
mg
Ingredients
Almond cheese
2

cups

almonds

soaked for 8 hours and peeled

1

cup

water

1

tsp

probiotics

3/4

tsp

salt

2

tsp

nutritional yeast
Pesto
1

cup

basil

1/3

cup

pine nuts

2

tsp

olive oil

1/4

tsp

salt

1

tsp

lemon juice
Sun-dried tomato pesto
1/2

cup

sun-dried tomatoes

1

clove

garlic

3

tbsp

onion

chopped

2

tsp

balsamic vinegar

or sub for apple cider vinegar

3

tomatoes

medium size

2

tbsp

olive oil

1/4

tsp

salt
Olive tapenade
1/2

cup

black olives

1/2

cup

green olives

1

tbsp

capers

optional

1

clove

garlic

1

tsp

olive oil

1/2

tsp

lemon juice

1/4

tsp

black pepper

or to taste
Instructions
Almond cheese
The easiest way to peel almonds is to boil water in a kettle, then transfer to a bowl with the almonds in and leave for a minute or so. That way the skins will come off easily.

Blend the almonds and probiotics with water in a high-speed blender until smooth.

Place the mixture in a nut milk bag, in strainer with some kind of weight on top, such as a glass jar filled with water.

Cover with a tea towel and leave to sit at room temperature for at least 24 but no longer than 48 hours.

Once culturing is complete stir or process with salt and nutritional yeast
Pesto
Pulse all ingredients in a food processor until broken down, but leave some texture to the finished pesto.
Sun-dried tomato pesto
Blend all ingredients in a highspeed blender until broken down, but still a little chunky.
Olive tapenade
Grind everything in a food processor, without making the pieces too small.
Assembly
Line a small loaf tin with baking parchment cut to size. Most terrine recipes will use plastic wrap for this, but I'm not keen on having plastic wrap touch my food, because of the chemicals on the plastic.

Start at the bottom of the pan with some cheese. You will be doing 4 layers of cheese, so it's a great idea to split all the cheese you have into 4 equal parts.

Next spoon in the olive tapenade, then more cheese, then the tomato, more cheese, pesto, and then the final layer of cheese.

Place in the fridge for 24 hours to firm up, ready to cut and serve.

Serve with a nice simple green leaf salad.

This will serve 6 to 8 people, and will keep in the fridge for up to 5 days.