Ambrosia Fruit Salad Breakfast Bowl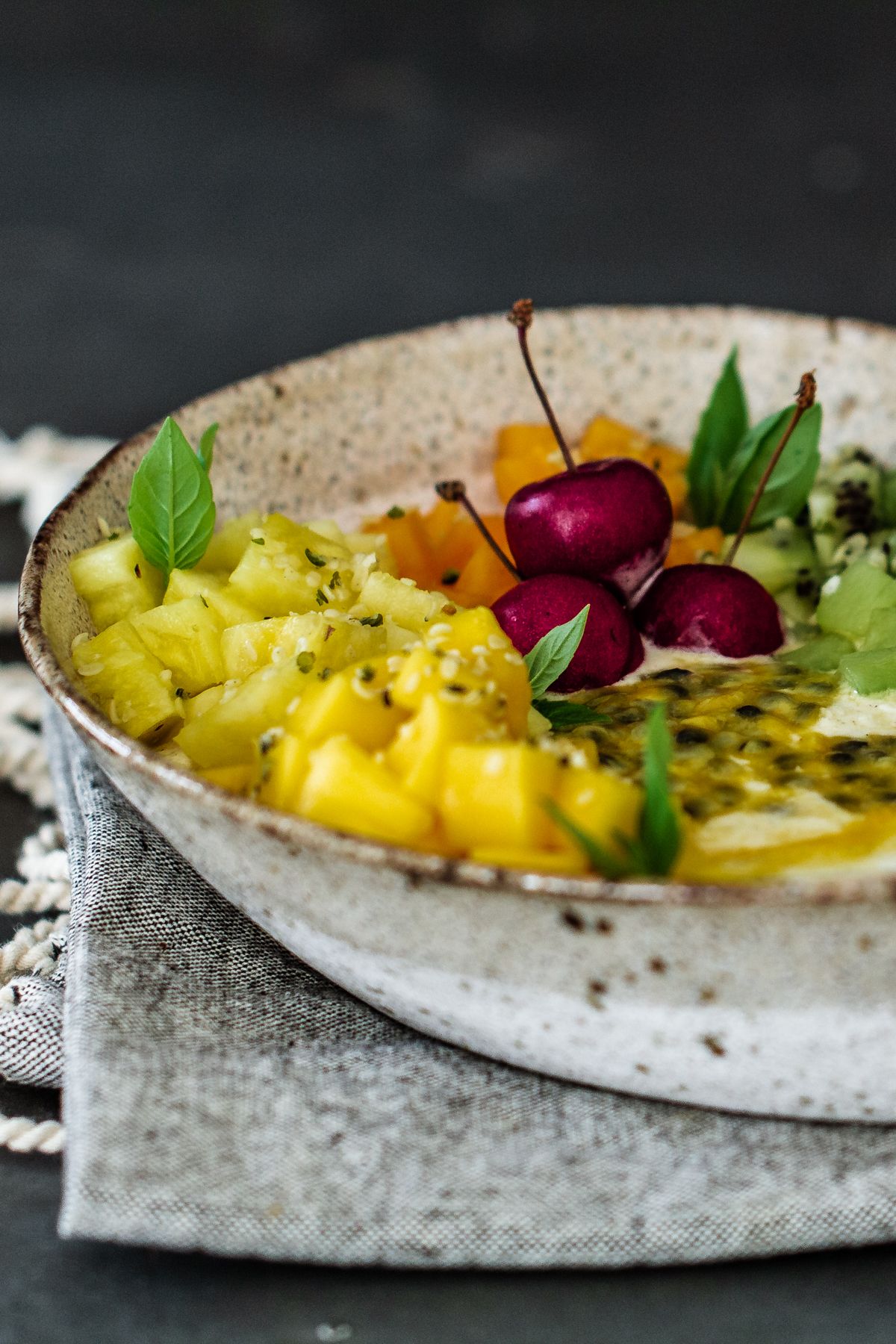 Ambrosia fruit salad can come in many different varieties. This one is our healthy version.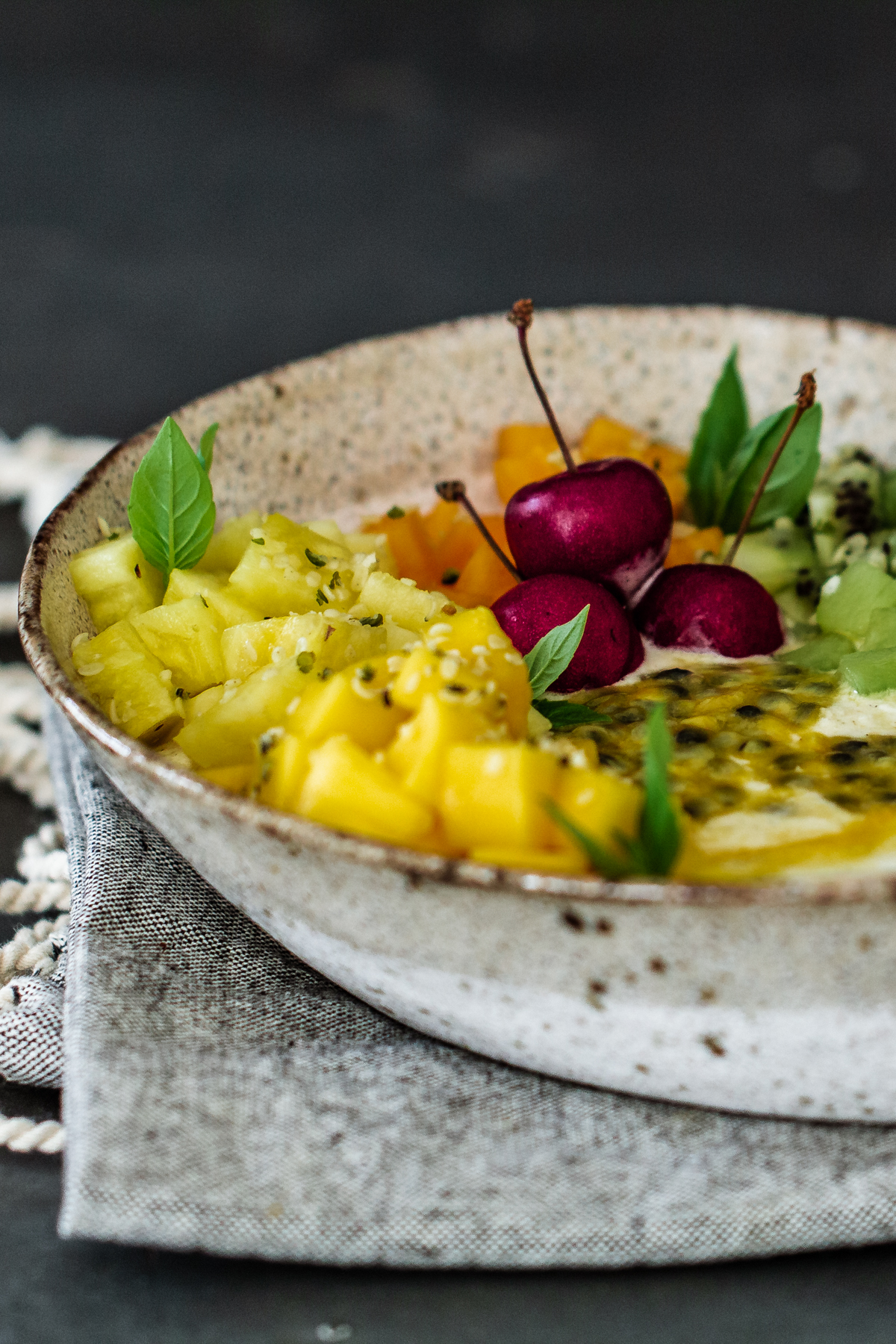 This recipe is the first in our One Day Raw Food Menu Mini-Series, where we're giving you ideas for one day's worth of raw food eating.
So what on earth do raw foodies eat for breakfast? Before we get into this fantastic recipe, I've got a list (with links) of our 5 Most Popular Raw Vegan Breakfasts here. You can also download them as an eBook in our Free Stuff section.
This raw food breakfast idea is so delicious and dare I say luxurious (but so simple) that it really does highlight how healthy eating should be totally delicious too.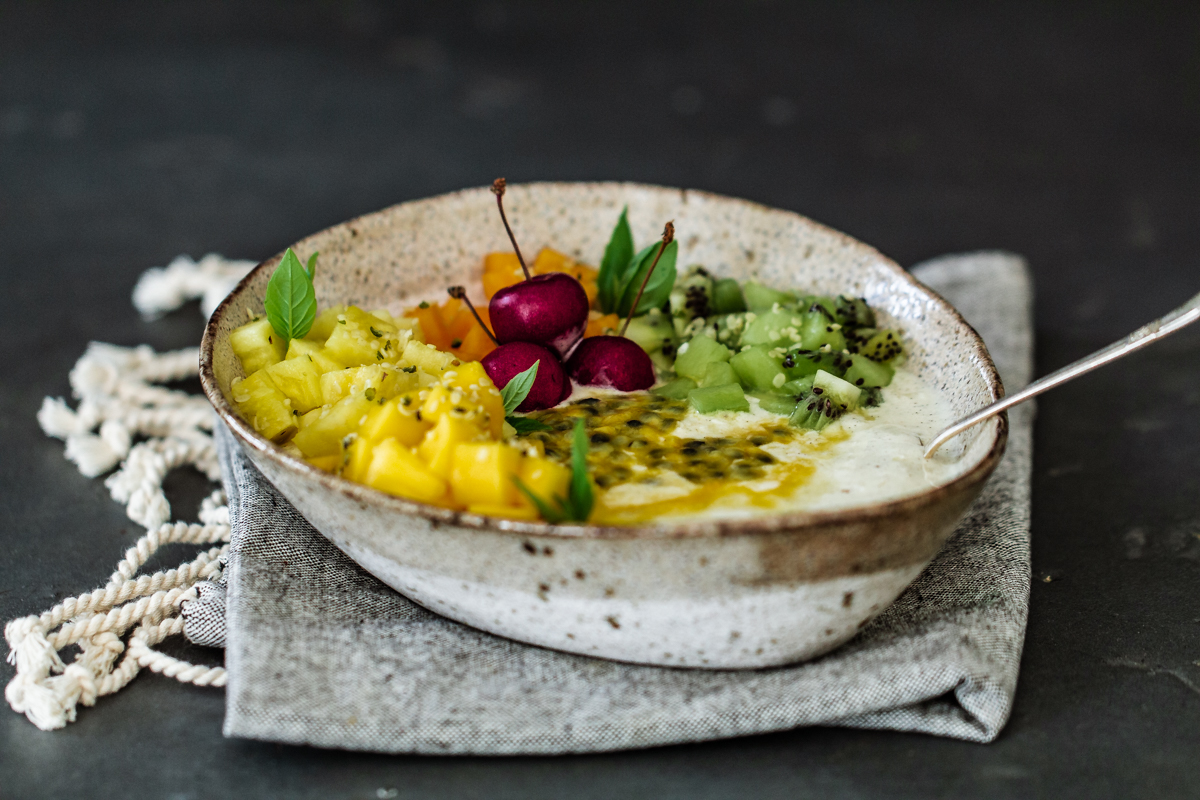 Ambrosia Fruit Salad Ingredients
The video has slightly different topping ingredients to the version pictured. That's the beauty of this breakfast though; it can be tailored to your tastes and seasonality.
Frozen bananas: This makes 'nice-cream'. Make sure they are peeled and sliced before freezing, so they can be blended easily. You could also use pineapple or mango for this. Mango is pretty easy to find already frozen in chunks.


Coconut yoghurt: You can use whichever yoghurt you prefer. We have a video on how to make coconut yoghurt.


Vanilla Pod: Go organic of you can. They're the second most expensive spice, so I know it can be a stretch to put whole one in breakfast, so use vanilla paste or extract if you want.


Desiccated coconut: coconut flakes might also be nice here.


Sliced Fruit: You can use whatever fruit you want here. It's a great idea to go seasonal too. We've used. .



Pineapple. If you're using this for the nice-cream, then you'll probably want to use something else in its place here.


Mango. Keeping it tropical and summery, diced mango is always nice when you get a ripe one. Again, if you used this for the nice-cream, substitute for something else here.


Kiwi. Did you know that you can eat the kiwi skin too? I'd only do that if you get organic.


Persimmon (Sharon fruit). There are different varieties of persimmon. I like the ones that go really soft when ripe.

Nectarine or peach. Ripeness is the key here.


Passion fruit. We used the fruit inside to drizzle over the top of the nice-cream.

Cherries. We left them whole with the stalks on, to add a bit of interest.

Mint. Some very small mint leaves can will visual interest, but also tastes great with the fresh fruit.
How to Make Ambrosia Fruit Salad Breakfast Bowl
Here's the basic overview for making an Ambrosia Fruit Salad Breakfast Bowl. Be sure to refer to the full recipe for more in depth instructions.
Start by getting your fresh fruit cut into chunks. That way you're ready to go when the nice-cream is done and it won't melt before serving.

To make the nice-cream, blend the frozen bananas (or mango or pineapple), vanilla and yogurt in a high-speed blender. You can also do this in a food processor.

Once smooth, stir in the desiccated coconut by hand.

Transfer the nice-cream to a bowl, drizzle with the passion fruit and top with your prepared fruit to serve immediately.
Ambrosia Fruit Salad Breakfast Bowl FAQ
What is ambrosia fruit salad made of?
Traditionally it's made from coconut, pineapple and oranges, but we're taking some artistic health licence here. Banana nice-cream (or mango, or pineapple) form the base with coconut, with a host of other fruits on top.
Can too much fruit be bad for you?
Excessive sugar can be bad for you, but that doesn't mean that fruit is bad. Fruit is a whole food containing sugar and, critically, the fibre. Fruit is therefore processed differently than sugar by the body."
Rate This Recipe
Ambrosia Fruit Salad Breakfast Bowl
Ambrosia fruit salad can come in many different varieties. This one is our healthy version.
Nutrition (For one serving)
Calories:
458
kcal
Carbohydrates:
96
g
Protein:
8
g
Fat:
10
g
Saturated Fat:
7
g
Cholesterol:
4
mg
Sodium:
46
mg
Potassium:
1504
mg
Fiber:
20
g
Sugar:
57
g
Vitamin A:
2060
IU
Vitamin C:
127
mg
Calcium:
83
mg
Iron:
3
mg
Ingredients
3

bananas

(peeled & frozen)

¼

cup

coconut yoghurt

½

vanilla pod

(scraped)

¼

cup

desiccated coconut

1

kiwi fruit

1

persimmon

½

mango

½

cup

pineapple

6

cherries

1

nectarine

(or peach)

2

passion fruit
Instructions
Cut the kiwi, persimmon, mango , pineapple and nectarine into fairly small cubes and set to one side. If you're making this at a time of year when these fruits aren't in season, simply substitute with any of your other favourites.

Blend the bananas, coconut yoghurt and vanilla in a high speed blender until smooth.

Stir in the coconut by hand.

Transfer to a bowl and top with the fresh fruit.
Video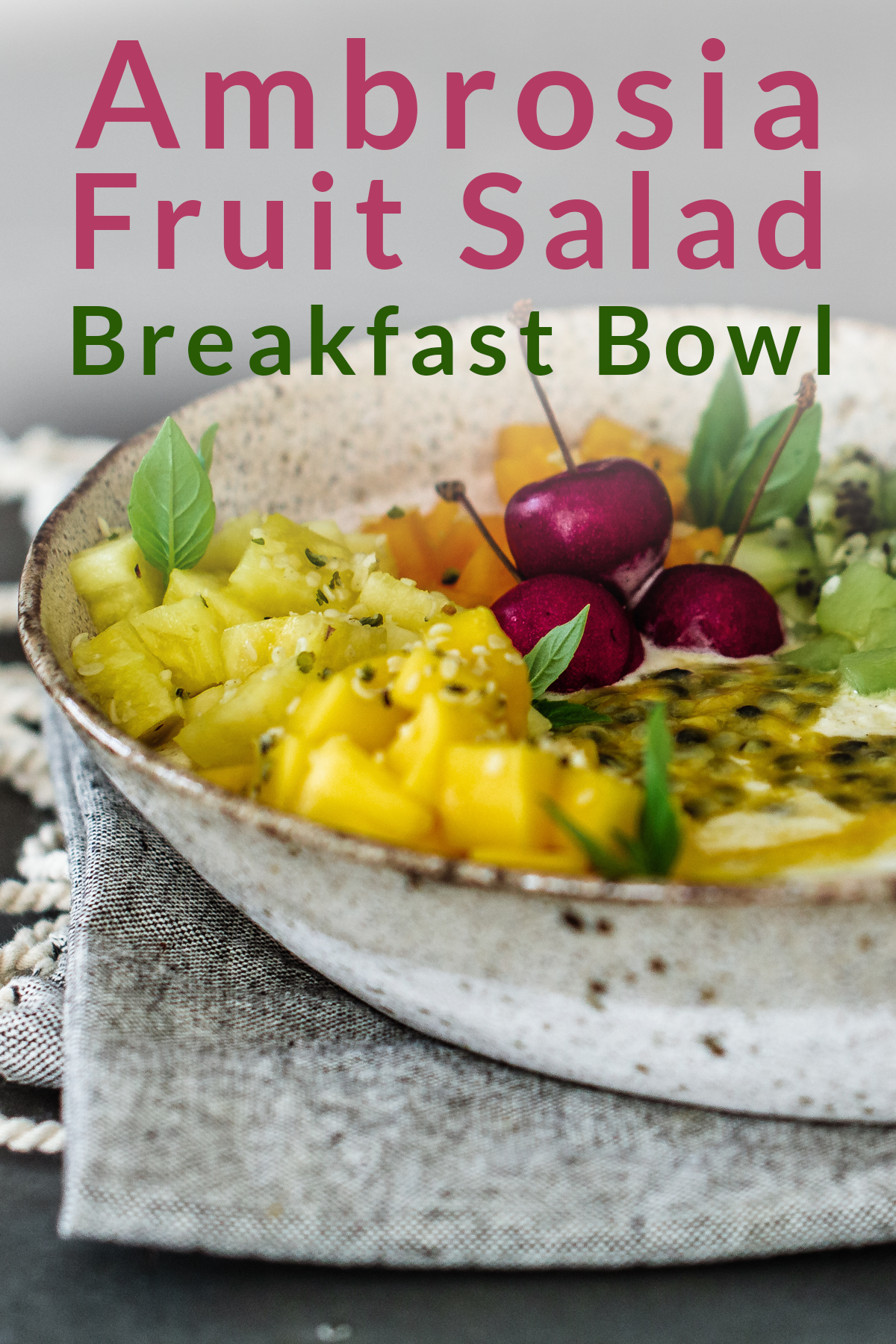 This is exactly the type of recipe you'll find in our Weekday Raw online course. Weekday Raw is all about simple raw food recipes that are easy enough for week days. Click here to find out more.