BBQ Corn Salad with Coleslaw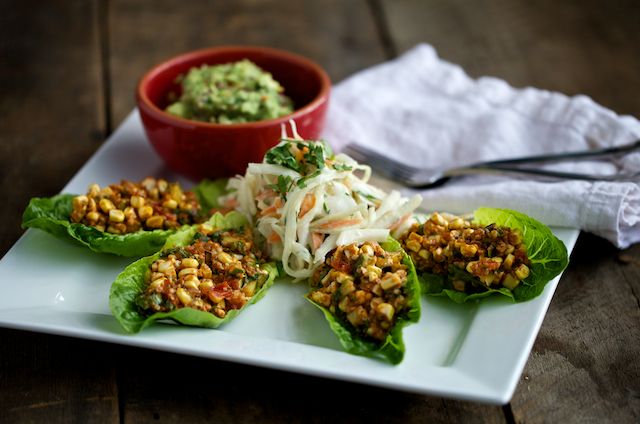 Rate This Recipe5 from 3 votes
BBQ Corn Salad with ColeslawThis corn salad is so delicious with BBQ sauce and a coleslaw on the sideServings3
Nutrition (For one serving)Calories: 514kcalCarbohydrates: 31gProtein: 20gFat: 37gSaturated Fat: 4gSodium: 1010mgPotassium: 864mgFiber: 7gSugar: 15gVitamin A: 6300IUVitamin C: 52mgCalcium: 117mgIron: 9mg
BBQ sauce
1/2 chipotle soaked
1/4 cup water soaking from chipotle peppers
1 1/2 tsp olive oil
1 1/2 tsp tamari
1 1/2 tsp apple cider vinegar
1/2 tsp paprika
1/2 tsp cumin
1/4 cup sun-dried tomatoes
2 dates soft
1/2 tomato Roma
1/4 tsp salt
Corn salad
2 cobs corn organic
1/2 cup cucumber deseeded & diced
1/2 cup tomato diced
1/2 cup hemp seed hulled
2 tbsp lemon juice
1/2 cup parsley
1/4 cup mint
1/2 tsp salt
2 tbsp extra virgin olive oil
1/4 tsp red chili flakes
2 tbsp red onion
Coleslaw
1/2 cup cashews
1/4 cup water
2 tbsp apple cider vinegar
1 1/2 tsp honey or desired sweetener
1/4 tsp salt
1 cup cabbage shredded
1/2 cup carrot shredded
1/2 cup parsley or coriander (cilantro), chopped small
Instructions
BBQ sauce
If you find chipotle chilies too hot, remove the seeds for this part of the recipe. Also, if you're using harder dates, you'll want to soak them for an hour or so, especially if you haven't got a really strong blender.
Blend all ingredients in a high-speed blender until reasonably smooth. If your blender gets stuck, add a tiny bit more soak water from the chipotles to help it along. Leaving it a little chunky is also okay.
Set this to one side whilst you work on the corn salad, which you'll combine with this sauce.
Corn salad
Cut the corn from the cob into a bowl, and add the rest of the ingredients. You can add some of your BBQ sauce to this straight away, or the flavours will meld nicely if allowed to refrigerate overnight, but it isn't a necessity.
You'll have some BBQ sauce left over, which will make an amazing salad dressing, lasting for about 3 to 4 days in the fridge. Or you can use the BBQ sauce for kale chips.
Coleslaw
As with the BBQ sauce, if you don't have a really strong blender, you'll need to soak some of the harder ingredients. In this case it's the cashews — just soak them for 20 to 30 minutes and they'll be much softer to blend.
Blend all ingredients except the shredded cabbage, carrot and herbs.
With the herbs chopped and the carrots and cabbage shredded into a bowl, add the blended cashew sauce and mix well by hand.
Serve in small lettuce leaves or just together in a bowl with some leaves as a salad, along with some guacamole.
Related: More Raw Salad Recipes