Chia Pudding with Almond Milk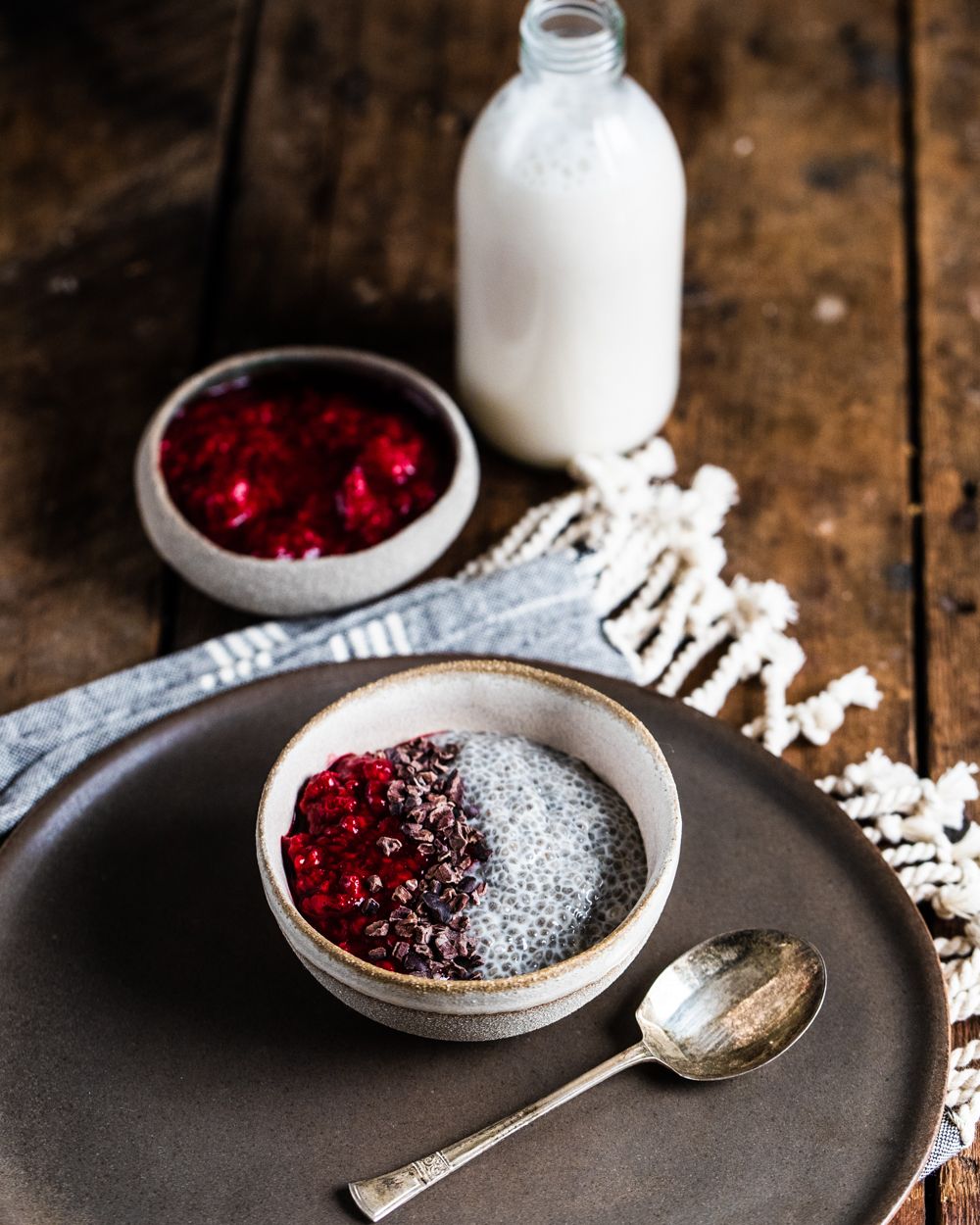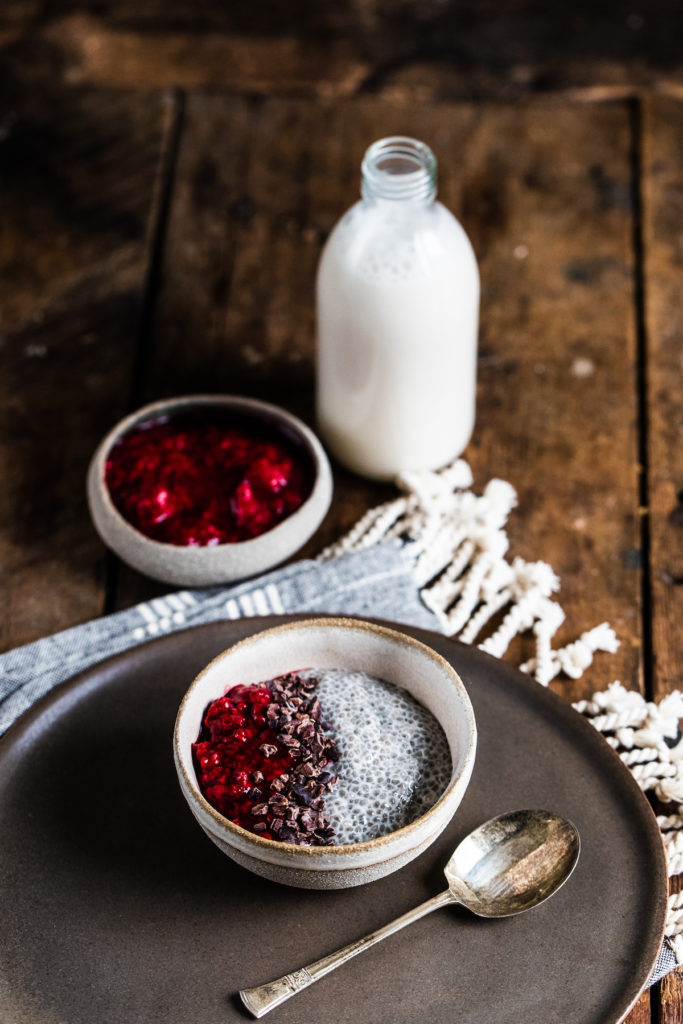 Chia Pudding for Breakfast
Chia pudding always hits the spot for me, and it's becoming really popular.  It can be really simple to make, and with a couple of special touches, it can be elevated to the most delicious breakfast.  What are those special touches?  Dried fruit, fresh fruit, cacao nibs or coconut flakes are all really nice touches.
The recipe you'll see below is for the base Vanilla Chia Pudding, to which you can add these optional extras.  When you mix the chia with the almond milk, you'll find that it needs about 30 to 60 minutes to come together in a nice pudding consistency.
You can also make this the night before, so it's pretty much ready to go for breakfast in the morning, when you might not have as much time.
Chia Pudding Ratio
Apparently chia seed can swell up to 10 times its size when mixed with liquid.  But what is the correct ratio?  Well, it depends on what consistency you're looking for.  here's a rough guide:
1/2 cup chia to 2 cups milk – thick and creamy pudding, especially if you're using fattier milks such as coconut milk.
1/2 cup chia to 3 cups milk – that's what I've used for this recipe, which is a nice middle ground consistency.
1/2 cup chia to 4 cups milk – this will give you a much looser chia pudding, to which you might even want to add oats.
Almond Milk
You don't have to serve this with almond milk, it is great with any non-dairy milk.  Whatever milk you serve it with though, I recommend making it yourself.  It's so much nicer homemade.  Here's a tutorial I did on How to Make Almond Milk.
Rate This Recipe
Chia Pudding with Almond Milk Recipe
Vanilla Chia Pudding is a wonderfully simple and delicious raw food breakfast recipe that can be eaten on its own, or you can add fresh fruit, dried fruit, or other things such as cacao nibs or coconut flakes.
It can also be prepared the night before and left in the fridge.  In the morning you can then add a little almond milk and you're ready to go with a delicious and nutritious breakfast.
Nutrition (For one serving)
Calories:
286
kcal
Carbohydrates:
26
g
Protein:
8
g
Fat:
17
g
Saturated Fat:
1
g
Sodium:
514
mg
Potassium:
195
mg
Fiber:
15
g
Sugar:
6
g
Vitamin C:
1.7
mg
Calcium:
729
mg
Iron:
3.3
mg
Ingredients
3

cups

almond milk

1/2

cup

chia seed

1

teaspoon

vanilla powder

1

tablespoon

maple syrup

or honey

1

pinch

Himalayan salt

1

teaspoon

lemon juice
Instructions
Whisk all of the ingredients together in a bowl and leave to stand for 30 to 60 minutes.

This can also be made the night before, left in the fridge and enjoyed in the morning. If you're doing that, you might want to add a splash of almond milk to loosen it up before eating.

Optional: Serve with thawed from frozen blended berries, and/or dried fruit such as mulberries. Cacao nibs are also really nice for this, as are coconut flakes.

Will keep in the fridge for up to 4 days.
Video
Related: Chia seeds and chia pudding have become so popular in recent years because the seeds themselves are so nutritious.  They offer a massive amount of nutrients, without many calories.  Check out the 11 Proven Benefits of Chia Seeds.