How to dehydrate in an oven
In this post we'll show you how to dehydrate in your oven. Dehydrating opens up a whole lot of exciting new raw food recipes, but you may not want to buy a dehydrator straight away. That's why we wanted to show you how to dip your toe and use your oven as a dehydrator.
One of the most common questions I get asked in classes and online is, "can I dehydrate in an oven?"
The short answer is, "yes, but how you do that depends on your oven".
How a dehydrator works. . .
A dehydrator dries food with airflow. There is a heater element behind the fan, but it's not even close to the output of an oven.
When using an oven instead of a dehydrator, you'll get best results with a fan assisted oven.
Aside: you can actually get ovens with a dehydrator function now. Miele do one, but to see what's available in your country, do a search for 'oven with dehydrator function'.
For raw food, we don't want to go above 116F (47C) as that's where the most fragile of the nutrients are reported to get affected.
There are some dehydrators that are specifically for raw food, but most dehydrators are designed with other foods in mind too, so will go up to 155F+. You'll need to watch your settings.
This translates if you want to dehydrate in an oven. If your oven goes down to 116F and it has really good airflow, you're all good.
To the extent that your oven deviates from that will determine adjustments you make in time.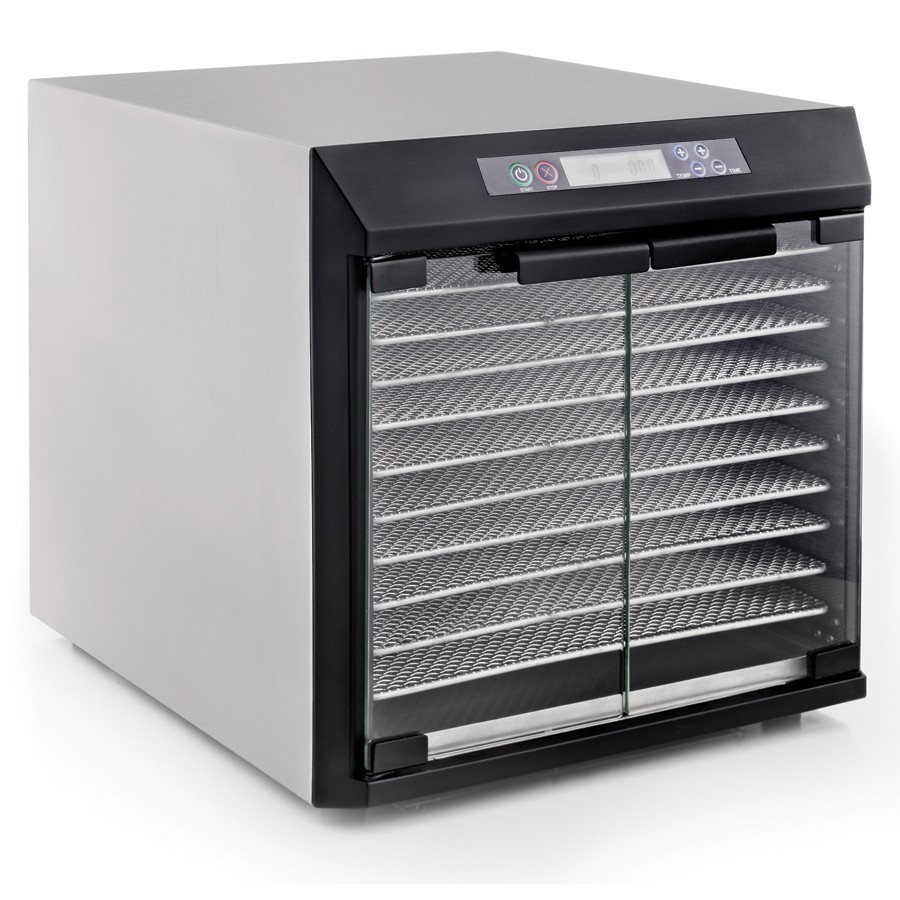 How to use your oven to dehydrate
If you're just getting started with raw food and want to try some dehydrated foods before investing in a dehydrator, by using your oven, read on.
Here's a few possible scenarios. . .
You have a fan assisted oven, but it only goes down to 170F / 80C.

In this case, you might want to consider leaving the door slightly open to get a cooler temperature. Your total dehydration time is going to be a lot shorter than the recipes states for a dehydrator, so you'll need to keep an eye on it.


You have a fan assisted oven that goes down to 116F / 47C.

You should potentially be able to dehydrate very similar to a dehydrator. Different ovens have varying degrees of efficiency though, so you'll still need to keep an eye on it.


You have a fan assisted oven somewhere in the middle of the two examples above.

This really comes down to trial and error. Start with leaving the door slightly ajar and check on it regularly.
As you can see, with all of these options, keeping an eye on it is key.
A dehydrator uses very little power, so you can leave it on for 12 hours and walk away, leave the house, do whatever. You really do't need to worry.
If you want to see all of my current kit recommendations, including dehydrators, click here.
How to dehydrate in an oven FAQs
Can I use an oven as a dehydrator?
Yes! That what this whole article is about 🙂 The main takeaway is that you need some kind of fan assisted oven. The efficiency of the fan and how low the temperature of the oven goes will determine how you need to adjust the timing in the recipe Vs using a dehydrator.
What's the difference between a dehydrator and an oven?
A dehydrator is typically much smaller than an oven and a lot less powerful, since it works at much lower temperatures. Dehydrators are very simple units with a fairly low power heater element and a fan. We use them in raw food to apply some heat (under the raw temperature of 116F / 47C which enables us to make things like raw breads, crackers and wraps.
Are dehydrators expensive to run?
No. Clearly energy costs vary a lot around the world, but a rough guide would be to say that it costs £1 / $1 to run one for 12 hours.
What's the best temperature to dehydrate foods?
For raw food 116F / 47C is the maximum temperature suggested. We tend not to dehydrate under that temperature either, so it's really simple, just keep it at 116F and adjust the time as needed. You can't burn food at this temperature. The worst that could happen is that you end up with something too dry.