How to Make Irish Sea Moss Gel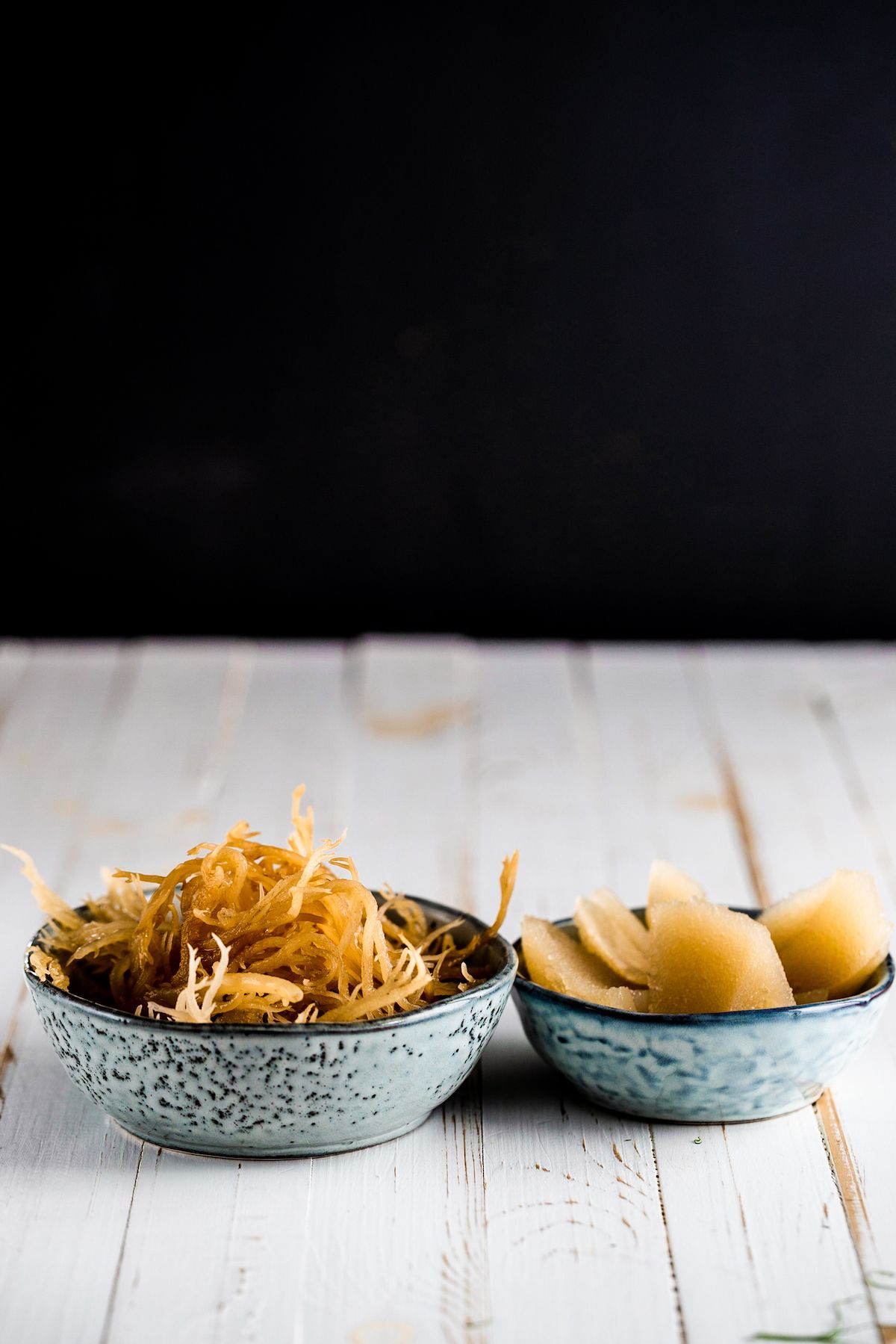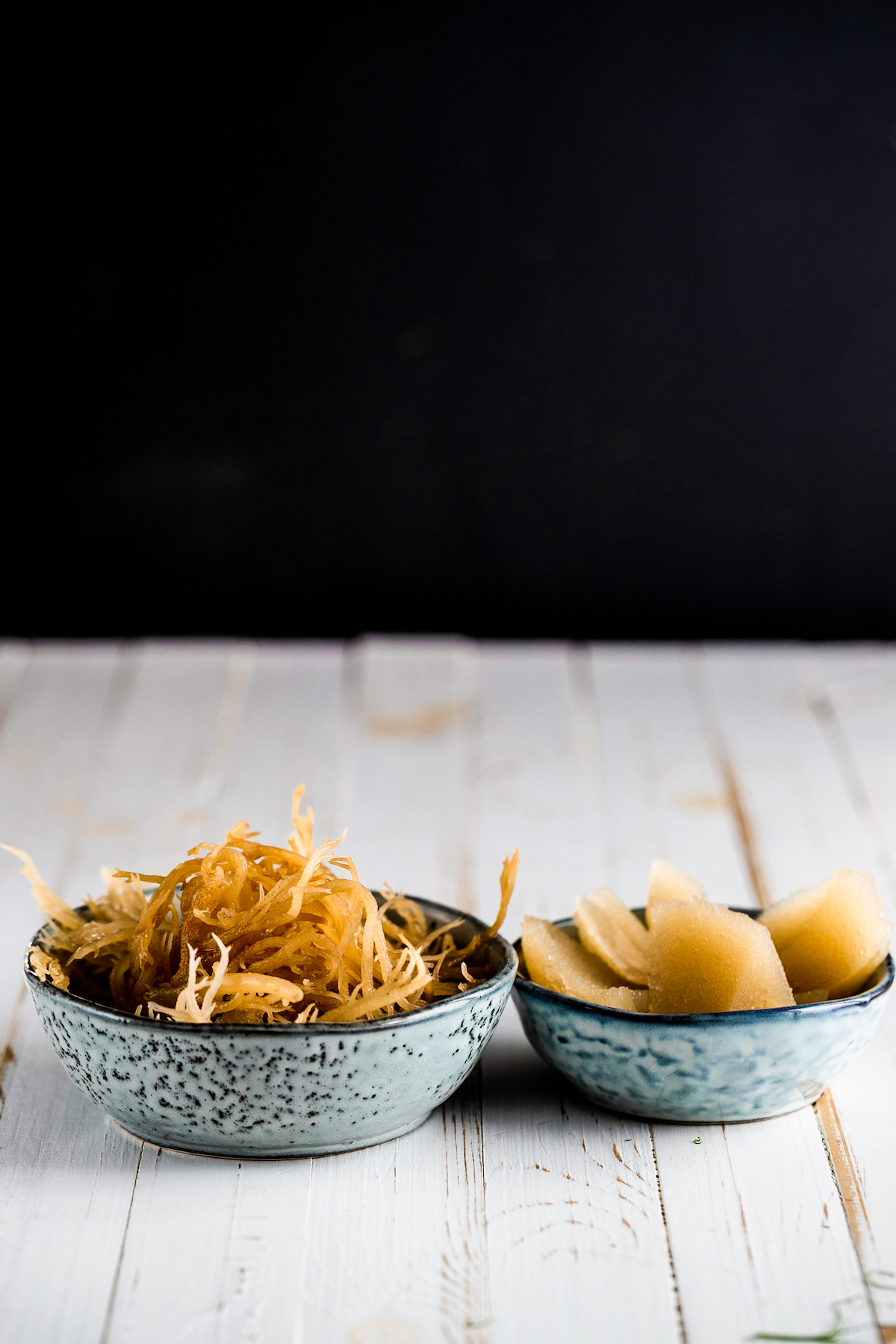 Irish Sea Moss Gel
Irish sea moss is great in raw food recipes, such as raw breads, desserts and smoothies.
It will allow you to replace a small amount of nuts in some recipes, such as raw cake recipes, or raw bread recipes. PLUS it has the added benefit of giving some spring to those recipes.
Over the coming weeks, I'll be using this Irish moss gel to add to a variety of raw food recipes, so you can see how to best use it.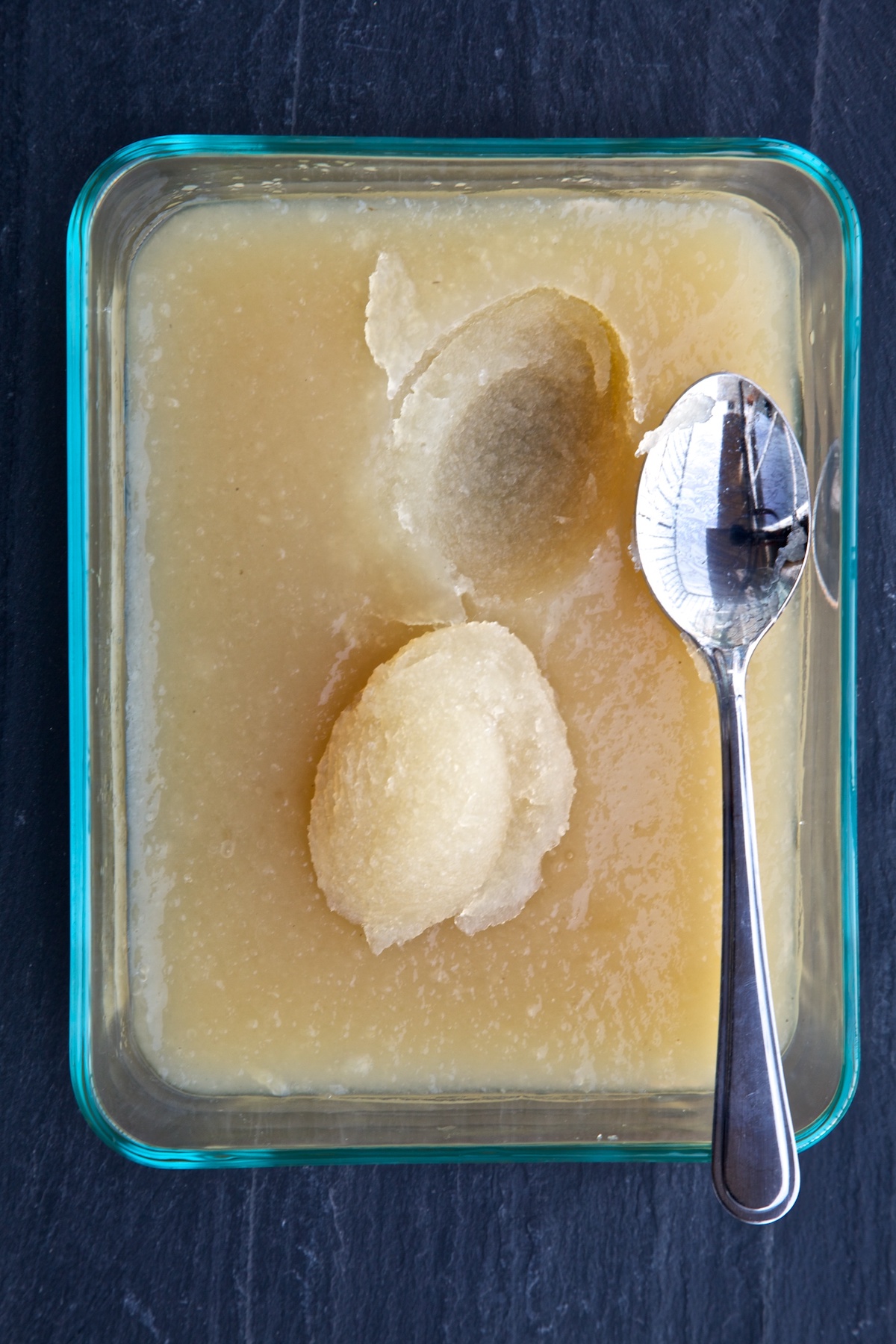 Is Irish Sea Moss Safe To Eat?
Every time I post a reference to sea moss, I get told that it's unhealthy. So here's the lowdown. . .
There is, quite rightly, some concern that carrageenan is unhealthy. Carrageenan is a compound within Irish sea moss. Carrageenan has shown up in studies as being inflammatory to the bowel, a cause of bloating, irritable bowel syndrome and even as carcinogenic.
Related: Is carageenan safe to eat?
These studies are based on animals. No human studies have been done. These studies focus on degraded carrageenan being the issue. There's no evidence that food grade carrageenan becomes degraded by stomach acid, as some claims suggest.
Having said all of this, if you are suffering from any type of bloating or IBS, then it would be highly recommended to remove carrageenan from your diet to see if anything changes. Scientists call this anecdotal. I call it knowing your own body.
However, with all this said, the biggest point of note here is that carrageenan is just one concentrated compound with Irish sea moss. The sea moss itself is a whole sea vegetable.
For me, it's similar to comparing soy protein isolate – of which there have been some health concerns – to edamame, which I consider to be a completely healthy vegetable when eaten whole. In fact, Irish sea moss eaten as a whole food, like the sea moss gel I'm about to show you how to make, can be soothing to the digestive tract, because of its gelatinous consistency.
Sea Moss Benefits
Irish moss contains 92 of the 101 minerals we currently know our body needs. This makes is very beneficial to bones, hair, skin and nails.
Not only will eating it help your hair and skin, but you can apply it directly to both. A quick search will show up hundreds of natural hair and skins masks using Irish moss gel.
It's high nutrient concentration makes it great for energy and libido.
It's helpful for weight loss because it will help you feel less hungry
Sea Moss Drink
Traditionally a Caribbean sea moss drink is made with Irish sea moss gel, milk, vanilla and maybe even some alcohol and peanuts. I will be posting a sea moss drink, actually more of a sea moss smoothie, very soon.
Until then, if you want to have a play, I would suggest a couple of tablespoons of sea moss gel with some coconut milk, vanilla, sweetener of choice, nutmeg and cinnamon.
Look for the Caribbean version
Unless you live near a Caribbean store, you're going to need to buy Irish sea moss online. There's a distinction to be made here between the Irish moss found in Ireland and the Caribbean Irish moss. It's the latter you're going for. You can see in the picture (above) and video (Below) that Caribbean Irish moss is plump and springy.
Irish moss from Ireland is much more brittle, thin and not as great to use. I've yet to be able to make a successful gel with cooking this type.
You have the advantage if you're in the US that it's much easier to get. I've seen it on Amazon and Etsy. If you're in the UK and Europe, you're more than likely to have to buy it in from the US. For that reason, I suggest getting a few packs. The one you see me use in the video is only a small pack, so I got 6 of them from Amazon US.
If you have a source for Caribbean Irish moss in the UK or Europe, please do post it in the comments, so everyone can benefit. Same goes for our friends in Australia and New Zealand.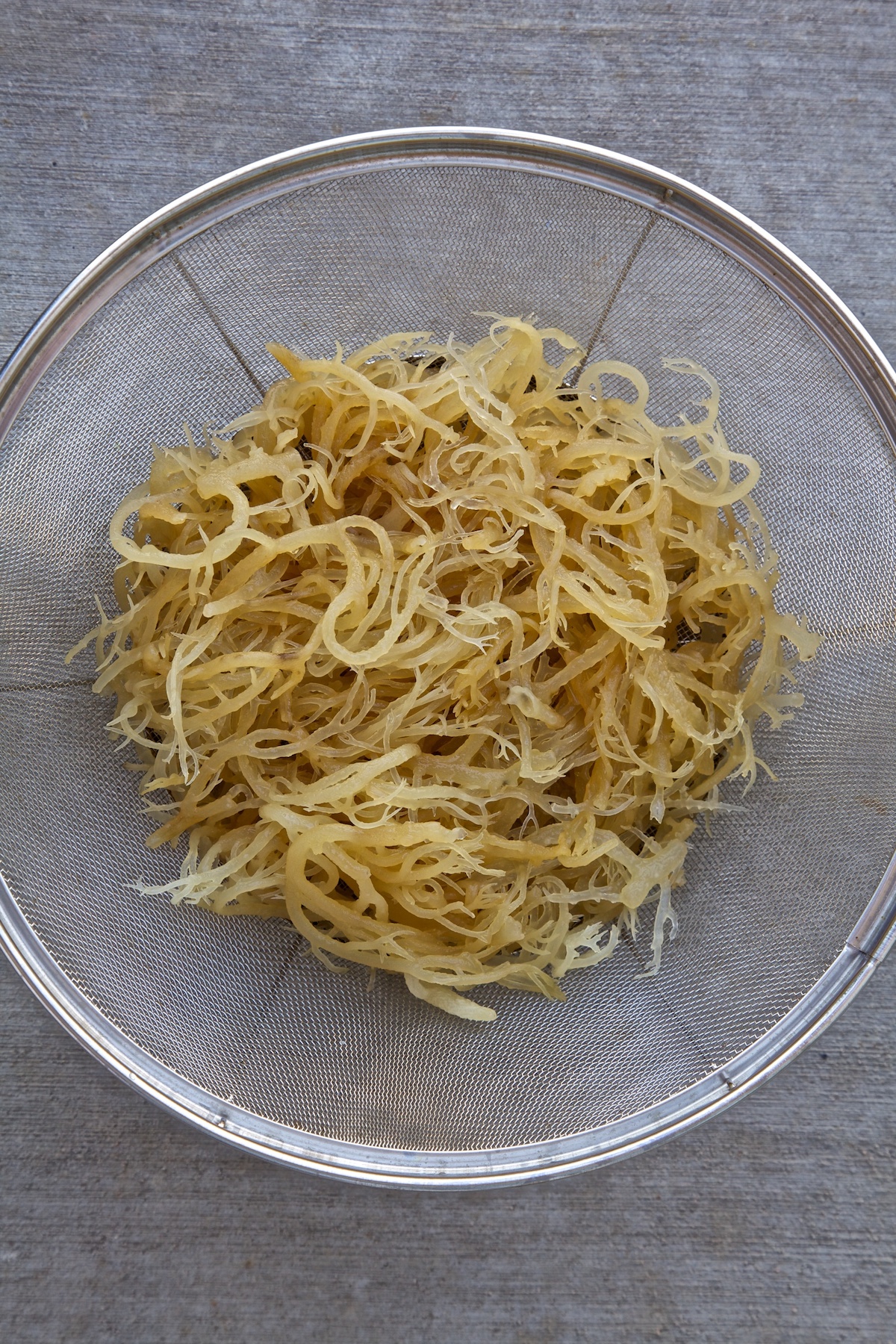 How To Make Irish Sea Moss Gel
The recipe and video below will show you in clear and simple steps how to make Irish sea moss gel. Here's an overview on how to prepare sea moss:
Prepare the sea moss by soaking it in water until it plumps up.

Rinse the sea moss with water until it runs clear.

Blend the sea moss with water until it goes smooth.

That's all you need to do to prepare sea moss for a variety of uses!
I've stored this for up to 2 weeks without any issues. If you plan to keep it beyond that, I would suggest freezing it. Pro tip: freeze it in an ice cube tray, so you can pop a couple out at a time when you need it.
Rate This Recipe
Irish Sea Moss gel
How to make Irish sea moss gel for use in drinks, raw cakes, and raw breads.
Ingredients
1

cup

irish moss

tightly packed

3/4

cup

water
Instructions
Soak the sea moss overnight.

Rinse with water until the water runs clear.

Blend Irish moss and water in a high-speed blender until smooth.

Pour into a jar, using a jam funnel if needed.

Place into the fridge overnight, or until ready to use.

Will keep for up to 3 week in the fridge. Can be frozen into ice cubes for use later on.
How to Use Irish Sea Moss Gel in Raw Food Recipes
Irish sea moss gel is great for including in some raw vegan desserts, enabling you to use less nuts.  It's particularly good for raw chocolate desserts, because the strong taste of chocolate masks what slight taste there is in it.
Irish sea moss gel is also great for use in raw bread recipes, since it will make them slightly springier and softer.  This is especially true when used in conjunction with psyllium husk.
You can see a full list of our recipes that use Irish moss here.
What does Irish sea moss taste like?
It's not something I'd eat on its own, because it's does have a slight seaweed taste, but added in small amounts to a recipe, it's virtually tasteless.
Where to buy Irish sea moss?
I buy mine online. Amazon usually have several suppliers whatever country you're in. I've also seen a few suppliers on Etsy.
Is Irish sea moss safe to eat?
The health concerns related to Irish moss seem to mostly be referring to carrageenan, which is an isolated element of Irish moss. Kind of like soy isolate Vs a whole edamame. For more info and research on this, check out the full post above.