Linzer Cookies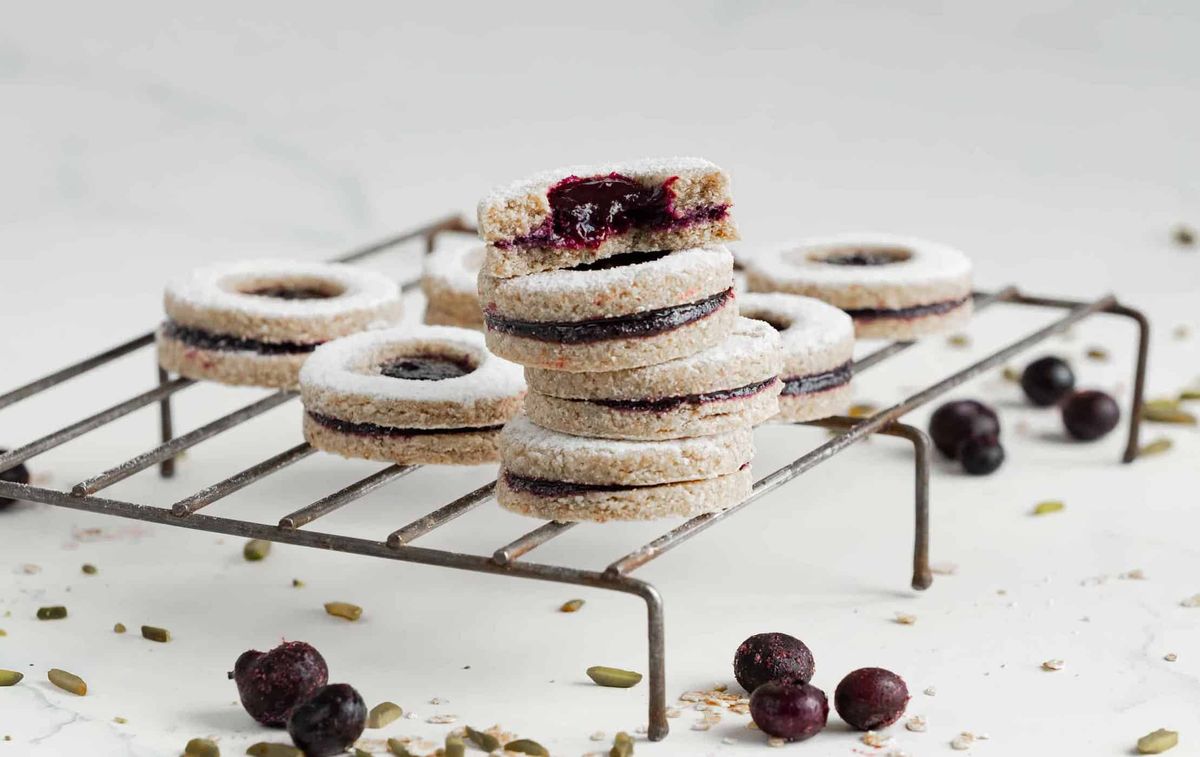 Linzer Cookies are such a classic cookie and for good reason – they're a delight!
If you're looking for a light snack or dessert, these are the way to go.
The biscuits I've chosen for these cookies are a buckwheat maple cookie that I love.
It's really simple…
Few ingredients and rather neutral.
So, you can dress it up by adding some chopped nuts, citrus zest, spices, etc… or keep it simple and leave it a Maple Biscuit, as I have done for this recipe.
Another cookie recipe, in case you don't like buckwheat, is this tart crust recipe.
Instead of rolling it out and pressing into a tart form, just roll it out and use it like cookie dough!
Another awesome note is that you can use any berry you fancy.  For these, I used blueberries, but I've done these with blackberry, raspberry and mixed berries in the past.  They're all yummy!
For the ones you see in the pictures, I used a plain ring cutter set, but you could also use a star or heart set to cut the small hole in the top biscuit – that'll make them extra special.
Rate This Recipe4.42 from 12 votes
Linzer Cookies are such a classic cookie and for good reason – they're a delight!Servings8 cookies
Nutrition (For one serving)Calories: 131kcalCarbohydrates: 24gProtein: 3gFat: 3gSaturated Fat: 1gSodium: 6mgPotassium: 113mg Fiber: 4gSugar: 12gVitamin A: 7IUVitamin C: 6mgCalcium: 40mgIron: 1mg
Ingredients
Berry Jam
1 1/2 cups raspberries frozen (also blueberries or blackberries)
1/4 cup maple syrup
5 drops vanilla medicine flower extract or ½ tsp vanilla powder
Buckwheat Cookies
1/3 cup buckwheat measured dry (sprouted for 12 hours)
3 tbsp maple syrup or xylitol
1/3 cup ground almonds
½ tsp vanilla extract or 4 drops vanilla medicine flower extract
2 tbsp water
Pinch sea salt
1 tbsp psyllium husk
1/8 cup coconut flour
1/8 cup oat flour
Instructions
Berry Jam (Raw Method)
Combine all ingredients in a bowl, crushing the berries slightly as you mix.
Place the whole bowl in the dehydrator for 8-14 hours on 115f.
Stir the jam every 2-4 hours to avoid getting a skin on top and keep it consistent.
You want it reduced by ⅓ - ½ in volume.
Berry Jam (Stove Top Method)
Combine all ingredients in a saucepan and cover with a lid.
Pop on the hob/stove on medium-high heat, covered, until it's gently bubbling and then uncover and reduce to a light simmer.
Reduce by ½ - ⅔.
Remove from the heat and blend till smooth.
Buckwheat Cookies
In a high speed blender, combine the first 6 ingredients and blend on low/medium to break down the buckwheat. You may need to scrape down the sides a few times as you go.
Once it's all smooth, add the psyllium and blend on low to combine.
Mix together the coconut and oat flours in a bowl and add the blender contents. Using your hands, mix it all up and form into a ball.
Roll it out between two pieces of teflex or greaseproof paper to about ¼ inch thickness.
Cut with a 2-3 inch ring cutter. Dampen the cutter between cuts to keep it cutting clean and not sticking to the dough.
Continue with this process till all dough is used.
Now go back over half of the cookies and cut a small hole in the middle.
Spoon 1-2 tsp jam into the middle of the cookie and lightly spread it out to cover ¾ of the cookie. Leaving just a little room on the edge of the cookie all around.
Place a cookie with a hole in it on top and gently press so the jam comes out the top a little and just reaches the sides of the cookie.
Place the tray of cookies into the dehydrator to dry at 115f for 8 hours or until they have reached the firmness you desire.
From here, you could let them cool and then dip the sides in chocolate or just keep them as is.
These will store well at room temp for 2 days or in an airtight container in the fridge for a week or so.
Rate This Recipe  4.42 from 12 votes   Did you make this recipe?Tag @therawchef on Instagram or hashtag it #therawchef!