Mozzacado Balls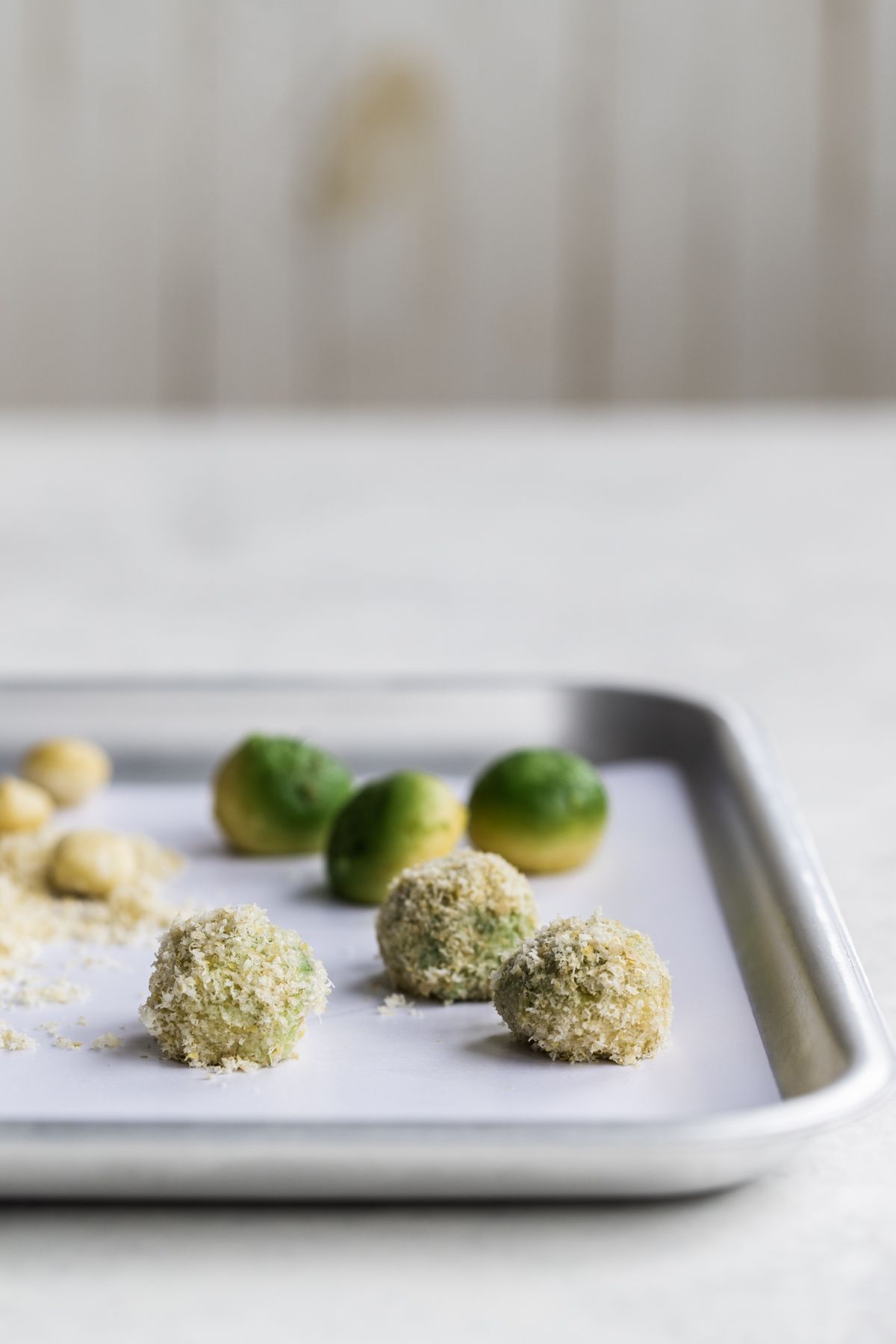 These Mozzacdo Balls are a quick and easy way to transform a salad; salty, fatty and cheesy is a magic combination.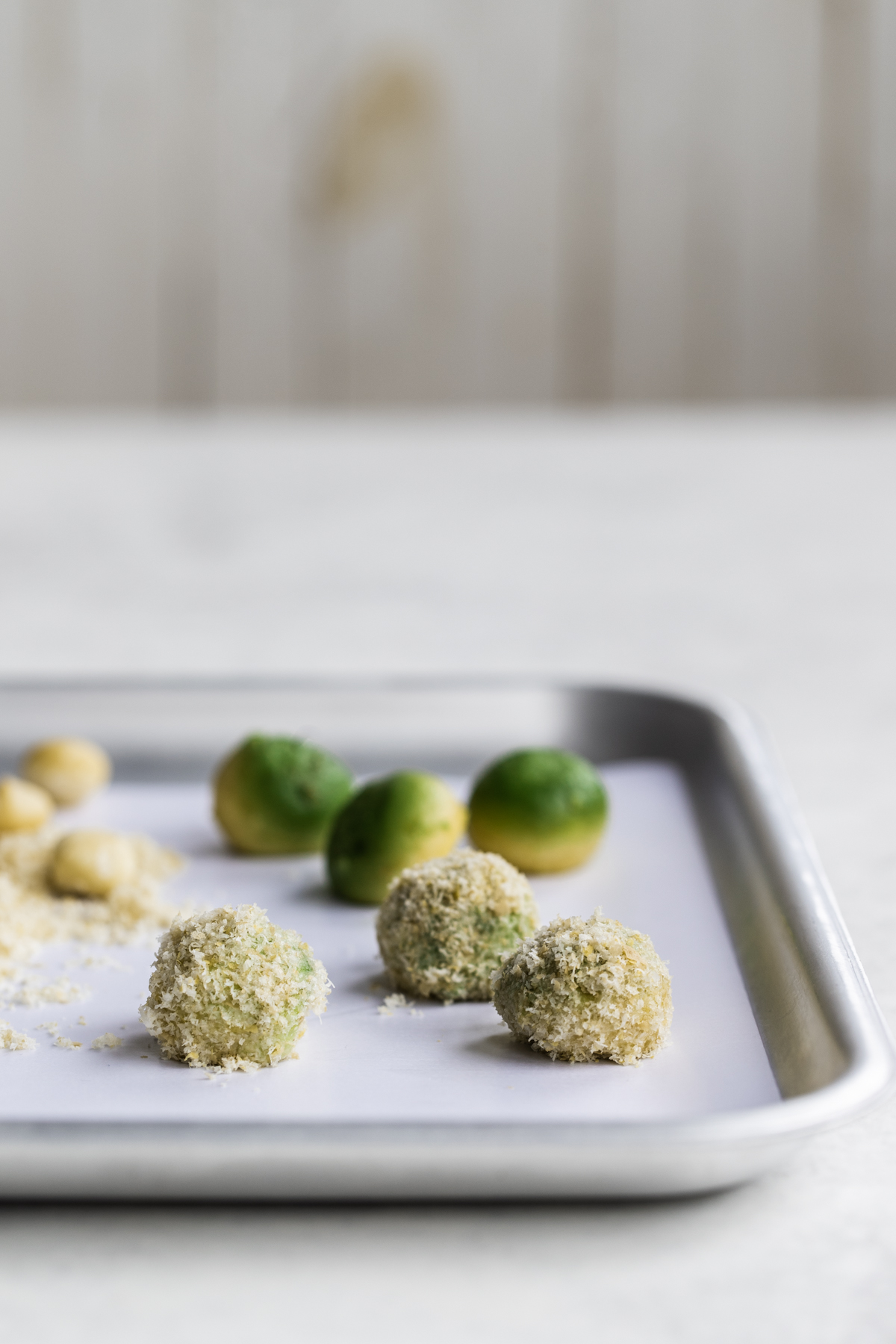 Quick Macadamia Parmesan Cheese that we use in these balls is one of the 'Time Savers' from our Weekday Raw online course. Using this alone to sprinkle on your salad is a fantastic addition. But when you roll avocado balls in there, you've got something pretty fantastic.
I had toyed with the idea of calling these Parmacado Balls, because it uses the Quick Parmesan recipe. In the end I opted for calling them Mozzacado Balls because mozzarella comes in a ball and it sounded the better than Parmacado. The use of macadamias in the recipe also seemed to make it fit better…because Mozzacado starts with an 'M', see?
Did I make the right choice? Let me know in the comments.
How to Make Mozzacado Balls
Here's an overview of how to make Mozzacado Balls. Scroll a bit further down for the full printable recipe.
This recipe is so crazy simple. First you're going to make the Quick Macadamia Parmesan, which as I said, is a great recipe on its own. Fantastic for sprinkling as you would parmesan.

To make the Quick Macadamia Parmesan, grate the macadamias on a Microplane. I've got a slider attachment for the Microplane which makes it quick and easy (and finger-saving). You can see that and my other kit recommendations here.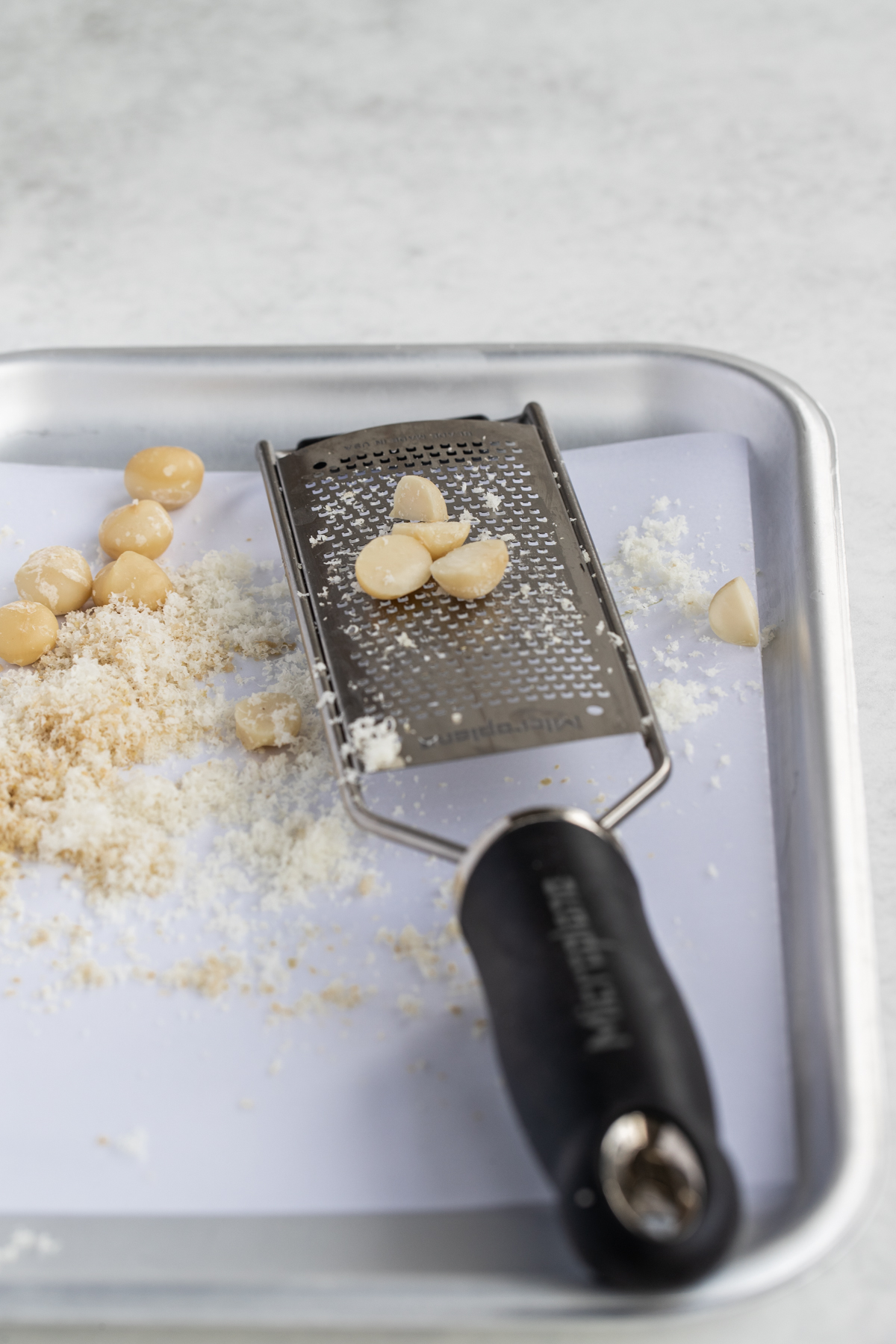 Powder up some nutritional yeast flakes. You could do all your nutritional yeast, so it's ready for occasions like this, or you could just powder the amount needed with your fingers.

Add in your salt, mix with a fork and you're ready to go. I've found mixing with a fork is better, so the macadamias stay a bit more fluffy than doing it with your fingers.

Make your avocado balls by using a melon baller. It goes without saying that you'll need a perfectly ripe avocado, but we all hope for that every time 🙂

I've conservatively accounting for 8 balls per avocado. You may get 10 or even 12. Of course they won't be as perfectly round as melon balls because melons are bigger and easier to do this with. But after a few goes you'll get the hang of it, resulting in a kind of ball shape, bar a flat edge here and there.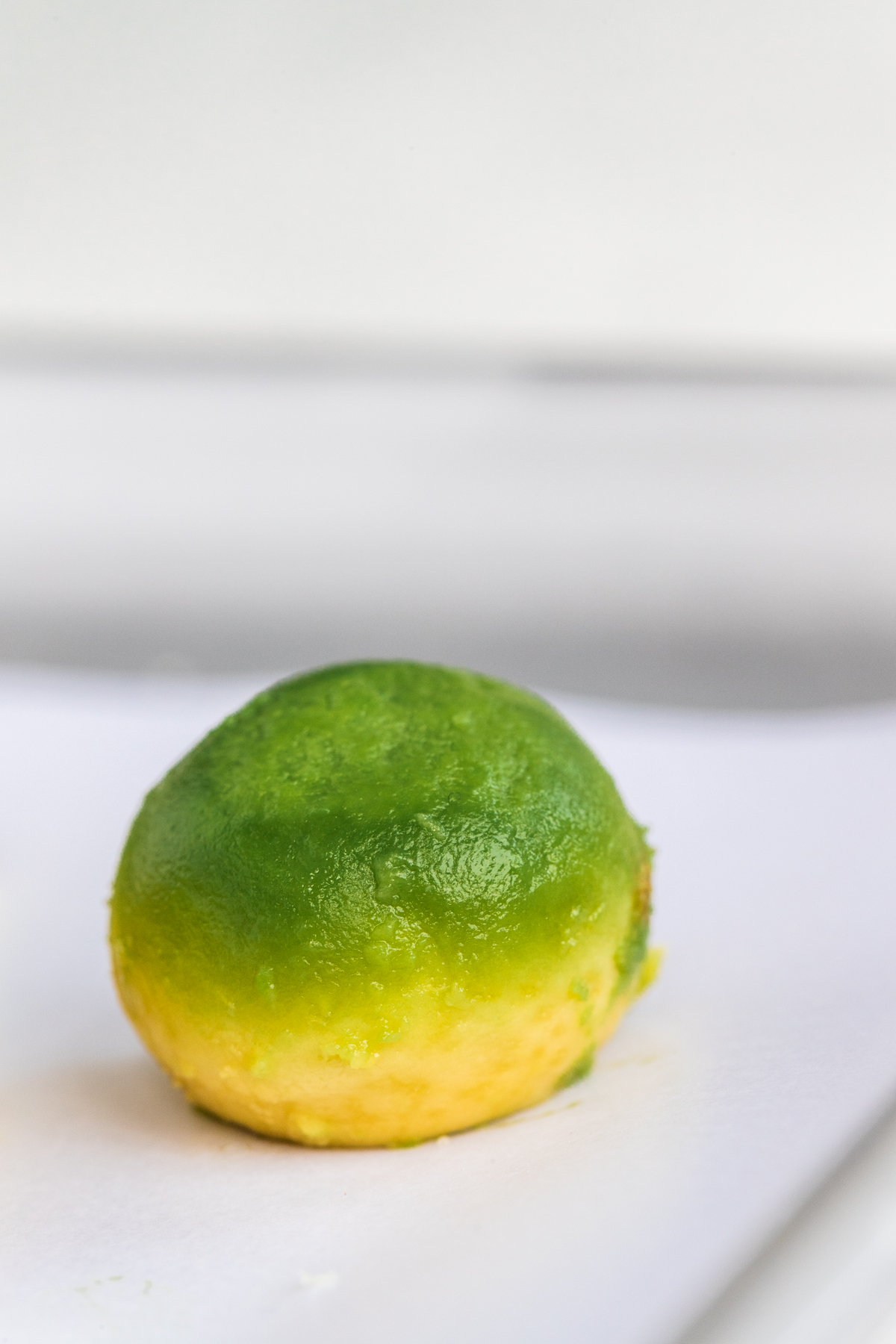 Finally you're going to roll the avocado balls in the Quick Macadamia Parmesan. You might notice that as you remove them from the bowl with your fingers, it gets the Macadamia Parmesan wet. If this happens, drop it back in to make a thicker coat over the top of that. To avoid that you could just move them around with a fork.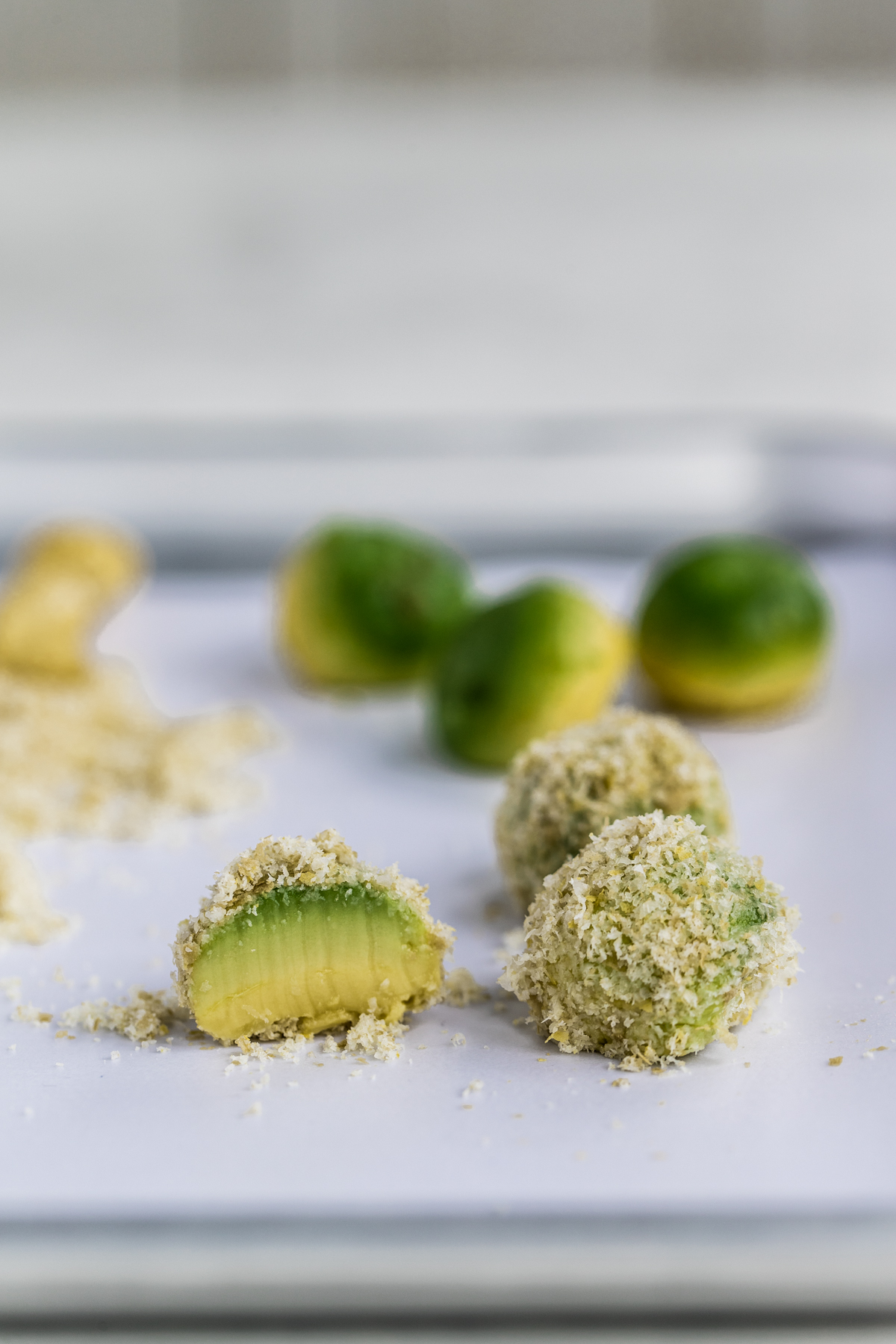 Rate This Recipe
Mozzacado Balls
A fun, quick and easy way to level up a salad.
Nutrition (For one serving)
Calories:
47
kcal
Carbohydrates:
2
g
Protein:
1
g
Fat:
4
g
Saturated Fat:
1
g
Sodium:
14
mg
Potassium:
131
mg
Fiber:
2
g
Sugar:
1
g
Vitamin A:
37
IU
Vitamin C:
3
mg
Calcium:
4
mg
Iron:
1
mg
Ingredients
2

tbsp

macadamias

1

tbsp

nutritional yeast

1/8

tsp

salt

3

avocados
Instructions
Grate the macadamias finely into a bowl using a Microplane.

Powder the nutritional yeast and add to the bowl.

Add the salt to the bowl and mix everything with a fork.

Use a melon baller to make at least 8 avocado balls.