My First Raw Christmas Dinner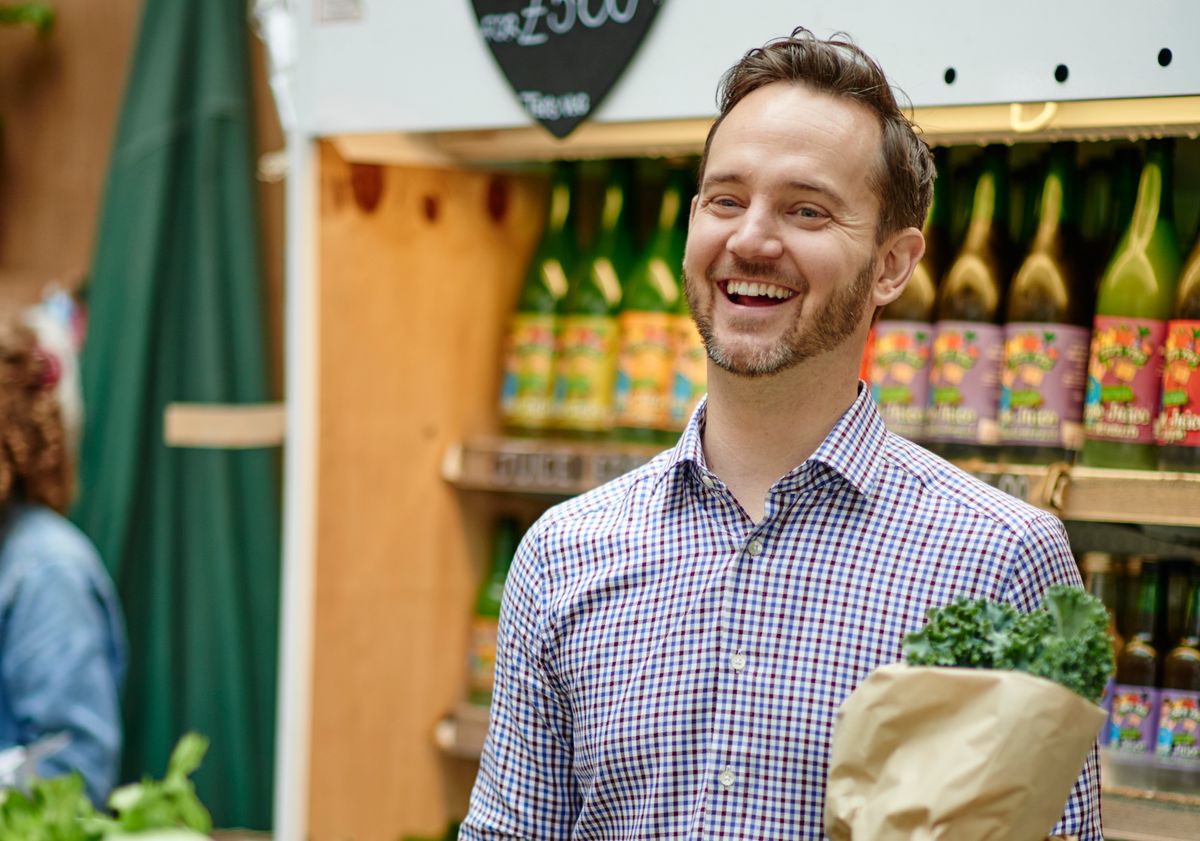 Upfront warning: I'm going to share a picture of my first ever raw Christmas dinner and it's not going to look like the type of meal you're used to seeing from me 🙂
It was 2005.
I lived in a house share with a few other people that had zero interest in raw food. Truth be told, they thought it (and I) was very strange.
I'd not been into raw food long. I was certainly no raw food chef.
My friends all had their traditional fayre.
But I really wanted to do something different.
The year before I'd been to Koh Samui 3 times to detox, clearing up my skin of acne.
I was highly motivated and really wanted to do something different for Christmas that year. I wanted to build on the success I'd had with my skin.
And I was excited about the creativity of raw food.
OK, this is it…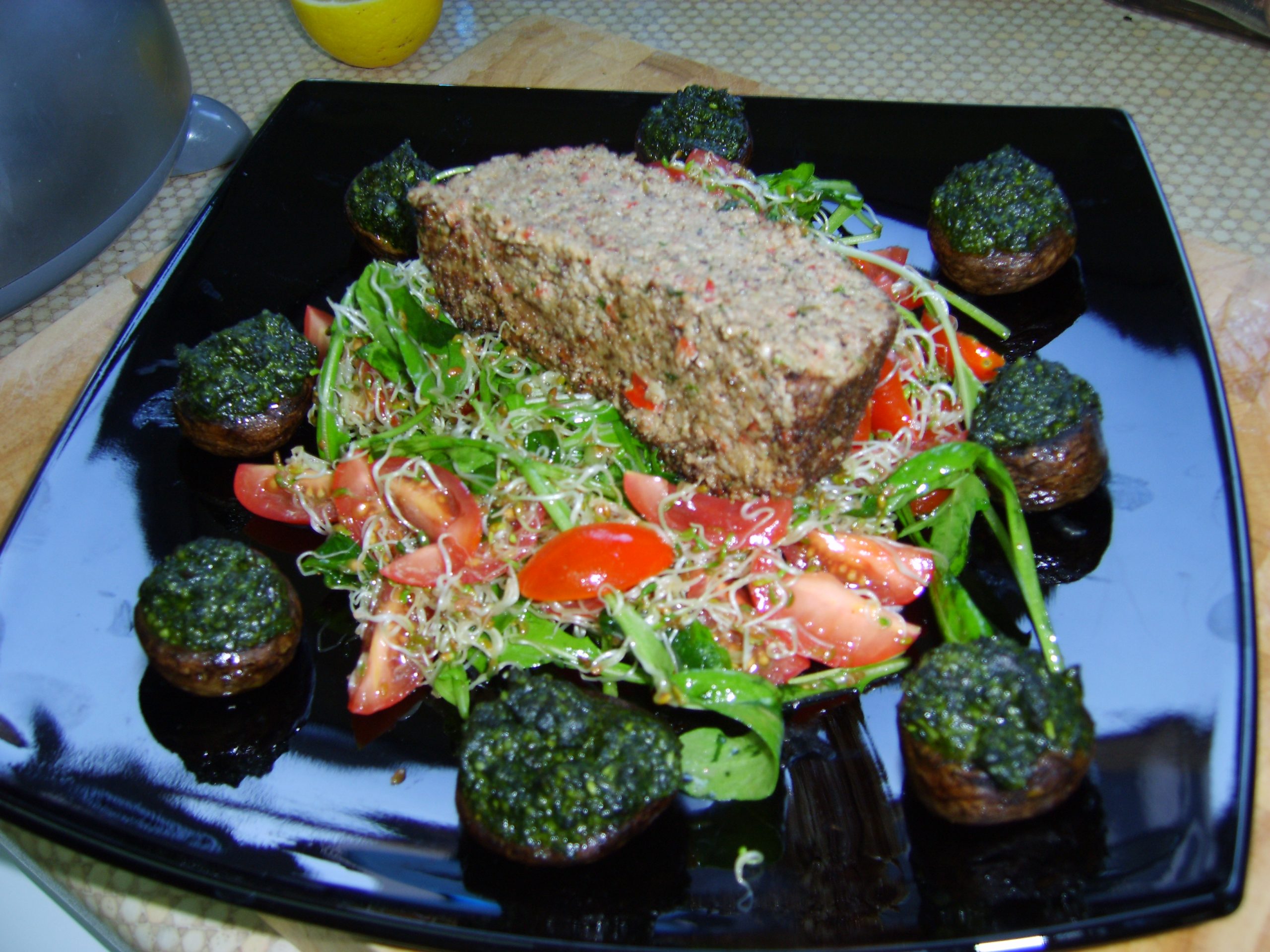 I'm having fun with this, because look at that photo! And the presentation!!
But I LOVED it.
That's a raw 'meatloaf' with portobello mushrooms and red pepper. On top of a questionable salad. Around the outside are what was my favourite thing at the time, pesto stuffed mushrooms.
These recipes were all quite new to me at the time and I was extremely excited.
When I finished eating I didn't feel tired, heavy or bloated; I felt energised, happy and satisfied.
If you'd like the recipe for the meatloaf reply to this email and let me know. If there's interest, I'll post it (with a new picture, of course).
Over the years I've done varying degrees of raw food at Christmas.
This one is from a few years later when I made my raw kilted sausages with a raw mash (cauliflower and pine nuts) and some cooked veg…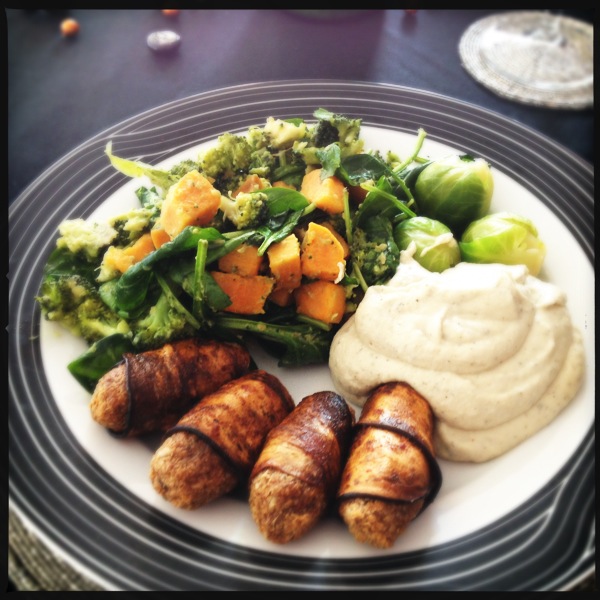 I seem to remember family and friends enthusiastically filling their plates with those sausages that year.
My experience has been that if you give people something different to try (as long as it tastes good) they are very keen.
I almost certainly made my Raw Mince Pies that year too.
Side note: those mince pies were the very first raw food recipe I ever created from scratch.
I've tried to update the recipe over the years, thinking I must be able to do better now. But I always get requests for the original.
So that link above is the original recipe, apart from agave nectar. We don't use it anymore since finding out that it's not much better than high fructose corn syrup.
But I'm happy to say that a whole bunch of my recipes did get updated, plus new ones added when Amy and I created Holiday Raw Foods.
If you'd like to add some raw food dishes to your Christmas this year, or if you'd like to create a completely raw extravaganza, Holiday Raw Foods is definitely one to check out.
PS. I updated the meatloaf recipe.  Much more in keeping with my current recipes, I think 😉.