Simple Raw Nori Wraps with Beet Dipping Sauce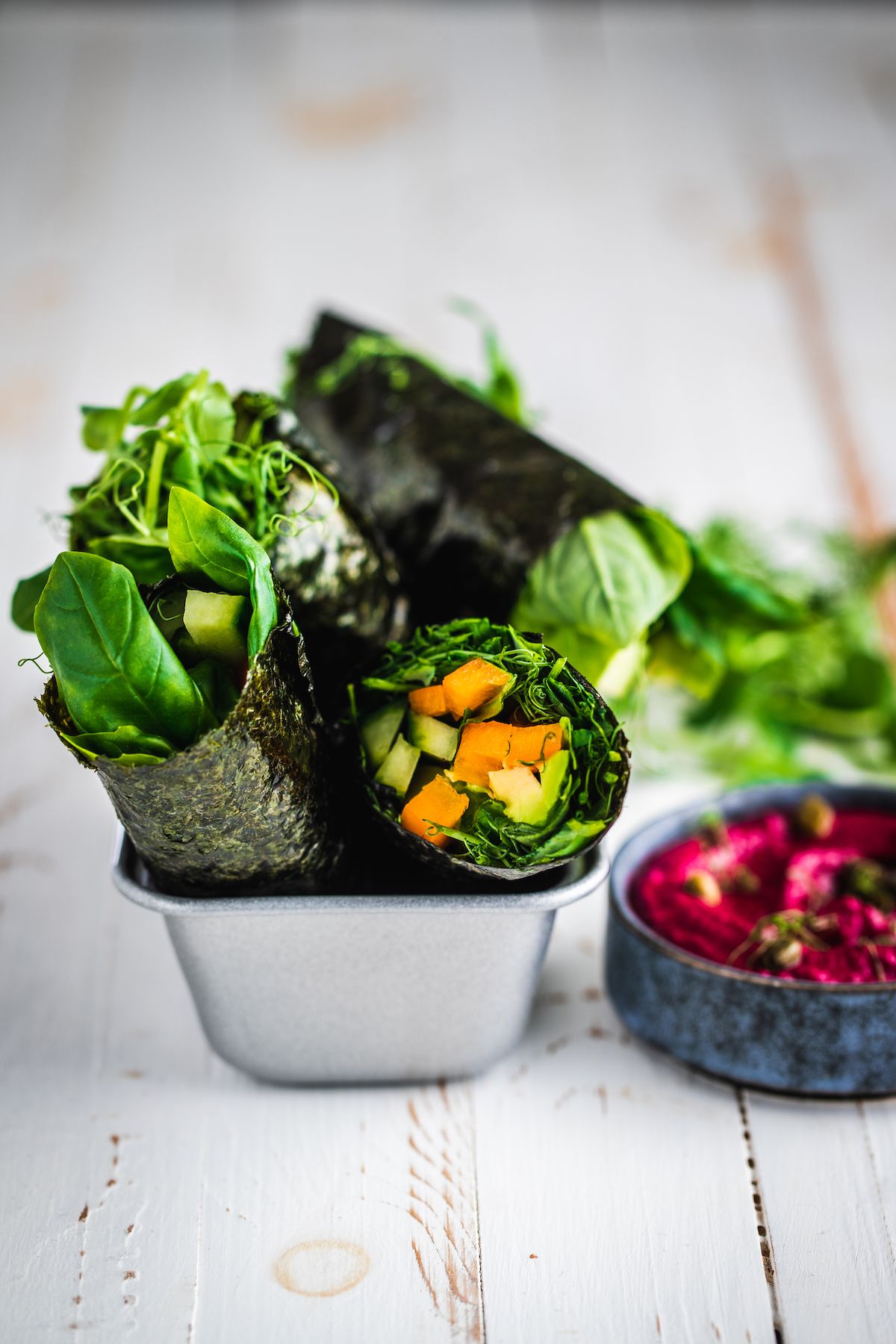 These raw nori wraps are as fresh as they look and the best part is that they are so simple.
The beet dipping sauce look so stunning, with a taste to match. I love the sharpness of the capers in there, it's just so prefect with the basil leaves in the nori wraps themselves.
I've used pea shoots as the main greens in these rolls, but you can use any small salad leaf that takes your fancy. If you're making these in the morning to take to work or out and about with you, to eat after a few hours, it's important the greens are dry, so they won't cause the nori to split.
Nori Wraps for Lunch
If you wanted to make these a little more 'meaty' you could put some marinated mushrooms in there. You could use the marinated mushrooms from this recipe. Those mushrooms are dehydrated, but you don't have to do that step if you don't want to.
Is Nori Nutritious?
I like to think of any seaweed as a sea vegetable, so in that sense, yes, they are very nutritious. They are full of minerals, such as calcium, copper, iron, magnesium, manganese, phosphorus, potassium, selenium and zinc.
Related: Nori Nutrition
Is Nori Vegetarian?
Yes! Nori is vegan and vegetarian. In fact in can be a place where vegans and vegetarians can get some of the nutrients that are only available in fish and a few other places.
How Many Calories Are in Nori Wraps?
You'll see below that each nori wrap has just xx calories. The nori is such a great wrap alternative, because it's full of vitamins, but yet has very little calorie content.
Rate This Recipe
Simple Raw Nori Wraps with Beet Dipping Sauce
Nutrition (For one serving)
Calories:
164
kcal
Carbohydrates:
11
g
Protein:
5
g
Fat:
12
g
Saturated Fat:
2
g
Sodium:
235
mg
Potassium:
412
mg
Fiber:
4
g
Sugar:
3
g
Vitamin A:
1165
IU
Vitamin C:
48.6
mg
Calcium:
26
mg
Iron:
1.7
mg
Ingredients
Sauce
¾

cup

cashews

⅓

cup

water

1

raw beetroot

peeled

1

teaspoon

lemon juice

2

teaspoons

capers

½

teaspoon

salt

2

tbsp

miso
Assembly
6

nori sheets

5

ozs

pea shoots

1

oz

basil

1

avocado

1/2

cucumber

1

bell pepper
Instructions
Sauce
Blend all ingredients in a high-speed blender.
Assembly
Place a nori sheet shiny side down on a chopping board.

Load up with a handful of pea shoots or greens and some basil leaves.

Cut the pepper, cucumber and avocado into strips. I like to deseed the cucumber too.

Lay some of the pepper, cucumber and avocado strips in the middle of the pea shoots.

Roll tightly, sealing the edge with a little water or lemon juice.

Cut in two and serve with the beet dip.
Video