Raw Pad Thai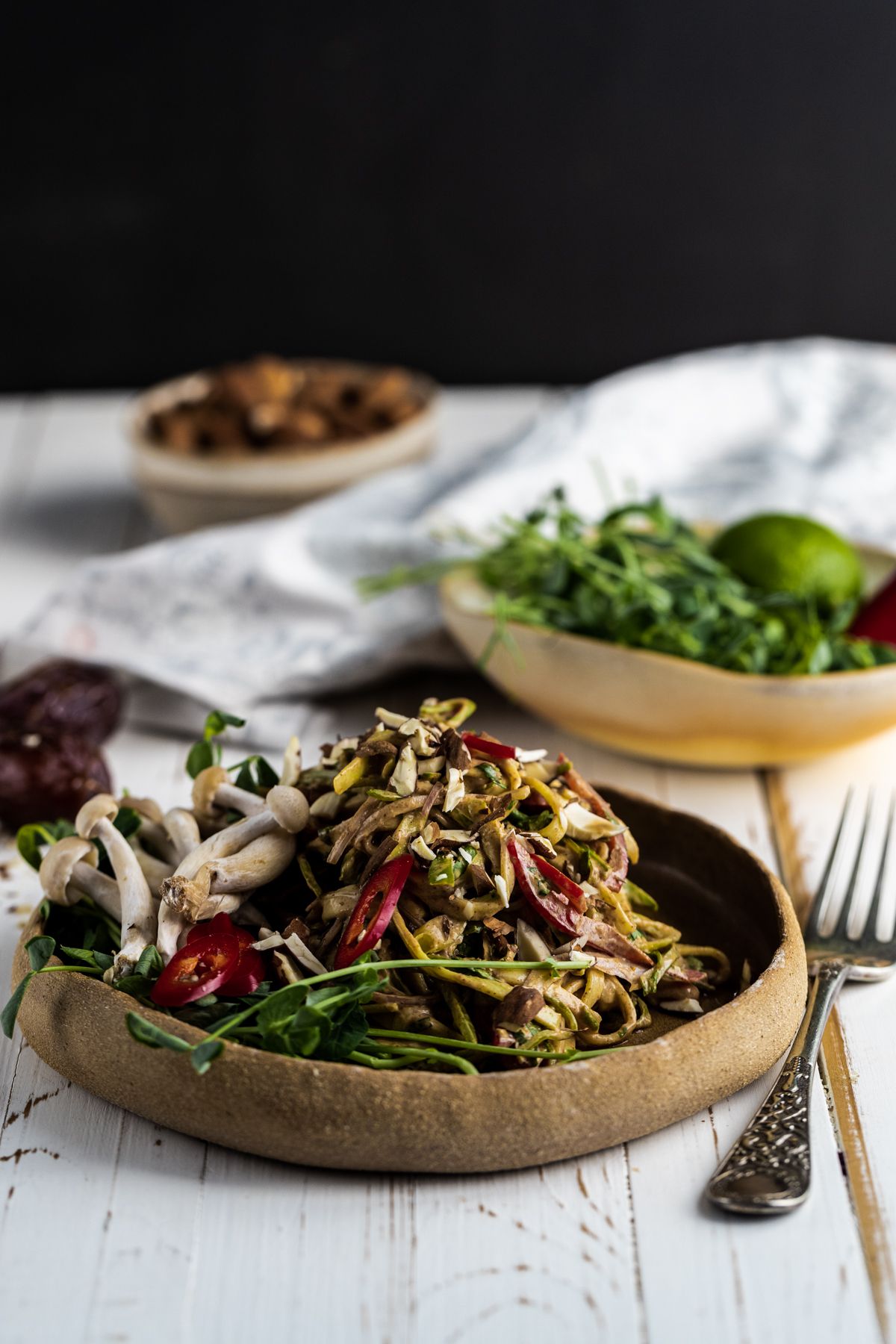 Raw Pad Thai is an absolute classic raw food dish. We've kept it simple for this version, so it's great for lunch, easily made the night before.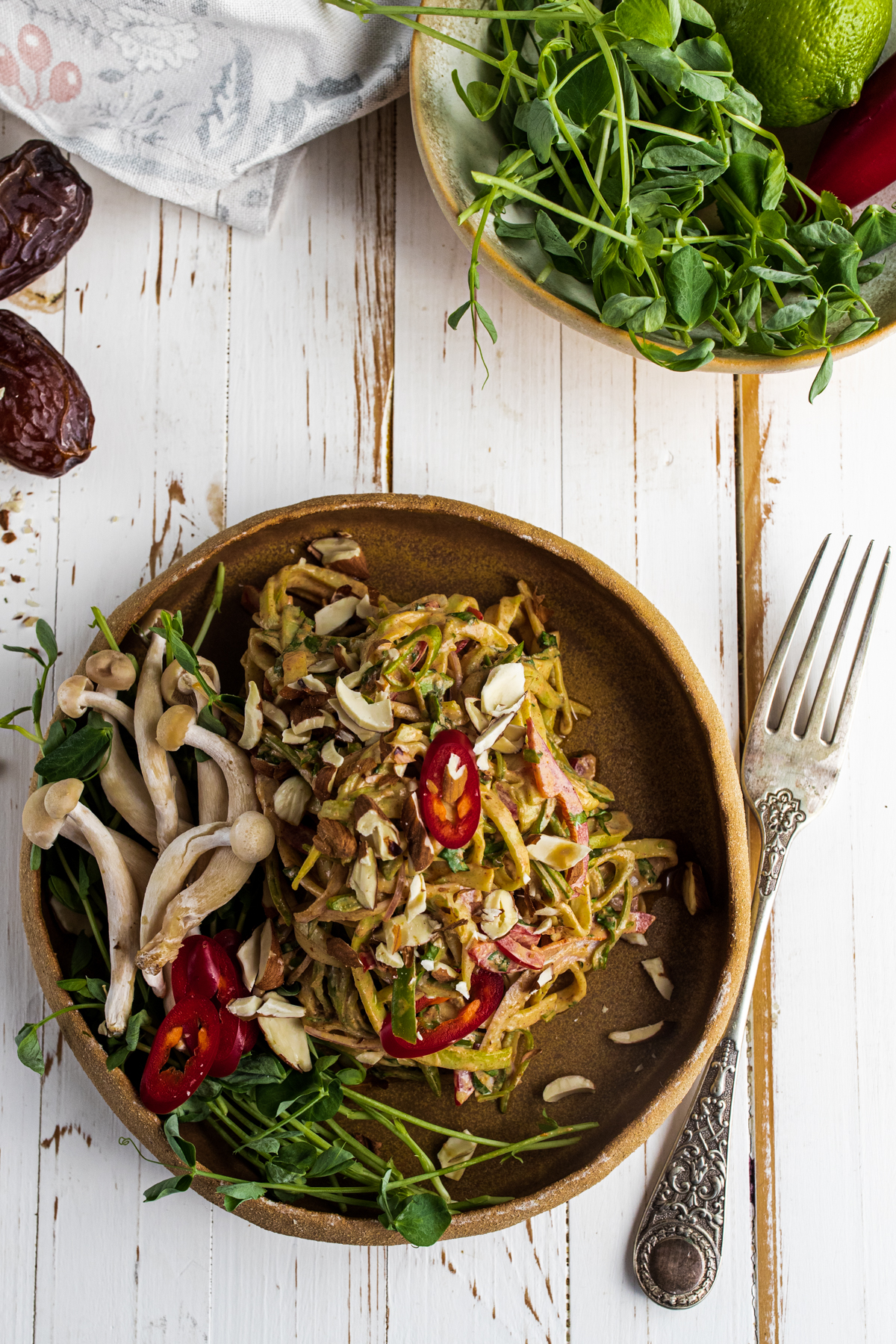 If you're new, you may well have been introduced to raw food though either Raw Vegan Lasagne or this dish, Raw Pad Thai. It's just one of those dishes that translates really well to raw food because it's so full of veggies.
We've kept this version nice and simple for you, so it can be made for lunch the night before. If you're going to do that, make sure you keep the dressing (sauce) separate until the morning. If you eat it within a few hours of the dressing going on, it'll be great. You could also just mix the dressing right before you eat, to keep everything nice and crunchy.
Equally this will make a great dinner recipe, perhaps in a bigger portion size. You could bump up the volume with some beansprouts and avocado. Serve it will a mango, coconut & papaya smoothie for an incredibly nourishing, hearty and enjoyable dinner.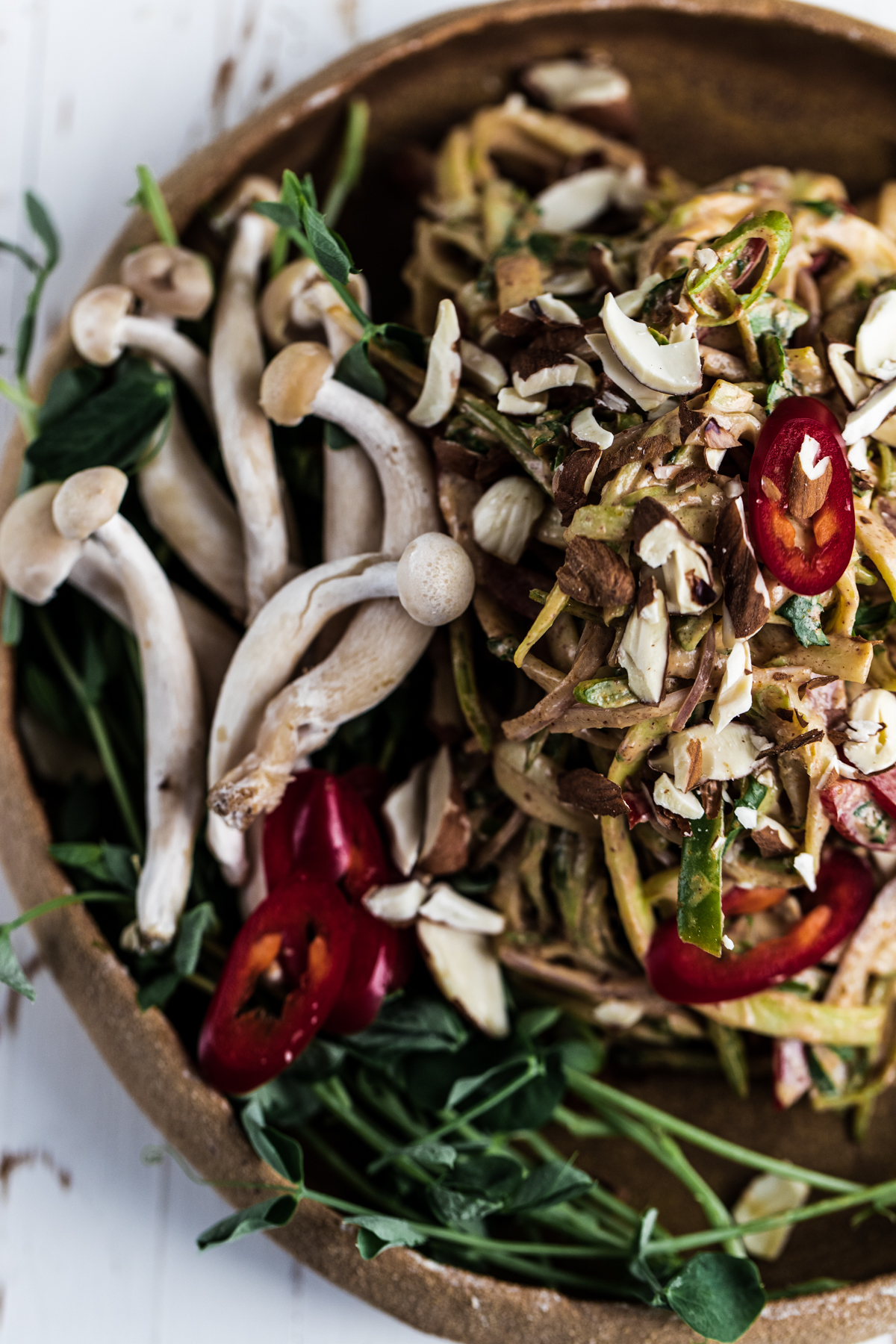 Raw Pad Thai Ingredients
Before we get to the recipe, let's take a look at the ingredients. To make this fantastic little raw food lunch, you'll need:
Zucchini (also known as courgette): Zucchini is a great vegetable for spiralizing and works well in this dish. You'll see in the video we used a mandoline with a julienne blade, instead of a spiralizer. You could also use a peeler to produce ribbons.

Another great alternative for the vegetable here is butternut squash. They're a lot more firm than zucchini, but with a bit more effort, they can be spiralised and give firmer noodles. If you are using butternut squash you'll need to sprinkle the noodles with a little salt in a bowl and leave them to soften for a few minutes before using in the recipe.


Mung bean sprouts: I've done recipes for Raw Pad Thai before with mung bean sprouts and they make a great addition. They add a lot of volume and crunch for very little calories (if that's a consideration for you). We left them out of this version, as we wanted to make it as simple and with as few ingredients as possible. Feel free to chuck in a hand full though if you'd like.


Pea Shoots: This can be a bit trickier to find, but if you can, they're worth it. A great substitution would be sunflower greens. If you can't get any of those, use a handful of small salad leaves.


Other veggies:



Red pepper: Red, orange or yellow bell pepper is good here. Stalk and seeds removed and then sliced thinly. Did you know that red peppers are the only fully ripe ones? Green are unripe and yellow/orange are the in between stages.


Snow peas (mangetout): This is a lovely crunchy vegetable and slightly sweet. Make sure you get them nice and thin on a bias (at an angle) to give a more pleasing shape.


Banana shallot: This is a sweeter, milder onion. Regular shallots would be ok too. If you like any other onion – such as red onion – those can be used but they may need soaking in warm water for 20 to 30 minutes after slicing, to make them milder. If you also want to soften them, soak them in apple cider vinegar for 20 to 30 minutes instead of water.


Green onion (also known as spring onion): Cut on a bias and use as much of the green part as you can.



Fresh herbs:



Mint leaves: Using mint in this recipe is a little unconventional, but I think works really nicely. You could also use a little basil, which is another herb a lot of people don't necessarily associate with asian cuisine.


Cilantro (also known as coriander in the UK): Pretty much an essential herb in this dish for anyone that doesn't have the gene that makes it taste like soap. I (Russell) apparently do have the gene that means I'm more likely to taste it as soap according to my DNA results. But happily it seems to have passed me by, as I love cilantro.



For the sauce:



Tamari: This wheat free soy sauce is great for being the salt element of a dish, whilst adding depth of flavour. When the dish is complete, before plating, you can test for saltiness and use more to taste if needed.


Chipotle chili powder: As with mint, this is a little unconventional to use in asian cuisine, but I do love it in this sauce because I love the smokiness. You could substitute with a different type of chili not problem, but bear in mind that chili powders can differ greatly in their spiciness.


Sundried tomatoes: I'm using the semi-dried type that need to be soaked for about an hour to soften up a little. Try to avoid the ones in oil as they can sometimes have unwanted preservatives in them. Plus you don't really need the extra oil in this dish.


Lime juice: Always from a fresh lime. Roll the lime with your palm on your chopping board to make sure you get more juice out.


Almond butter: I like to go for raw almond butter. Extra marks if you can find one that uses sprouted almonds, which are much easier to digest. I have a video on how to make your own raw almond butter at home if you want to have some fun with that.


Dates: I use medjool because they're so soft and flavourful. You can use any date really. If you don't have a Vitamix or similar strong blender and you're using firmer dates, you'll need to soak them for 30 mins first, to make sure they blend down fully.


Garlic & ginger: Both fresh and peeled. If you love either of these and want to add a bit extra, they're great for you so go ahead.



Garnishes:



Enoki mushrooms: These are mild and sweet. Shimeji mushrooms are also great on this dish, but they need to be cooked before use. They will develop a nutty flavour when cooked.


Fresh chili: Use any fresh chili you like, based on how spicy you like it.


Chopped almonds: Great for sprinkling over the top of the finished dish. Ideally they'd be soaked and chopped. If you wanted to go one step further you could use candied almonds.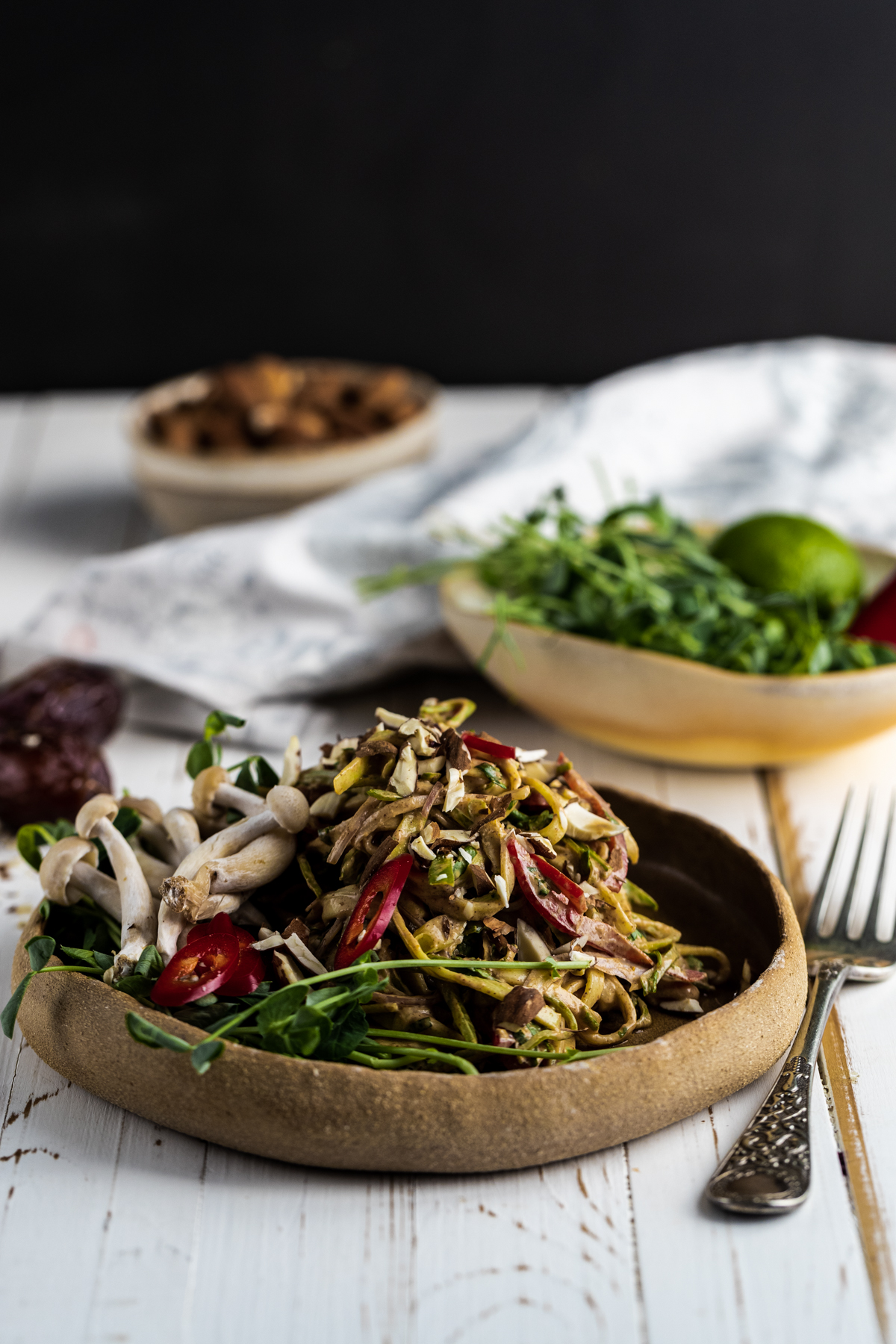 How to Make Raw Pad Thai

Here's a basic overview of how to make a raw Pad Thai. (For full detailed instructions, the recipe download and video see below.)

Prep your noodles. In the ingredients section I mentioned that you can use zucchini or butternut squash for this. If you're using zucchini, you don't need to soften with salt, as the salt in the sauce will soften them enough.

If you're using butternut squash make sure you do soften them with salt for 5 minutes before adding to the recipe.

In the video below you'll see us use a mandoline, but you could also use a spiralizer or creates ribbons using a peeler. This will work well for zucchini or butternut squash.


Cut your veg & herbs. Cut the peppers, snow peas and onions nice and thin. Doing it at an angle (a bias) will make it look higher end too.

Cut the mint finely by stacking up the leaves on top of each other, rolling and cutting. If you're using basil do this too.

To cut the cilantro, bunch it all up – including stalks – and run your knife through it. You can do this a few times to get the size you're looking for if it doesn't happen the first time.


Make the sauce. Nice and simple, as all the ingredients go into the blender. If your blender isn't as strong as a Vitamix you'll need to soak the dates and certainly the sundried tomatoes.


Prepare your garnishes. Chop the almonds or cashews if you're using those. Thinly slice the chilli. Remove the base from the mushrooms, so they are individual. If you're using different mushrooms that need to be cooked, such as Shimeji you be better off prepping those right at the start and allow them to cool.


Plate your dish ready for serving. The best bit! Mix your sauce with the veggies and noodles right before serving. Portion out your servings onto plates or into bowls. Arrange some of the pea shoots around one edge of the plate, followed by the mushrooms.

Place your thinly sliced chilli on the noodle mix and sprinkle the sliced almonds on top.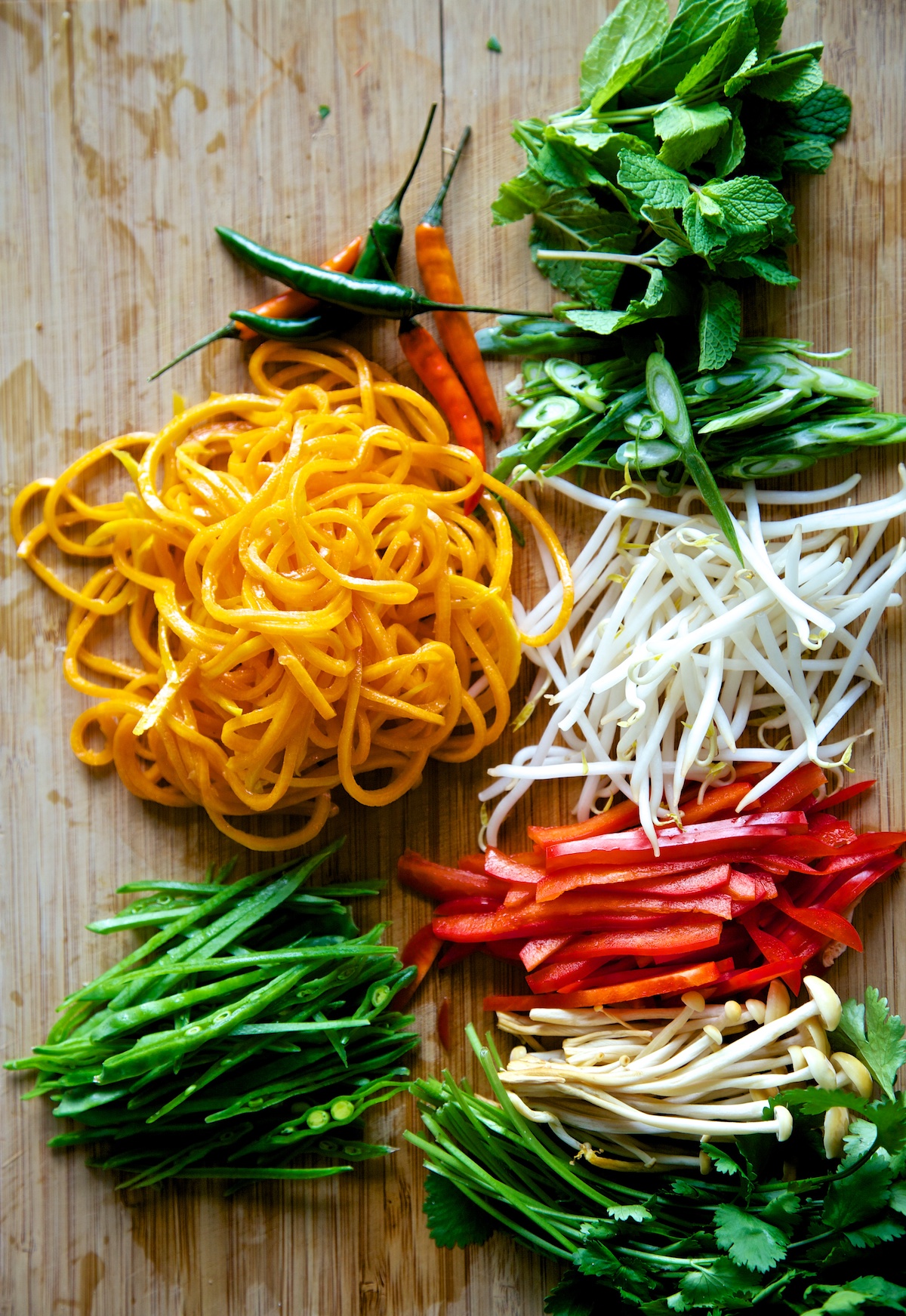 Possible Variations:

Want to customise this Raw Pad Thai a little? Go right ahead.

Add more veggies. We kept this simple on purpose, but there's more veggies you could be adding that would be so good. Babycorn is one, cut on a bias. Carrot is also great and adds extra crunch, but we want to make sure it's cut really thin, so julienne is perfect.

Red cabbage makes a great addition. I want to cut it thinly again and soften it a little with some salt. If you have some raw sauerkraut available, although unorthodox, would be fantastically healthy and tasty.


Add tamarind to the sauce. Man, this will really up the flavour. Tamarind is sweet and sour – kind of like those sugary fizzy sweets you get. You can buy fresh, remove from the shell and soak to easily remove the stones and stringy bits, or you can buy ready made tamarind paste.


Add beansprouts. I did mention this earlier, but a few handfuls of beansprouts would be fantastic. You can actually add any kind of sprouts for an extra hit of nutrition. Just make sure if you're adding something very intense in flavour like broccoli sprouts that you don't add as much.


Swap out the almond butter in the sauce. Peanut works great, but healthier nut butters such as sunflower seed would be great. I've never tried cashew or macadamia butter, but I can only imagine they'd be insanely good.


Swap the veggie noodles for kelp noodles. Have you used kelp noodles before? They are zero calorie translucent noodles made from the fibres of kelp. You'll want to prep them by soaking in water for an hour with a little baking powder, which will soften them. I'd suggest marinating them in the sauce for several hours, so they take on the flavour of the sauce too.
Raw Pad Thai FAQ
What is Pad Thai sauce made of?
Traditionally Pad Thai sauce is made of tamarind, sugar, fish sauce and garlic.  For this raw version we're using dates, garlic and tamari as the main flavour elements.  The nut or seed butter also gives this version a richness that goes well with any of the noodle options.
How do you say Pad Thai?
"Pad tie"
What noodles are used in Pad Thai?
Pad Thai is normally made with rice noodles which are then stir fried.  In this raw version we're using spiralized vegetables or kelp noodles.

Does Pad Thai have gluten?
Unless you ask for gluten free, Pad Thai may well have gluten in the soy sauce.  This raw food version uses tamari, which is a wheat free soy sauce.
Does Pad Thai taste fishy?
Regular Pad Thai certainly can taste fishy, because of the fish sauce.  We're not using that in this version, instead getting most of the flavour from tamari, garlic, dates and sundried tomatoes.


Are kelp noodles raw?
I've looked around for the answer to this and I'm undecided (I can't find any direct answer).  Kelp noodles are kelp that has had all of the outer parts striped, leaving the stringy bits, then they are packed with a type of sodium.  Does that need heating at any stage? Probably. I can see the removal of the outer parts being easier after heating. But I think they're worth a look, seeing as they are so low in calories and have a nice mouth feel when mixed with a raw dressing, such as this Pad Thai dressing.
Rate This Recipe
Raw Pad Thai
This is an absolute classic raw food dish. We've kept it simple for this version, so it's great for lunch, easily made the night before.
Nutrition (For one serving)
Calories:
454
kcal
Carbohydrates:
47
g
Protein:
23
g
Fat:
25
g
Saturated Fat:
2
g
Sodium:
1633
mg
Potassium:
2161
mg
Fiber:
15
g
Sugar:
26
g
Vitamin A:
3655
IU
Vitamin C:
208
mg
Calcium:
198
mg
Iron:
6
mg
Ingredients
For The Veg
12

ozs

zucchini

(made into noodles with a spiraliser or mandoline)

1.7

ozs

pea shoots

(mangetout)

1

red bell pepper

(thinly sliced)

10

snow peas

(mangetout) (thinly sliced)

1

green onion

(spring onion) (sliced on a bias)

10

leaves

mint

chopped finely

0.3

ozs

cilantro

(coriander)

3.5

ozs

pea shoots

(save a handful for garnish)
For The Sauce
3

tbsp

tamari

1

tsp

chipotle chili powder

1/2

cup

sundried tomatoes

1

tbsp

lime juice

1/4

cup

almond butter

2

dates

1

clove

garlic

1

inch

ginger

peeled
For The Garnish
2.5

ozs

Enoki mushrooms

2

tbsp

almonds

(chopped)

1

chilli

(finely sliced)
Instructions
For The Veg
Place all of the spiralized veg noodles in a bowl.

Add all the remaining chopped veg and pea shoots to the bowl and set aside, ready for the sauce.
For The Sauce
Blend all ingredients together until smooth.

Mix sauce, noodles and veg together. Mix this thoroughly with your hands, before plating, ready for the garnish.
For The Garnish
Portion the spiralised veg mixture between two plates or bowls. Garnish with pea shoots, chilli and chopped almonds.
Video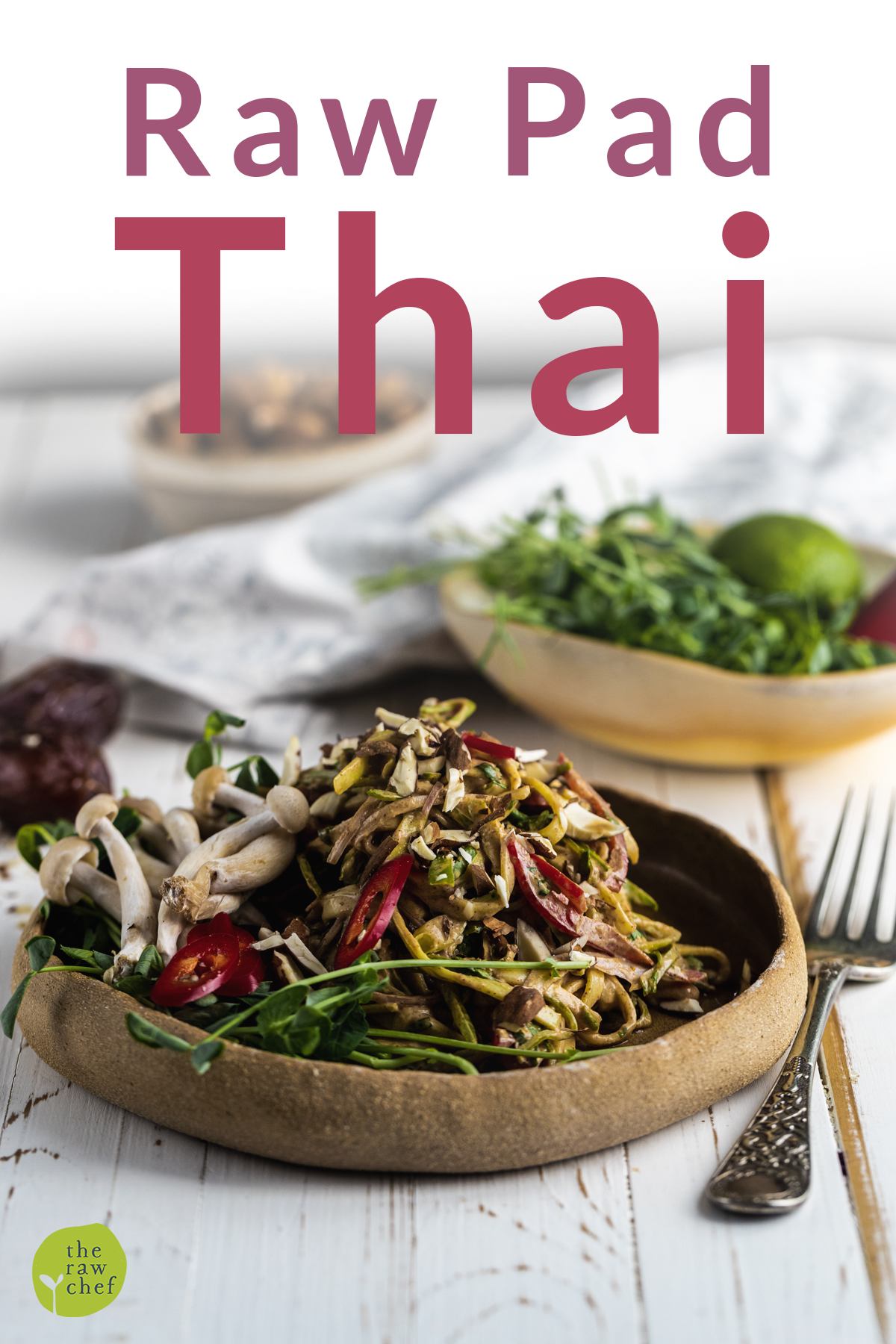 This recipe is part of our 10 Most Popular Raw Food Recipes, which can be downloaded as a free eBook.