Rejuvenate Latte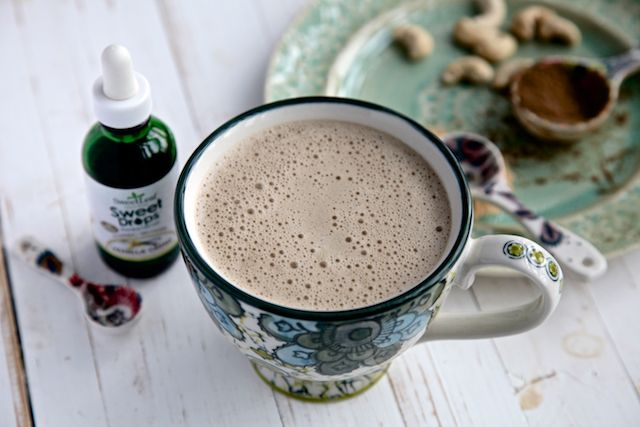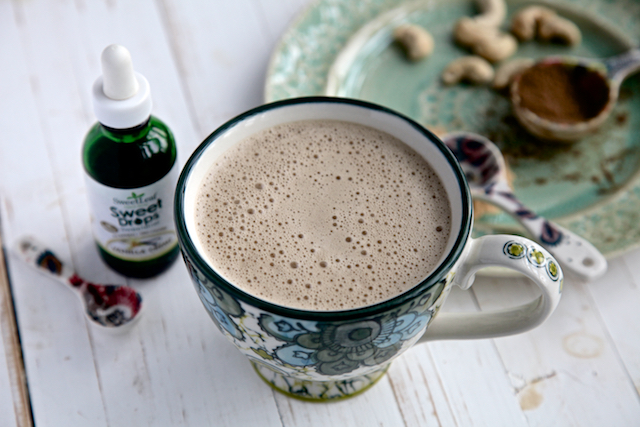 When it's cold outside and you need a cozy drink to replace coffee or tea, this will do the trick. There are no stimulants in it (so no anxious feeling) and it will actually support your adrenals, leaving you with a calm type of energy, enabling you to focus on the things that matter most to you.
It's a really great way to get some medicinal and tonic herbs into your life.
I like to use Rejuvenate powder, from my friend Elwin Robinson and Lionheart Herbs. But if you can't get that, you can use any of the medicinal mushroom powders like chaga or reishi, all of which are great for your endocrine system.
Here's what's in Lionheart Herbs Rejuvenate:
Rejuvenate is used to restore vitality and health to the kidneys, bladder, bones, joints and tendons. It healths the nervous system and relieves nervous conditions, promotes relaxation, recovery, memory, healing. It builds jing and reserve energy.
Here is a list of the incredible ingredients you will find in your Rejuvenate Taoist Tonic Tea Blend, as well as just a small, relevant selection of their many, well researched, time proven benefits:
Schizandra
Tonic Herb for the Kidneys;
Sharpens the mind, improves lucidity, concentration, precise coordination and focus;
Improves both short and long term memory;
Increases hydration due to its astringent properties;
Prevents the leaking or wasting of Jing, our precious and irreplaceable reserve energy, probably its most crucial quality;
Increases potency in men, fertility in women;
Aids in preventing premature ejaculation, restoring sex drive, and increasing sexual endurance (worth having for this quality alone right?);
Increases sexual desire, vaginal secretions, and genital sensation in women (worth having for this quality alone right?);
Excellent to restore and maintain a youthful appearance and attitude;
Improves hearing and vision
Ho She Wu
Strengthens the tendons, ligaments and bones
By encouraging rejuvenation of bone marrow, slows down the aging process
Long term use has been known to restore hair colour in cases where it's greying
Increases potency and fertility
Promotes greater endurance and stamina
Enhances the capacity to respond and adapt to stressors in the environment
Prepared Rehmannia
One of the most potent Kidney tonifying herbs in the world
Slows aging and therefore promotes longevity
Works almost immediately to build Yin Jing, recharging your batteries, allowing you to heal and recover a lot more easily.
Strengthens the Reproductive system especially, increasing fertility.
Ligustrum
Relieves aching joints
Improves memory and vision
Helps keep hair from going grey
Increases endurance
Rebuilds reserve energy
Dendrobium
Excellent and delicious Yin Jing tonic and longevity herb
Replaces spent "adaptive energy."
Replenish fluids
Effective in treating dryness
Helps to generate beautiful skin
Eucommia
Strengthens the skeleton and joints
Considered to be one of the great longevity tonics
Effective marital tonic for men and women
Regulates blood pressure
Achyranthes
Guides the other herbs to focus on tonifying the kidneys
Horsetail
Also high in Silica, excellent for building bone strength and flexibility
Makes the skin more smooth and supple
Increases nail strength and quality
White Atracylodes
A powerful Qi tonic
Invigorates the Yang energy of the body
Provides power and strength to the body
Increased endurance, improved digestion
Liquorice
Harmoniser, Helps all other ingredients to work together more easily
Delicious flavour takes away any 'rough edges', of any other ingredients
This is a small overview of just a few of the most relevant benefits. Books could, and have, been written extolling the virtues of each particular herb, and the sum of all of them combined in this perfectly balanced formula is greater than the individual herbs. If you're interested I highly recommend you research and find out more, the history of use behind these herbs is pretty amazing.
Rejuvenate Ingredients
Sweetener: If you don't like using stevia as a sweetener, simply substitute with your favourite sweetener, such a xylitol or a little maple syrup or coconut sugar.
Cashews: I wanted to use just a really small amount of cashews, because all you're looking for is creaminess. To give you an idea, 7ozs (20g) works out to about 10 to 15 individual cashews.

You can also use any other favourite nut, seed, oat or coconut milk.
Coconut oil: Haven't included in the recipe, but 1 or 2 teaspoons will be lovely and make it even more creamy.
Maca: I love the addition of maca for a malty taste, but you could also replace with carob too (different taste, but nice substitute).
Links for ingredients: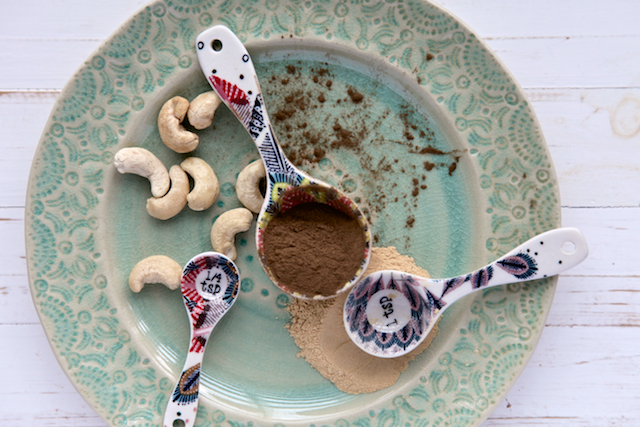 Rate This Recipe
Rejuvenate Latte
A wonderful calming drink that will nurture your adrenals and generally calm your system.
Nutrition (For one serving)
Calories:
170
kcal
Carbohydrates:
9
g
Protein:
12
g
Fat:
9
g
Saturated Fat:
2
g
Sodium:
15
mg
Potassium:
211
mg
Fiber:
2
g
Sugar:
2
g
Vitamin A:
750
IU
Vitamin C:
1
mg
Calcium:
20
mg
Iron:
4
mg
Ingredients
1

cup

hot water

1

tbsp

Rejuvenate

1

tsp

maca

1/2

drop

stevia

Vanilla Creme

0.7

ozs

cashews
Instructions
Blend all ingredients in a high speed blender and serve immediately. It's really important to make sure you blend fully, so there's no bit of cashew left…I really don't like bits of cashew in my creamy drinks.