Simple Ganache Tart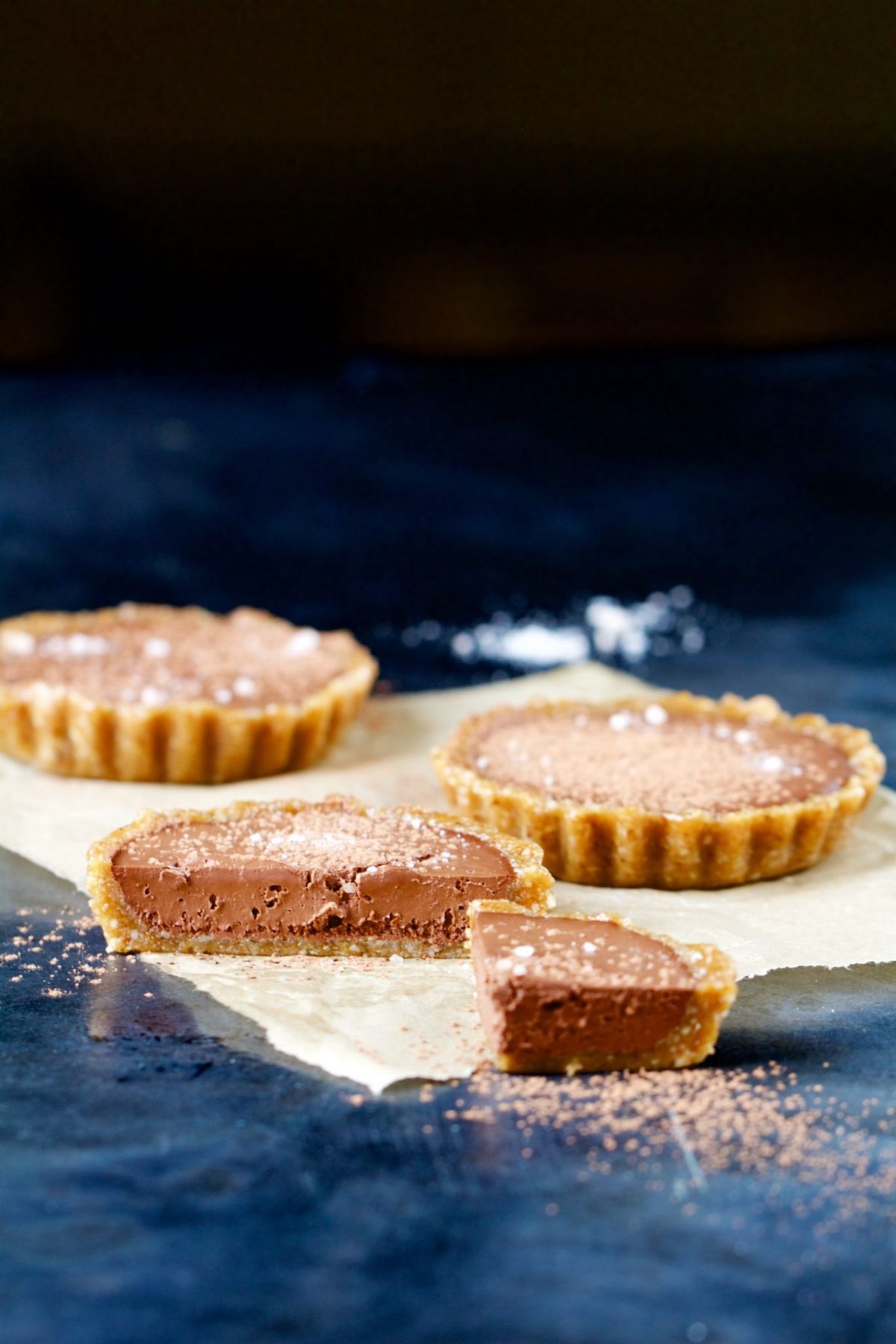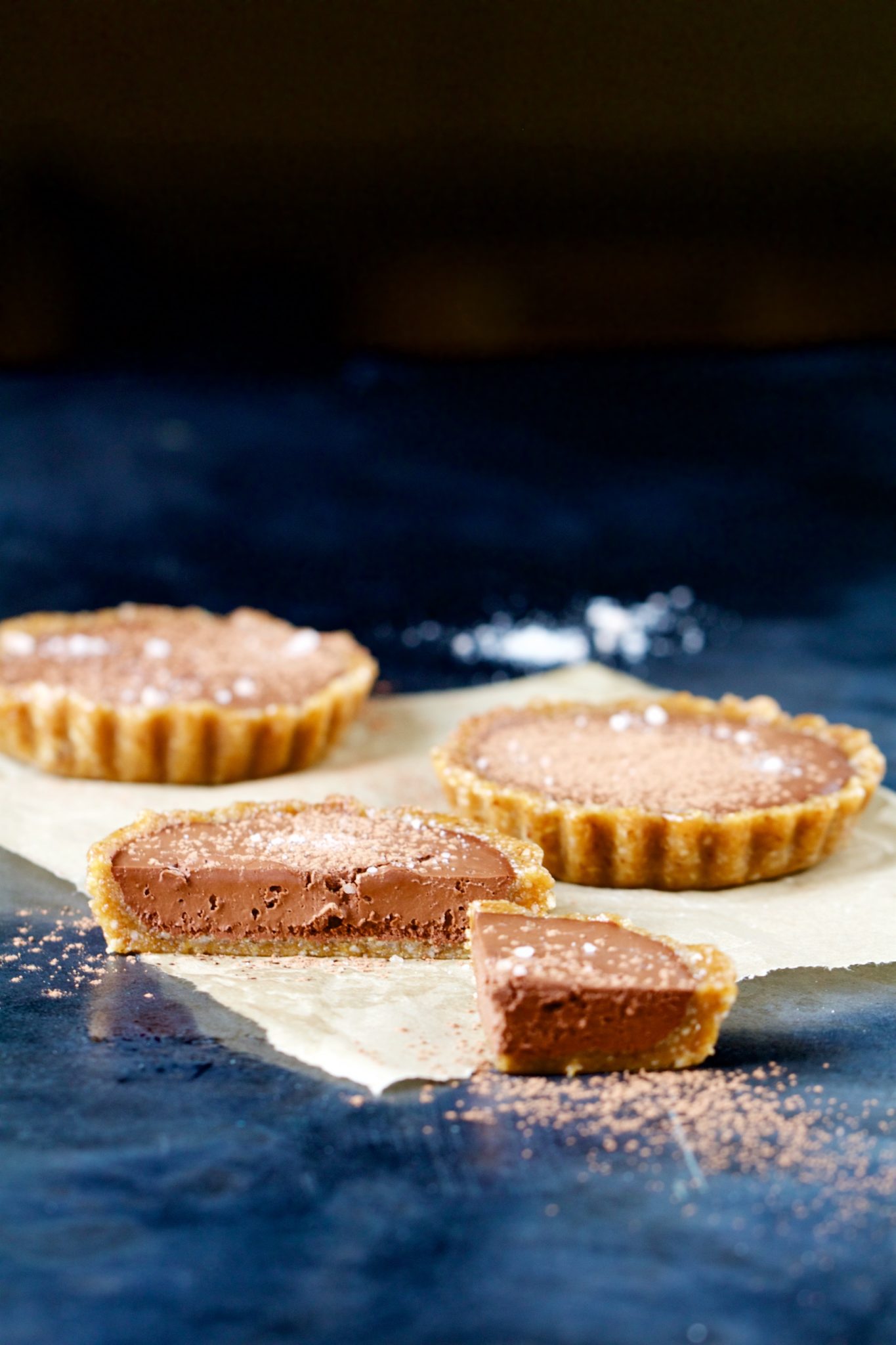 Ganache is the emulsification of chocolate and liquid. So incredibly simple. There are nuances to making the perfect ganache, of course, but in it's most basic form, it's simple, straight forward and clean.
In this recipe, I have provided a little guide to customizing your ganache tart and making it your own. My suggestion is that you follow the recipe the first time around, and then play around on future attempts. It's always important to start with a solid foundation of understanding before branching off into a world of creativity.
The ganache is silky smooth, creamy and decadent. The crust is intentionally crunchy, textured and sweet in order to cut through the richness of the ganache. A wonderful accompaniment would be fresh fruit to brighten each bite and wash the palate ready for the next indulgent morsel.
Rate This Recipe
Simple Ganache Tart
The ganache is silky smooth, creamy and decadent.
Nutrition (For one serving)
Calories:
3338
kcal
Carbohydrates:
315
g
Protein:
115
g
Fat:
247
g
Saturated Fat:
67
g
Sodium:
154
mg
Potassium:
6165
mg
Fiber:
119
g
Sugar:
110
g
Calcium:
1416
mg
Iron:
43
mg
Ingredients
Crust
1 1/2

cups

almonds

pecans or hazelnuts, activated

3

tbsp

coconut sugar

1

tbsp

lucuma

optional

1

tsp

vanilla powder

or extract

1

tsp

cinnamon

3

tbsp

coconut oil

or cacao butter, melted

2

tbsp

water
Ganache
7.7

oz

cacao paste

or your favourite chocolate, melted

1/2

cup

nut butter

or seed butter

1/3

cup

maple syrup

or honey

1

tsp

vanilla powder

or ½ tsp vanilla extract

1

cup

warm water
Instructions
Process all crust ingredients, except water and coconut oil, into a food processor until crumbly, but still with lots of texture.

Add coconut oil or cacao butter and water and process just to combine.

Line a spring-form tart tin with cling film and press the crust in, bringing it up the sides, if that is the type of base you desire. Press the crust so it's rather compacted.

Set in the fridge or freezer for 15 minutes.

In a blender, combine all the ganache ingredients except for the water on low-med speed.

With the blender running, slowly drizzle in the warm water and watch it emulsify (because it's fun to watch).

Pour into the crust and set in the fridge (4 hours) or freezer (1-2 hours).
Notes
Design your own ganache tart
Starting with the crust
The nuts you use in the crust will be one way to customise your ganache tart and make it special. If you're using nuts / nut butter in the ganache, keep the crust the same nut in order to be consistent. Avoid using oily nuts or over processing them as it'll create an oily crust.
Using spices and/or essential oils in the crust is a nice touch as they will shine through the crust more easily than the ganache itself. Chocolate is a hard flavour to be paired against as it's so strong. The crust is a great way to add flavour without having to add too much.
Try changing the setting agent in the crust from coconut oil to cacao butter, or even cacao paste. The cacao products will create a firmer crust and will also mean they stay more firm at room temp than coconut oil will. The flavour of cacao butter is a lot more mellow than coconut, which a lot of people don't care for.
Activate the nuts – it makes all the difference. If you can't do this yourself, then buy them activated. They're more easily digestible this way and a lot lighter in texture too.
Customising the ganache
Change the nut butter you use in the ganache and match it to the crust. Try to go outside your comfort zone here and use a nut or seed that you don't normally use, but that you enjoy eating. Like sesame / tahini. It goes so well with chocolate, but it's massively underrated.
Trade out the water for any other liquid, such as fruit juice, fruit puree, alcohol or nut milks. If you're using alcohol, maybe do 25% and then 75% of another liquid, like water or fruit juice.
Essential oils and spices are an easy and fast way to change things up.
Spices/Flavours
Cinnamon
Nutmeg
Cloves
Cardamom
Star Anise
Vanilla
Allspice
Ginger
Cumin
Cayenne
Chipotle
Brewed Coffee ( as the liquid in the ganache )
Essential Oils
Peppermint
Lavender
Rose
Lemon
Cardamom
Orange
Star Anise
Lemongrass
Cumin
Black Pepper
Notes on essential oils and spices –
The same note applies for flavour pairing as when combining nuts and dried fruits. Do a search online or in the Flavor Bible to get some good ideas.
You can find essential oils "made for internal use" but I have used any essential oils in food for several years and I'm fine… I hope I'm fine ?  Brands like Doterra and Young Living are medical grade and are "prescribed" for internal use.
Get the best quality of essential oils and spices that you can afford, it makes all the difference. The bulk section in health food stores can tend to have really good stuff. In the UK Steenbergs is amazing quality. In the USA Whole Foods brand is really good stuff, from what I am tried.
The general cooking rule applies here; You can always add, you can't take away. Add a little at a time, taste and add more as needed or wanted.
About Amy
Amy Levin is the world's leading raw chocolatier. Her expertise in raw chocolate is unparalleled as she consistently breaks boundaries in the raw food arena.
Links:
Amy's site