Smashed Chickpea & Sweetcorn Salad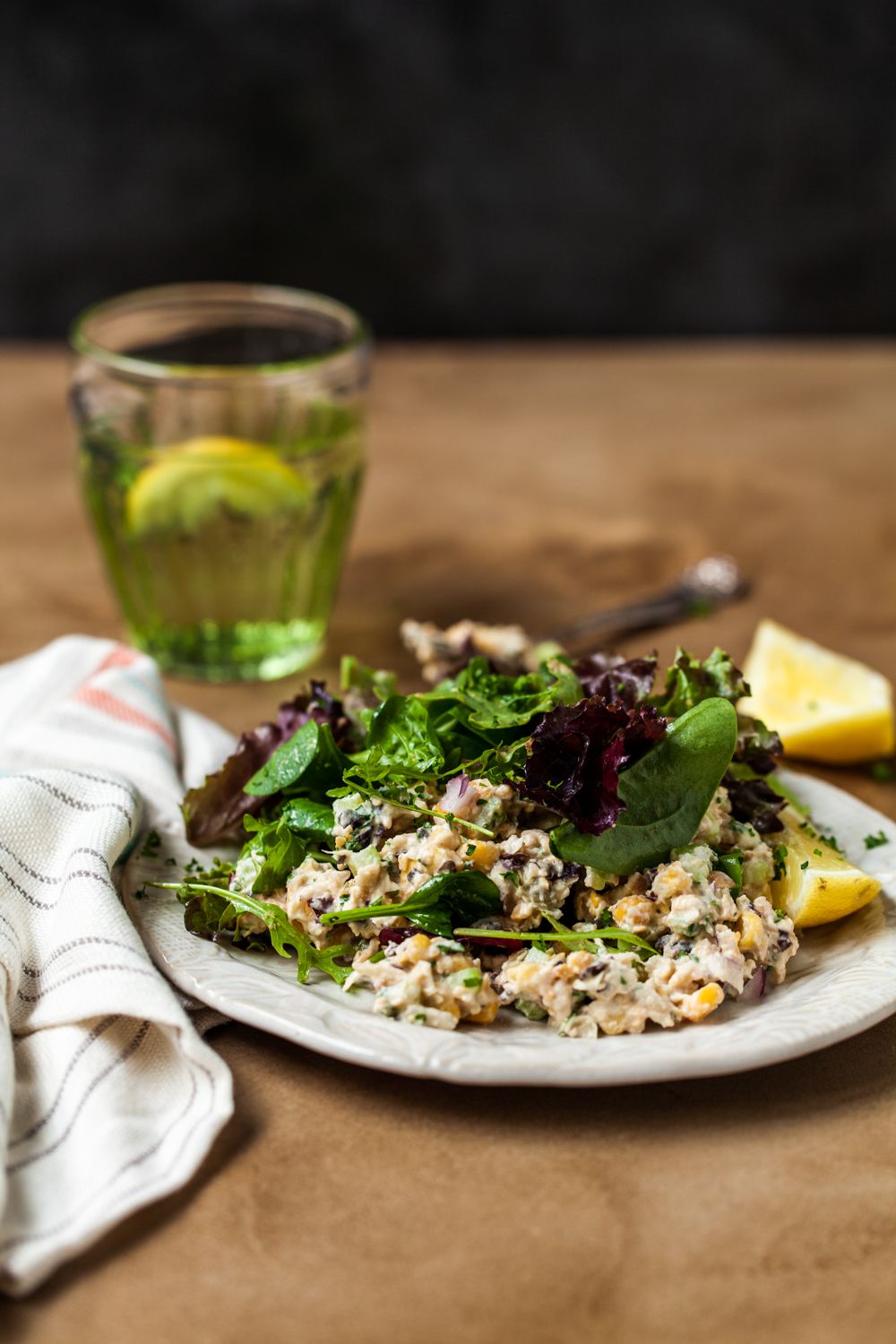 This is a new favourite of mine! It's so moorish and full of minerals, because of the sea veg.
I thought the summer was here, but it seems to have disappeared after just 2 days!
No matter though, because the need for a hearty yet light salad in the warmer weather inspired me to put this together.
The most observant amongst you will notice that this is very much like a tuna salad, with the sprouted chickpeas replacing the texture and 'meatiness' of the tuna.  I'm certainly not the first one to do this, but I really wanted to put my own slant on recreating this kind of salad.
This is definitely a great way to get a decent amount of sea veg into your diet.  As I mentioned in the recipe, you can certainly add more than I've measured out, it just comes down to your personal tastes.
OK, go and give this one a try out and let me know how it goes.  I'm hoping it'll become a weekly staple for you this summer.
Rate This Recipe5 from 3 votes
Smashed Chickpea & Sweetcorn SaladThis is a new favourite of mine! It's so moorish and full of minerals, because of the sea veg.Servings2
Nutrition (For one serving)Calories: 578.11kcalCarbohydrates: 71.02gProtein: 23.84gFat: 25.94gSaturated Fat: 4.29gSodium: 784.78mgPotassium: 1197.13mgFiber: 14.87gSugar: 15.85gVitamin A: 912.29IUVitamin C: 19.27mgCalcium: 120.69mgIron: 7.71mg
First set
3/4 cup cashews soaked 20 minutes and rinsed
1/2 tsp salt
1 tsp lemon juice
1 tbsp apple cider vinegar
1/2 cup water
2nd set
1 1/2 cups sprouted chickpeas garbanzo beans
2 stalks celery small, finely diced
1 cucumber approx. 3 inches or 8cm, finely diced
3 tbsp red onion finely diced
2 tbsp parsley minced
1 cup organic sweetcorn
1/8 tsp cayenne
1/4 cup  sea veg salad or more if you'd like
1/8 tsp Himalayan salt
1/8 tsp cracked pepper
Instructions
Blend the first set of ingredients (cashews, salt, lemon juice, apple cider vinegar and water) in a high speed blender.
In a bowl, crush the sprouted chickpeas with a fork or potato masher, leaving some texture to them. Some people digest chickpeas better when they have been steamed for 5 minutes first. If this is you, still sprout them, then steam them.
If you're in a pinch, or can't imagine doing this, you can use pre-packaged ones. If you're going this route, get organic and if you can get them in a pouch or box, rather than a can, you'll avoid the toxicity that can come from canned goods.
Add the remaining ingredients, along with the blended cashews, to the bowl with the chickpeas and mix with a fork.
Serve on a lightly dressed greens.  I just like to use a little olive oil and lemon juice to dress the greens.
Related Links: