Spicy BBQ Kale Chips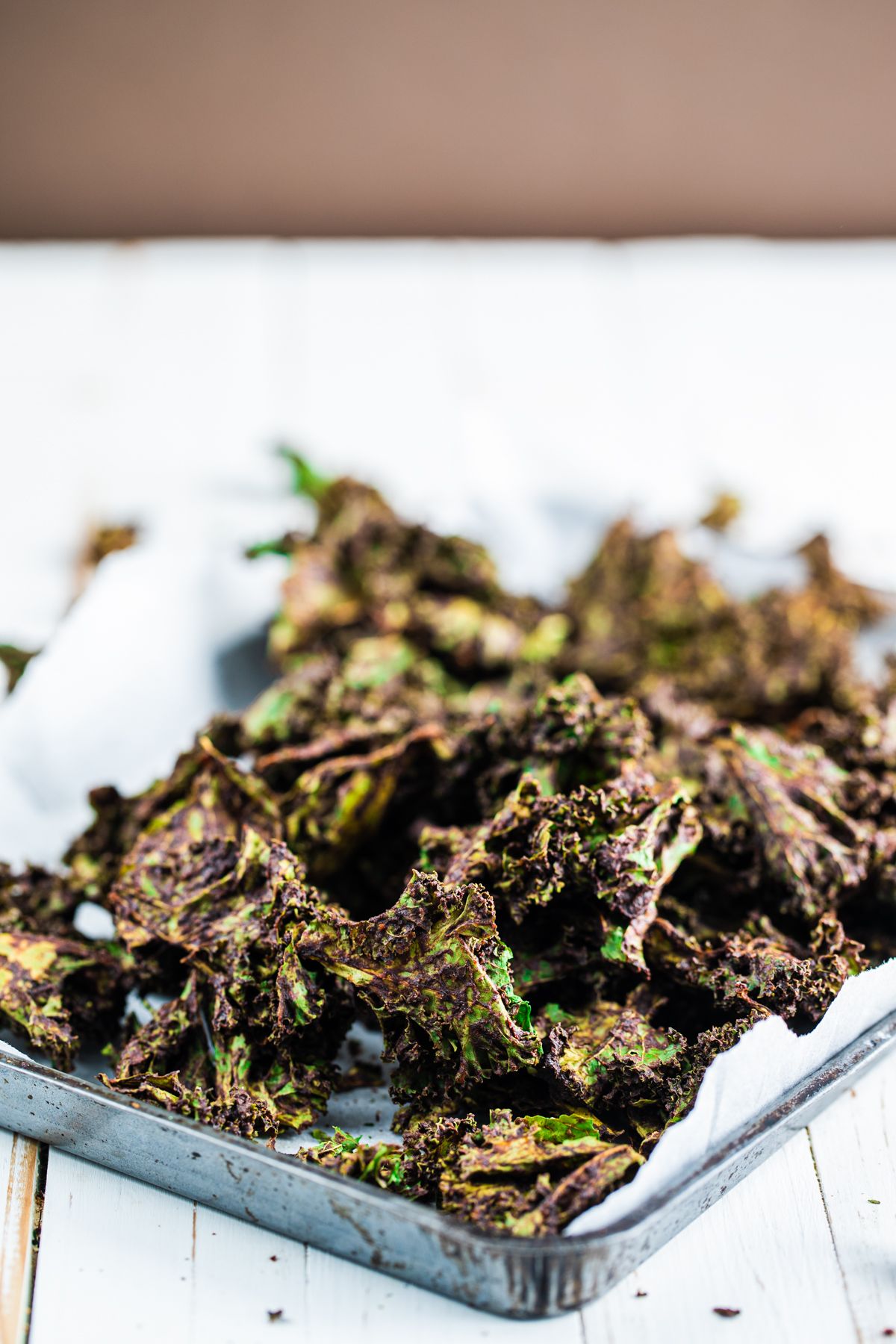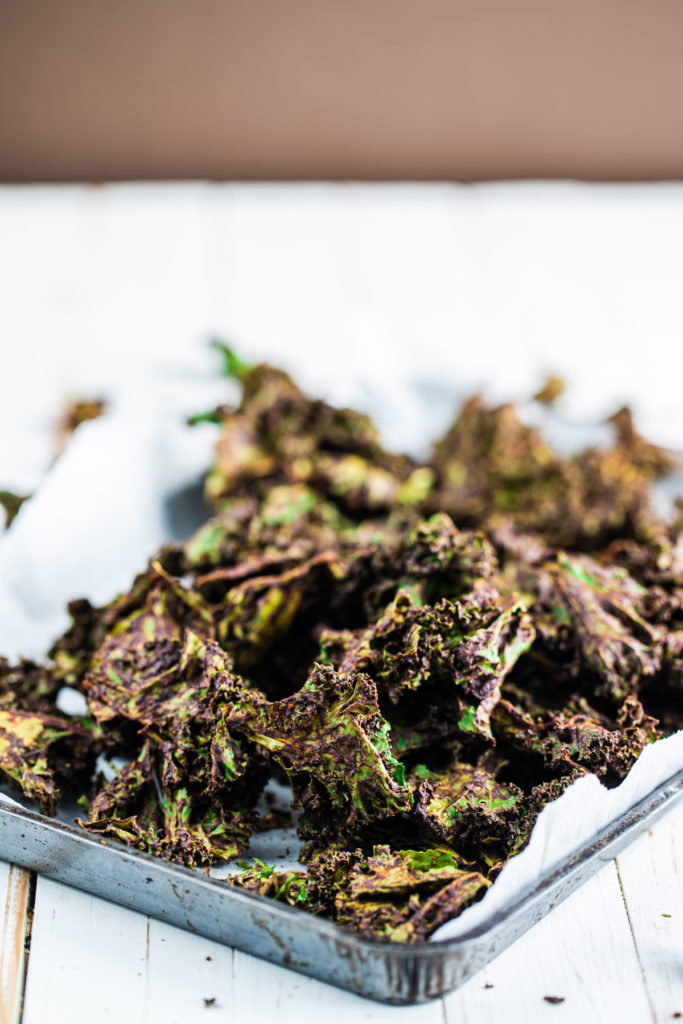 How Do You Make Kale Chips?
Kale chips are a raw food classic that got really popular a few years ago.
If you're in the UK, you'd be more likely to think of them as kale crisps. 'Chips' in a US word that seems to have stuck over here in the UK.
Whatever you want to call them, they are delicious, moreish and really easy to make. They'll also last for at least a week in a sealed container. Unlikely you'll avoid eating them in a week though. It's not unheard of for me to eat half the batch out of the dehydrator. I'll keep telling myself I'm testing to see if they're ready and before I know it, half are gone!
So how to make them? Curly kale is best. You'll wash your kale, remove the big stems and tear the kale into bite sized chunks, allowing for shrinkage during drying. Then you'll make a kale chip sauce, which is more often than not a cashew based sauce. I do love those, but I also wanted to make something nut-free. So this kale chip recipe uses a base of sundried tomatoes and dates.
Kale Chips Recipe for Your Dehydrator
This recipe is for making kale chips in a dehydrator, but you can also make kale chips in an oven. Doing them in a dehydrator will make sure they don't go over 115 degrees F, which is the temperature the most delicate enzymes get destroyed, but not everyone has a dehydrator, so doing them in an oven on a low temp is a good option to get started.
I always recommend Excalibur dehydrators (click here for all my kit recommendations), but the good news is that kale chips are very forgiving in even cheaper dehydrators, so you can work with whatever you have.
Crispy & Spicy Kale Chips
This recipe for spicy kale chips will give you a whole tray of beautifully crispy and spicy kale chips for snacking on. As I mentioned, they are very moreish, so you might have to ration yourself 🙂
They're great for taking out on the road with you. They're also great for lunches, and go wonderfully with some raw sandwiches.
Rate This Recipe
Spicy BBQ Kale Chips
A crispy kale chip recipe for your dehydrator. Nut-free and totally delicious. Great as a snack to take out with your, or to go along with your raw sandwiches for lunch.
Nutrition (For one serving)
Calories:
257
kcal
Carbohydrates:
52
g
Protein:
9
g
Fat:
5
g
Saturated Fat:
1
g
Sodium:
849
mg
Potassium:
1511
mg
Fiber:
7
g
Sugar:
37
g
Vitamin A:
5545
IU
Vitamin C:
70.3
mg
Calcium:
140
mg
Iron:
4.7
mg
Ingredients
7

ozs

curly kale

torn and stalks removed

2

chipotle chilies

soaked

1/2

cup

water

use soak water from chipotle chillis for more flavour

1

tbsp

olive oil

3

tbs

tamari

2

tbsp

lime juice

1

tsp

paprika

2

tsp

cumin

1

tsp

garlic powder

1

pinch

cayenne

1

cup

sundried tomatoes

1

cup

medjool dates

3

tbsp

lemon juice
Instructions
Blend all ingredients except kale in a high-speed blender until smooth.

Thoroughly combine the kale and sauce in a bowl until all the kale is coated.

Evenly scatter the kale on a nonstick dehydrator sheet in a way that will allow air to circulate around it.

Dehydrate at 115 degrees F for around 12 hours. If you're in a particularly moist climate, you may need to dry slightly longer.
Video
Related: 10 Health Benefits of Kale
General FAQ
What type of kale is best for chips?
I definitely prefer curly kale for kale chips. It makes for much crunchier and hearty chips than dino or Lacinto kale, which can end up with kind of flat chips.
Are kale chips really good for you?
They're definitely way better for you than chips bought at the store. By dehydrating kale, you'll retain more of the vitamin c and beta-carotine than baking. Kale is a great source of fibre.
Do you have to refrigerate kale chips?
Kale doesn't need to be refrigerated because they are completely dried when dehydrating. Just store them in an airtight container at room temperature. Making sure they are completely dry is the key to keeping them crispy.