How to Make Vegan Kimchi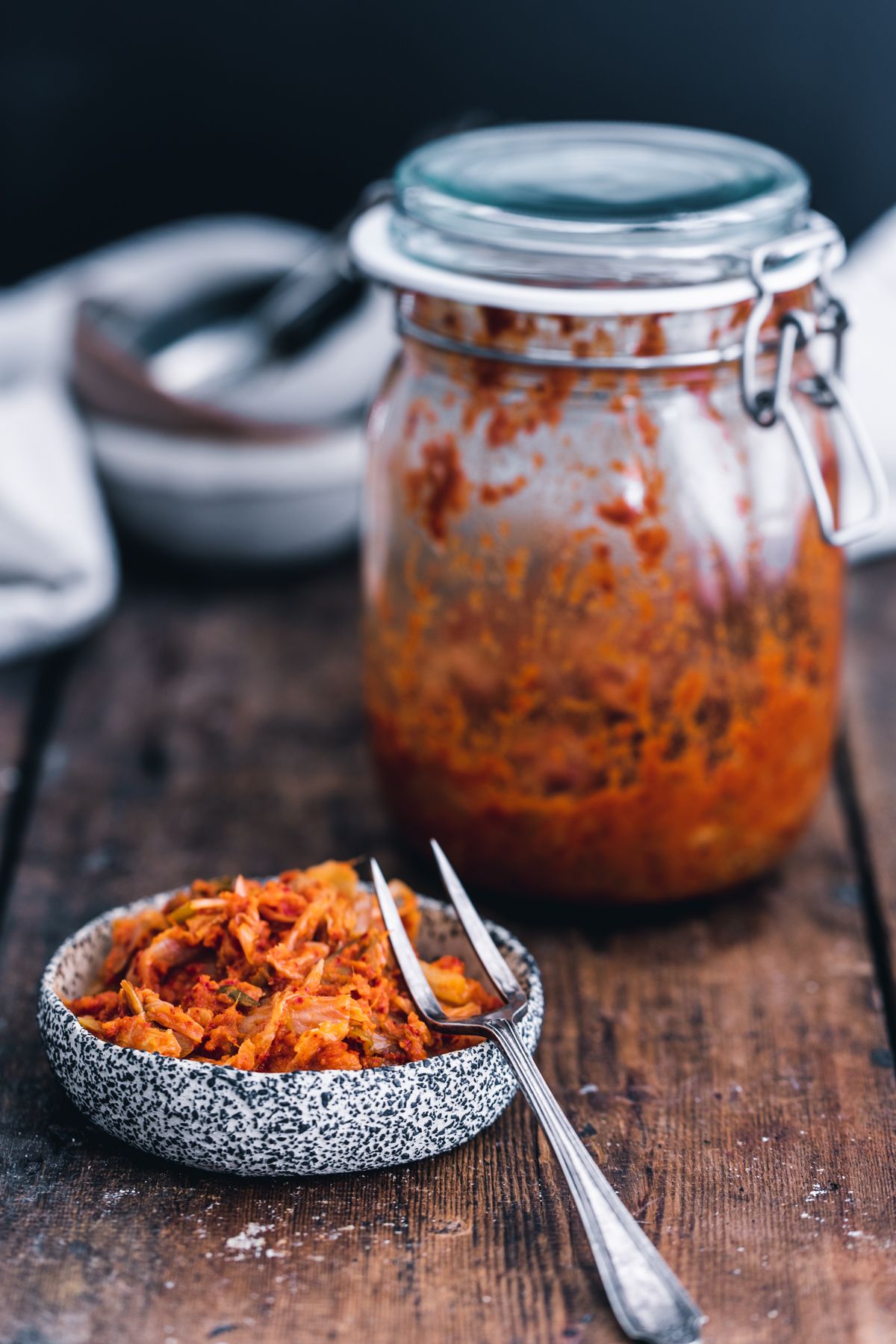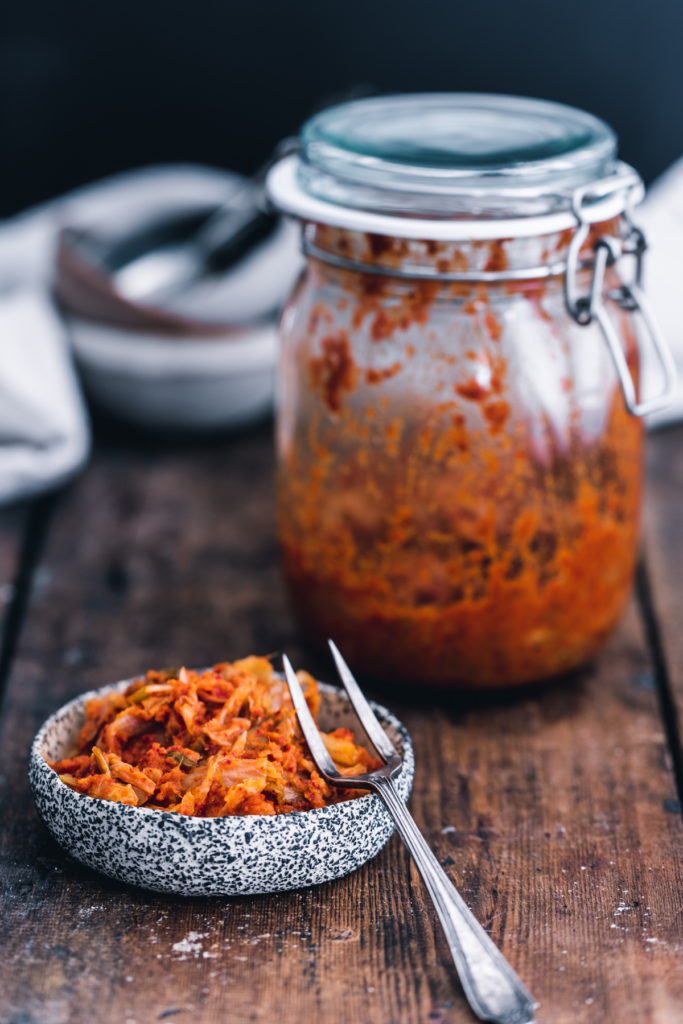 Is Kimchi vegan?
Can vegans eat kimchi?
Does Kimchi have meat or shellfish?
Normally, kimchi is not vegan. But this recipe for how to make vegan kimchi is going to show you an easy way to make authentic kimchi, with a simple, traditional method, slightly altered to be vegan.
I LOVE throwing kimchi into a number of other recipes. It's so versatile that it is just as home in a kale salad as it is in a sandwich with raw bread.
This kimchi is from our Raw Fermentation at Home online course. It's the newest version of this recipe, and when Amy made it for me, I couldn't keep it to myself.
Does Kimchi Have Probiotics?
Not only is kimchi absolutely delicious, it's full of healthy bacteria. This means it's super healthy for the gut. When you consider that 85% of your immune system is located in your gut, you can see why eating any fermented foods is a really good idea.
The other great thing about fermented foods, and kimchi in particular, is that they are so easy to make (with some initial guidance) and you can make them in batches that will last months! They're kind of like the perfect food in that way; long lasting, tasty, go well with your other meals, so it's easy to throw some in, and provide a huge amount of nutrition. Oh, and they're cheap to make too!
Making kimchi at home is definitely the way to go, as you can make so much for such a small cost. And in my humble opinion, this is the best recipes for vegan kimchi. It's very much a vegan version of a Korean kimchi recipe.
But if you do want to try other kimchi brands from the store, always make sure they're unpasteurised and in refrigerated section. Adding heat to fermented foods kills a lot of the beneficial bacteria, which is why they're so great from a raw food perspective too!
Have you heard enough yet? Let's get into it.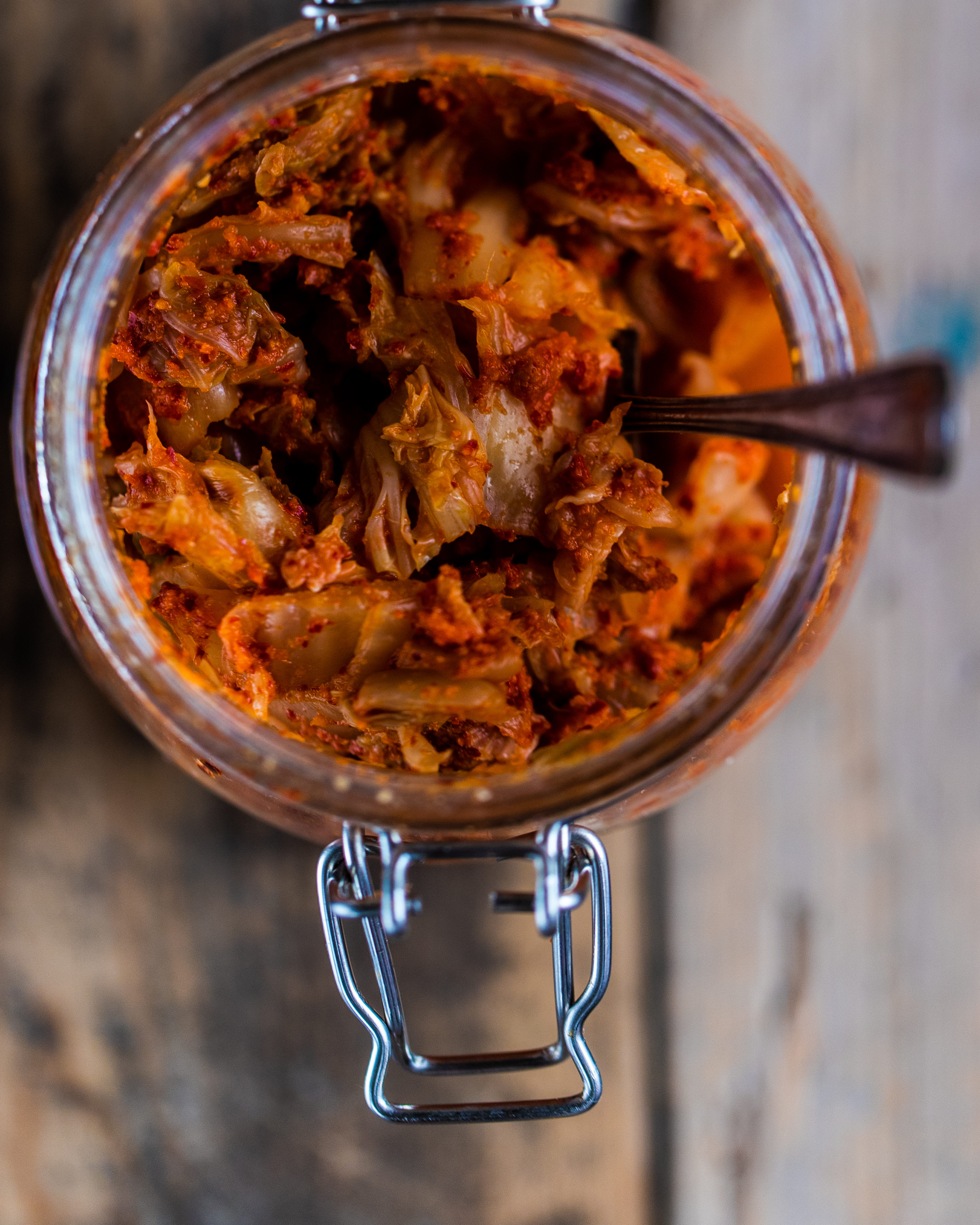 Want to learn more about Fermented Foods? Check out our online course, Raw Fermentation at Home, where we take you through everything from chutneys, to nut cheeses and drinks!
Rate This Recipe
Vegan Kimchi
How to make raw vegan kimchi. This recipe is simple and versatile and mostly importantly, it's tasty!
Nutrition (For one serving)
Calories:
30
kcal
Carbohydrates:
6
g
Protein:
1
g
Potassium:
282
mg
Fiber:
1
g
Sugar:
2
g
Vitamin A:
310
IU
Vitamin C:
27.1
mg
Calcium:
79
mg
Iron:
0.4
mg
Ingredients
1

Chinese leaf / napa cabbage

cut into 1'-2' chunks

2

tbsp

sea salt

large grain

2

white onions

use sweet white if possible

2

spring onions

cut on a bias

2

oz

ginger

peeled and roughly chopped

5

cloves

garlic

chopped

1/4

cup

Korean Chili powder / Kimchi Chili Powder
Instructions
Place the chopped cabbage into a bowl and sprinkle with the salt. Toss the cabbage to evenly distribute the salt. Allow to sit for 6 hours or overnight, covered.

Once that time has elapsed, rinse the cabbage and then squeeze it of all excess water, and place into a mixing bowl.

Blend the remaining ingredients into a thick paste, add a touch of water if needed just to blend.

Put on a pair of washing up or latex gloves so you don't burn your hands. Mix this paste into your vegetables well, being sure to coat each piece.

Finally, pack the kimchi into your prepared jar(s). Make sure to leave a 2' gap at the top of the jar for the kimchi to expand. Leave at room temperature for about a 4-8 days, checking after 4 days for required 'sourness'.

When the desired flavour is reached, transfer the jars to the fridge. This will keep for months if refrigerated.
Video