Waldorf Salad with Macadamia Blue Cheese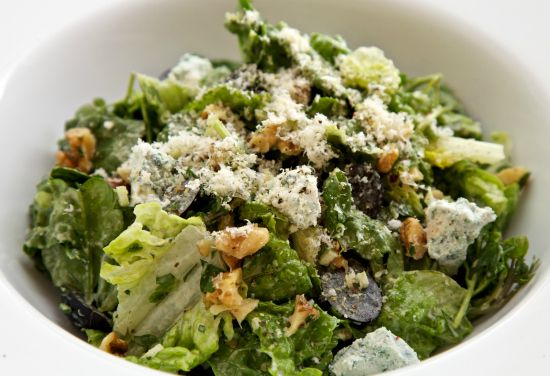 A 'deeper dive' into making raw nut cheeses and the actual macadamia blue cheese recipe can be found here.
Rate This Recipe5 from 2 votes
Waldorf Salad with Macadamia Blue CheeseThis awesome Waldorf Salad is very delicious and nutritious too. Its easy to make and perfect for any meal.Servings2 as a main course, 4 as a starter
Nutrition (For one serving)Calories: 963kcalCarbohydrates: 52gProtein: 18gFat: 83gSaturated Fat: 10gSodium: 663mgPotassium: 1622mgFiber: 15gSugar: 28gVitamin A: 29347IUVitamin C: 48mgCalcium: 237mgIron: 7mg
Salad
1 head romaine lettuce or other favorite lettuce, large
1 cup watercress
1 cup grapes mixed seedless, cut in half
1 apple diced
2 sticks celery finely diced
1 cup walnuts roughly broken up
1/2 cup parsley fresh flat-leaf
Dressing
1/2 tsp mustard powder
2 tbsp apple cider vinegar
1/3 cup olive oil
1/3 cup water
1/4 cup cashews soaked for 20 minutes or 1/4 cup almond butter
1/2 tsp salt Himalayan
1/4 tsp black pepper
Instructions
Tear the lettuce and watercress by hand and transfer to a bowl with the grapes and celery.
Chop the tough stalks off the parsley and then finely chop the leaves, adding them to your bowl.
Put all the dressing ingredients, along with the parsley stalks, into a blender and blend until smooth.
Put enough dressing into the bowl so that all the leaves are lightly covered. Toss, add the walnuts and toss the salad lightly again.
Transfer to your serving plates and then finish with a little of the macadamia blue cheese. If you don't have the macadamia blue cheese, a quick macadamia Parmesan recipe can be made by grating 1/2 cup unsoaked macadamias on a microplane and mixing in 2 teaspoons nutritional yeast and 1/2 teaspoon salt. This looks great sprinkled over the top.
Optional: A few good chunks of macadamia cheese.
Notes: As an optional step with the walnuts, you can soak them for 20 minutes. Then drain and rinse, followed by a toss in 1 teaspoon garlic powder, 1 tablespoon onion powder and 1/2 teaspoon fine Himalayan salt. Then dehydrate at 115 degrees F for 12 hours. When they are completely dried, roughly break them up by hand.
Related: More raw salad recipes