Zucchini Fettuccini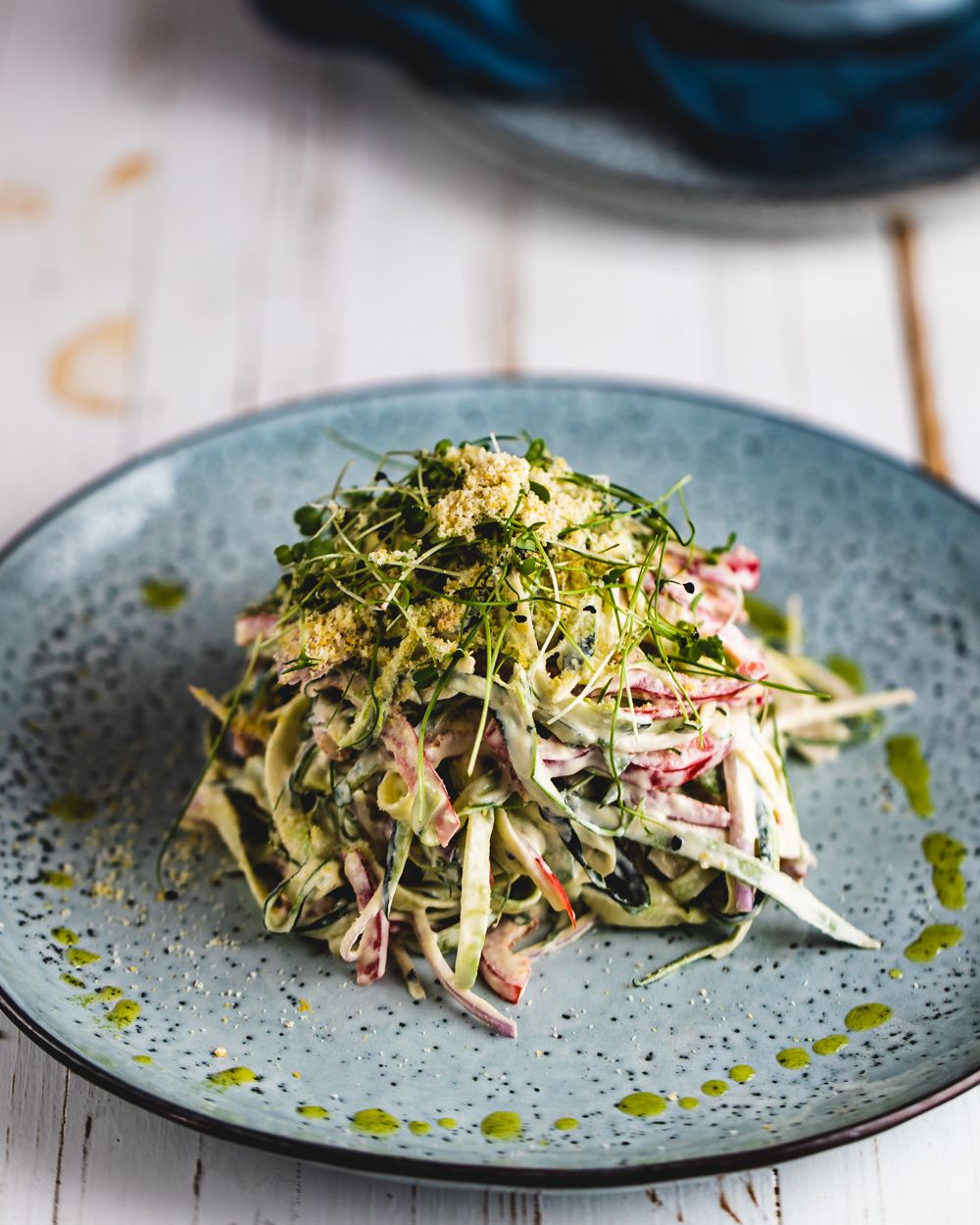 Raw food lends itself very well to Italian flavours.  Whether it's something simple like this zucchini fettuccine recipe you're looking at, or something more involved (but totally worth it) like this raw lasagne.
Even though it's simple, we're making this zucchini fettuccine a bit special with some simple tarragon oil.
We're also giving you the recipe for quick macadamia parmesan, which is perfect for sprinkling on this dish before serving.
How to Cut Zucchini Noodles
There are a whole bunch of different ways to do this.
For this particular recipe, we're going to be using a mandoline with a julienne blade attached.  This is a great way to get the zucchini into more of a fettuccine shape.
Of course, there's always the ever popular spaghetti version, which some people refer to as zucchini noodles, or 'zoodles'.  That would be done with a spiralizer.
Zucchini Pasta Without a Spiralizer
If you don't have either of these, you can make shredded zucchini with a simple peeler, which will give you ribbons.
Sauce For Zucchini Pasta
This recipe gives you a zucchini alfredo type sauce, which is creamy and can be made more cheesy in it's taste by the addition of nutritional yeast.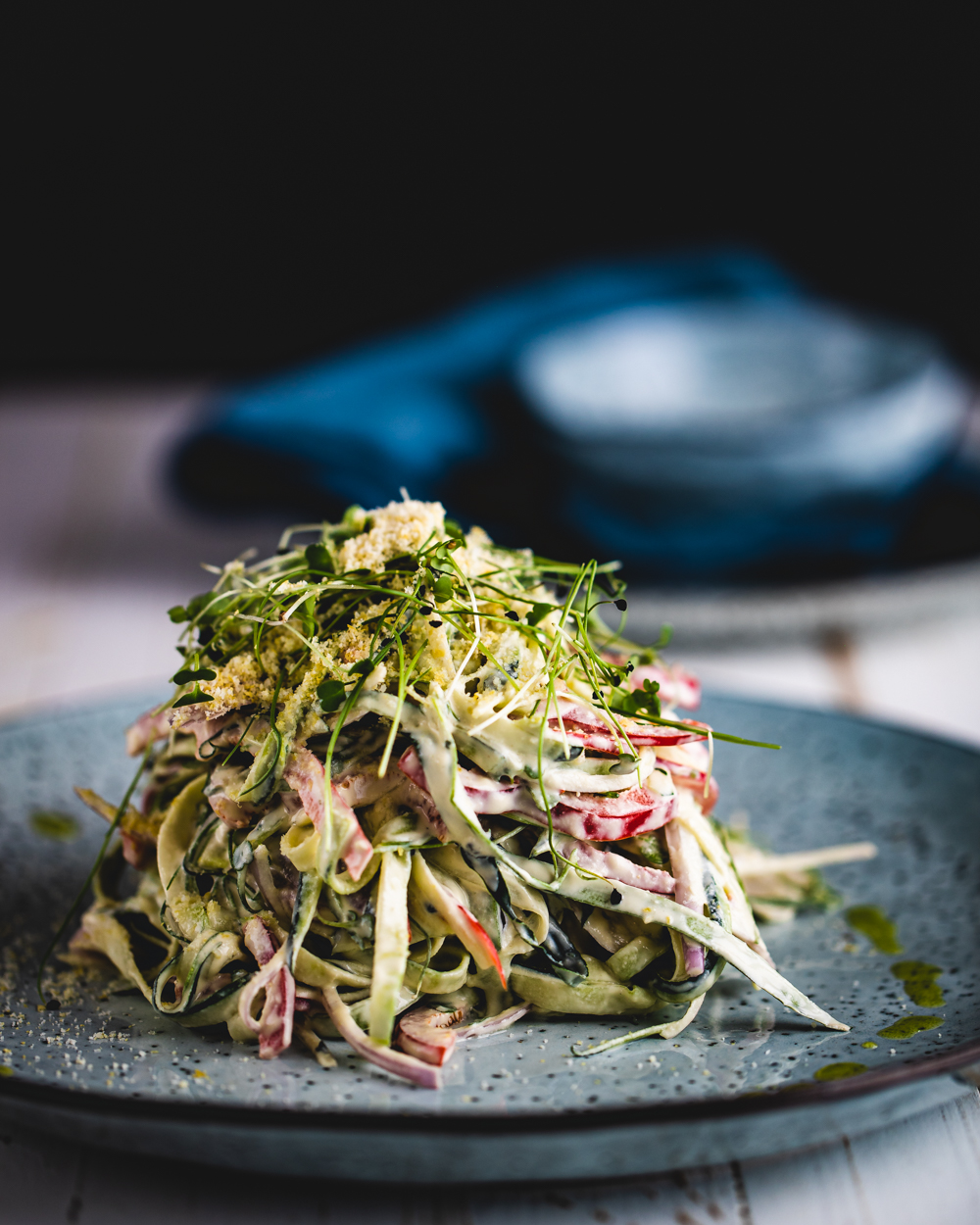 Rate This Recipe4.57 from 32 votes
Zucchini FettuccineA lovely, simple little lunch or dinner dish.Servings4
Nutrition (For one serving)Calories: 474kcalCarbohydrates: 24gProtein: 12gFat: 40gSaturated Fat: 6gSodium: 468mgPotassium: 1240mgFiber: 6gSugar: 8gVitamin A: 2069IUVitamin C: 85mgCalcium: 205mgIron: 7mg
Ingredients
Tarragon Oil
1.8 ozs tarragon
5 spring onion tops  (or use chives / parsley)
1/3 cup olive oil
Quick Macadamia Parmesan
1/4 cup macadamias (dry and unsoaked)
2 tbsp nutritional yeast
1/4 tsp salt
Zucchini Fettuccine
4 zucchini (courgette)
1 red bell pepper (sliced thinly)
1/2 shallot
Alfredo Sauce
1/2 cup cashews soaked for 20 minutes
2 tbsp olive oil use tarragon oil from earlier
1/4 cup water
2 spring onions tops
1 tbsp lemon juice
1/2 tsp salt
Instructions
Tarragon Oil
Blend all the ingredients together in a high-speed blender.
Strain through a nut milk bag, but only press hard enough to get the oil running through, not so hard that the water comes out. This oil should keep for 2 weeks at room temperature, so just making a little like this every now and then will be a nice treat.
Quick Macadamia Parmesan
Use a microplane, which is a really fine grater, to grate the macadamias into a bowl.
Crumble in the nutritional yeast, so it's powder and add the salt.  Lightly mix these together, to maintain the fluffiness.
Zucchini Fettuccine
Slice the courgette lengthways on a mandoline with the large julienne attachment, or make into ribbons with a peeler. Then cut the red bell pepper and onion nice and thin. Place all of these in a bowl and put to one side.
Alfredo Sauce
Blend the cashews, water, olive oil, spring onions, lemon juice and salt in a high-speed blender until smooth.
Add small amounts of the sauce to the zucchini until you're happy with the amount.  You  don't want to swap the zucchini.  Mix it through with your hands. Keep any remaining sauce in the fridge for up to 3 days to use as a salad dressing or crudité dip for snacks.  Rate This Recipe  4.57 from 32 votes   Did you make this recipe?Tag @therawchef on Instagram or hashtag it #therawchef!