Kimchi Kale Crackers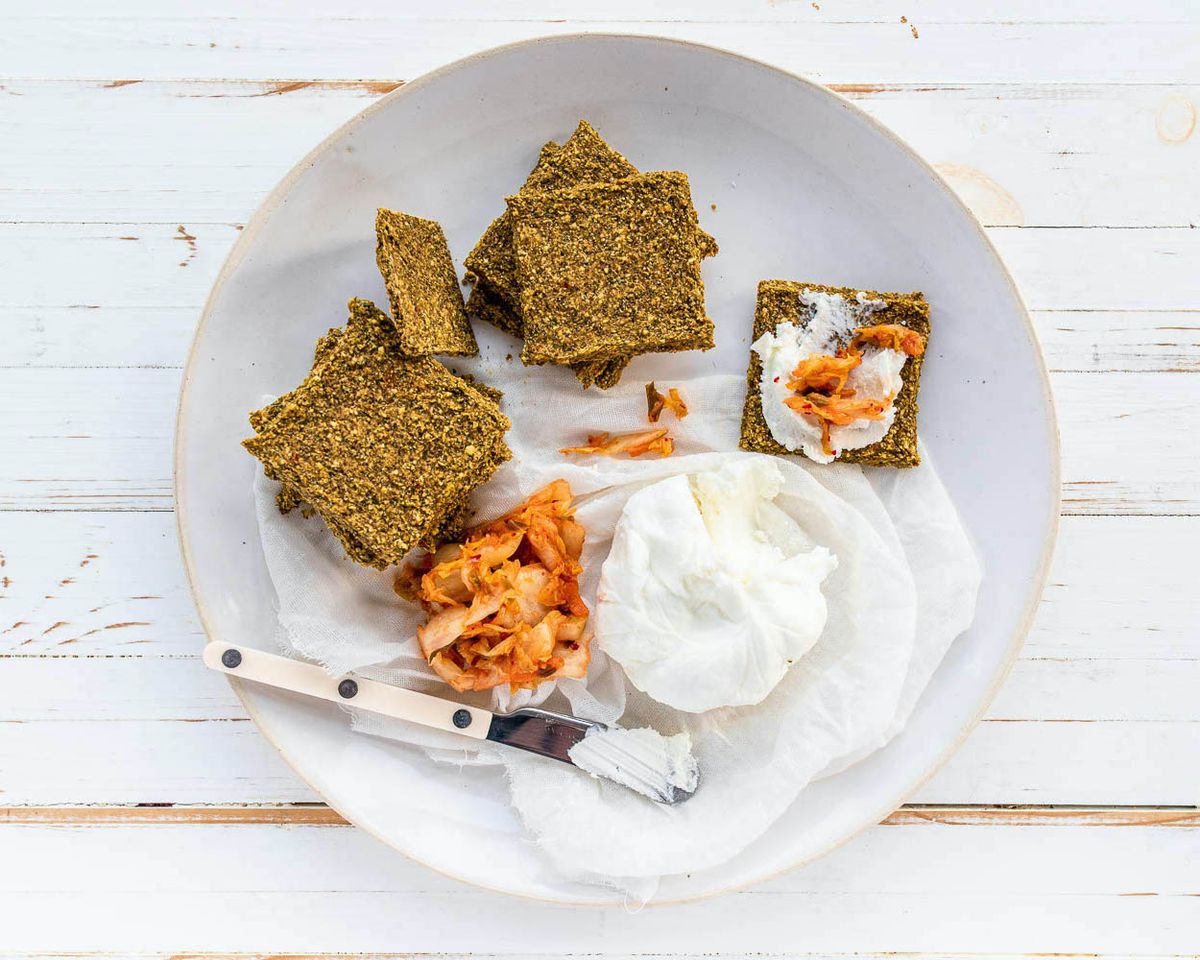 When I posted these Sauerkraut Crackers on my Instagram account, I had a question about whether kimchi would work instead of sauerkraut.  You could certainly do a one-for-the-other swap in that recipe, but I wanted to go a little further.
This recipe was born.
I swapped out the almonds in that recipe for cashews, which lend themselves better to kimchi.  I've gone for cold pressed sesame oil, rather than olive oil – a tiny (1/4 tsp) bit of toasted sesame oil would also be great.
I've taken out the fennel and caraway seeds, with no substitute.
I have added in some light miso, which adds to the umami flavour of the nutritional yeast.  If you're not a fan of nutritional yeast you can use just the miso.  In fact, in a lot of recipes you'll find light miso is a good sub for nooch.
If you want help with matching flavours of ingredients, I highly recommend The Flavour Bible.  It's how I come up with combinations and ideas for new recipes.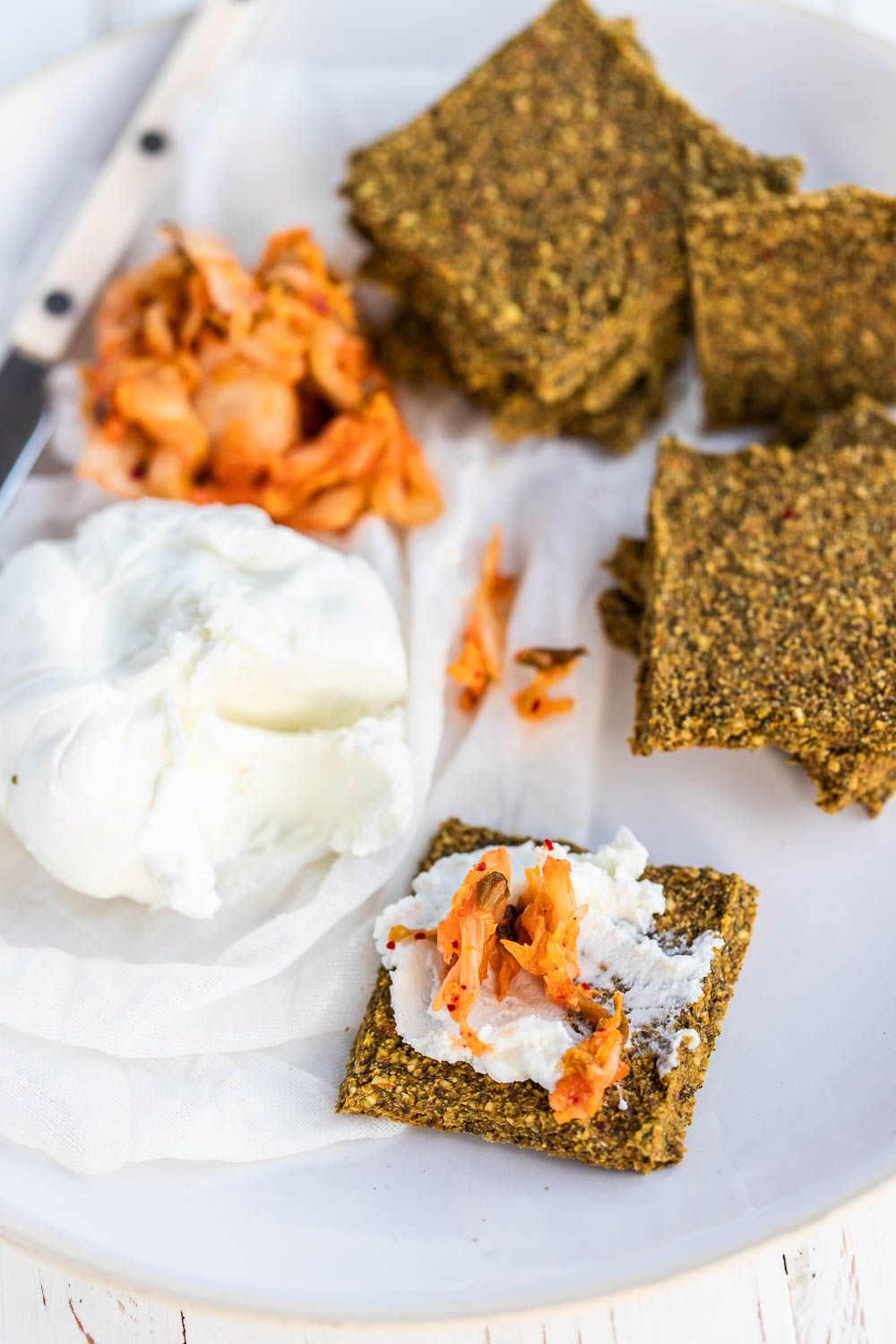 How to Make Kimchi Kale Crackers
Here's an overview of how you'll be making these crackers. For the full printable recipe scroll down to the bottom of the page.
Some simple preparation is needed for these crackers. You'll need to have a batch of kimchi ready to go.

You'll also need to sprout buckwheat. The rate at which it sprouts depends on the temperature of your kitchen (if that's where you're sprouting it). As a general guide two to three day's worth of sprouting should see enough growth to x2 or x3 the volume of your original buckwheat.

You're going to gather everything into a food processor (I use the incredible Breville/Sage Kitchen Whizz Pro) and grind everything down to form a paste.

Taste the mixture for saltiness. If your kimchi was salty it might provide all the salt needed for this recipe. Remember that the final result will taste more salty in dry form because removing the liquid will intensify all of the flavours.

Once you have it seasoned up to your taste, spread it evenly on to a square nonstick dehydrator sheet.

Dehydrate for 2 hours until it becomes dry enough to score into crackers and flip over to a mesh sheet, getting rid of the nonstick sheet. This way air can circulate all the way around the crackers for a further 12 hours to get them completely dry.

They can now be stored at room temperature in a sealed container for several weeks…although there's no way they last that long without being eaten ?
Servings36 Crackers
Ingredients
1 cup cashews (ground)
½ cup buckwheat (sprouted*)
½ cup kimchi brine or  water
3 tbsp sesame oil (cold pressed)
¼ cup flax meal
5 ozs kimchi
3.5 ozs kale
2 tbsp nutritional yeast optional
2 tbsp miso
salt (to taste)
Instructions
Grind all ingredients in a food processor until smooth.
Spread thinly on a non-stick dehydrator sheet.
Dehydrate at 115F for 2 hours, remove from the non-stick sheet and score into individual crackers.
Return to the dehydrator on a mesh tray until crispy, which should be overnight or around 12 hours.
💡
Let's do more together
🎥
Join my YouTube channel.
Join as a 'Supporter' to support free videos, or 'All-Access' to get access to YouTube livestream replays.
🌱
Take a raw food course.
Deep dives into all areas of raw food preparation with support via exclusive forums.
❤️
Subscribe to All-Access
on this site to unlock premium recipes and lessons (see below).