Raw Falafel Salad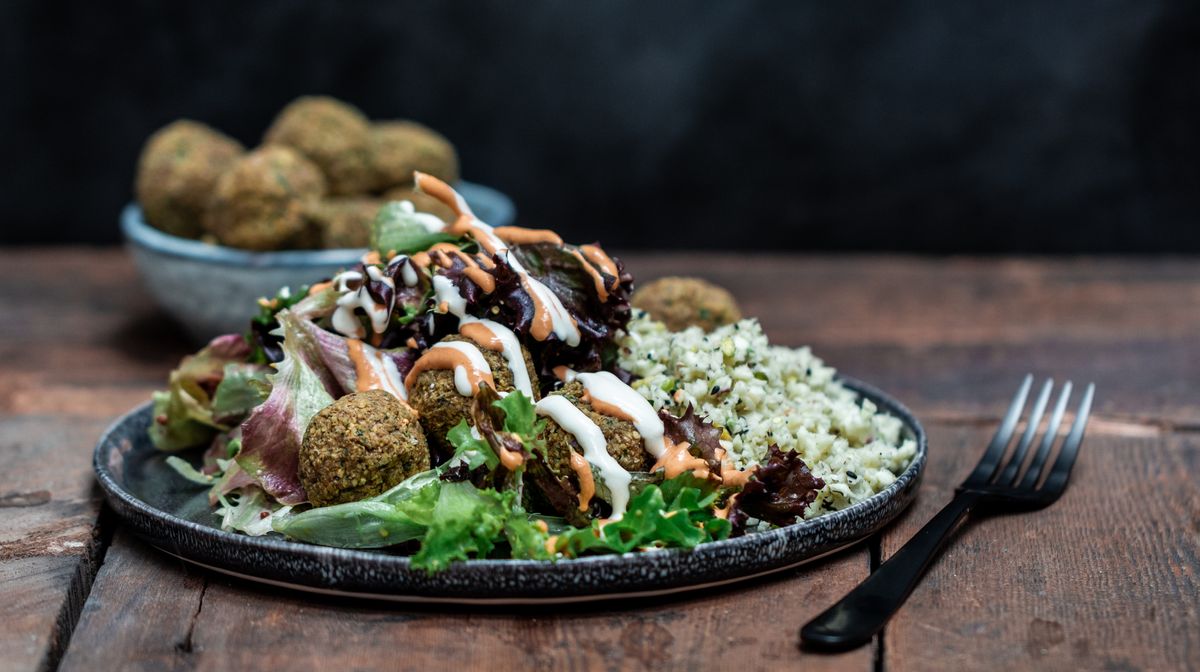 Sometimes a recipe just comes together first time, and this is one of those times.
This recipe has 'salad' in the title, but the hearty raw falafels, parsnip rice and cashew sauces make this is more of a main meal.
I wanted to make a raw falafel recipe that didn't rely on nuts as the base ingredient, so I sprouted up some chickpeas to see how they'd fair with a little ground almond for extra fluffiness.
Once dehydrated the chickpeas take on a much less distinct flavour, but if it's still not doing if for you – or whoever you're serving to – I recommend steaming the sprouted chickpeas for 5 to 7 minutes.  This way you're getting the best of both worlds by lightly cooking.  This can also help with digestion, because some people have trouble with raw chickpeas.
I've served here with Raw Parsnip Rice, and Cashew Sour Cream.  The red Cashew Sour Cream is made by adding a little red bell pepper, chilli powder and paprika (a some cumin if you fancy it).
⭐
When I moved my website over to a new platform, I lost all comments and ratings. So I would love to encourage you to rate this recipe - it helps it get seen. If you have a comment or question, please do leave it below too.
Raw Falafel Salad Recipe
💡
Let's do more together
🎥
Join my YouTube channel.
Join as a 'Supporter' to support free videos, or ''Supporter+' to get access to YouTube livestream replays.
🌱
Take a raw food course.
Deep dives into all areas of raw food preparation with support via exclusive forums.
❤️
Subscribe to All-Access
on this site to unlock premium recipes and lessons (see below).