Raw Vegan Sushi
Raw vegan sushi recipe with parsnip rice, shiitake, red pepper, avocado, marinated mushrooms and a fantastic miso sauce.
One of the biggest searches on this site is for 'sushi'.  I'm still not entirely sure if people are finding 'The Raw Chef' and thinking it's all sushi, or if they're actually looking for the vegetarian/vegan version.
Whatever brought you here, I'm glad 🙂  
Because whether you're into veggie or vegan food or not, this recipe stands alone in being 'great food' for anyone.
Related: How to make parsnip rice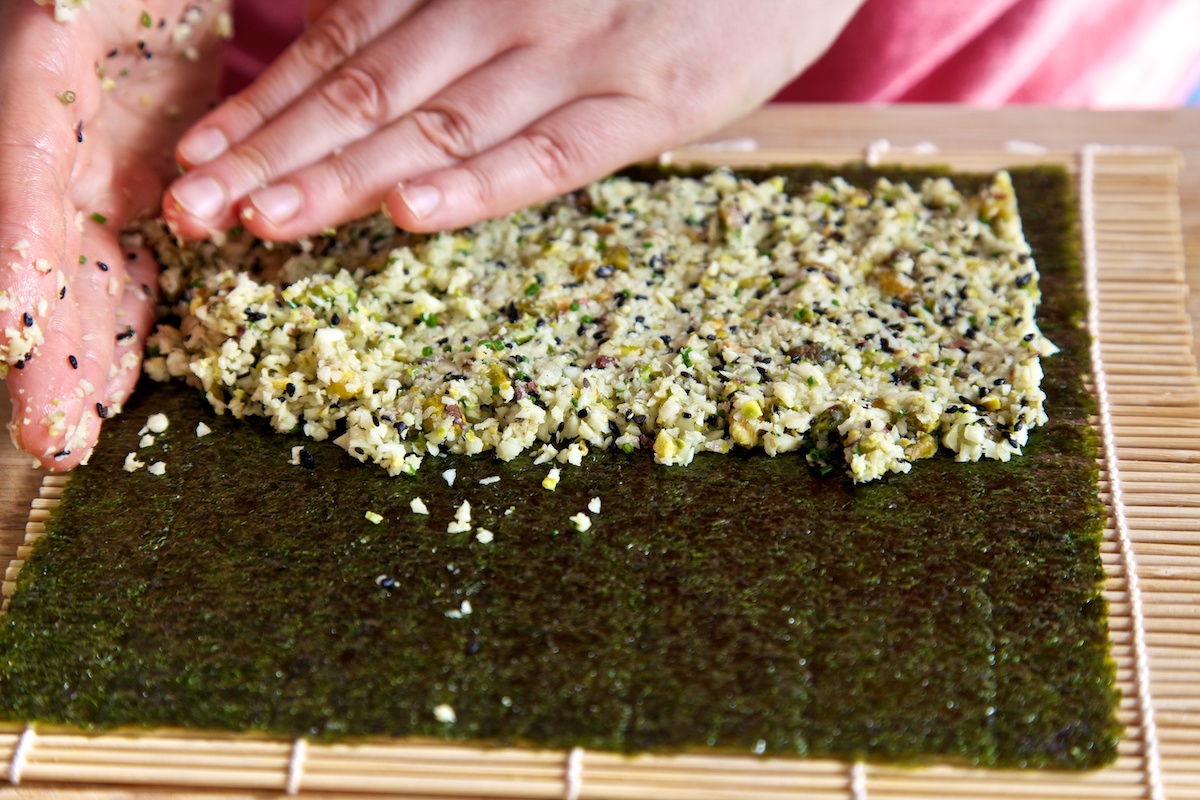 Ingredients & Substitutions
Parsnip rice: a popular substitute for raw parsnip rice is raw cauliflower rice, which would work here.  You could also use daikon radish (mooli), which is quite peppery and watery, so after it's been pulsed in the food processor, you'd need to strain it out using a nut milk bag.  That stage is not needed for parsnip rice or cauliflower rice.
Pistachios – these provide a nice flavour and colour burst.  Lots of people like to use pine nuts instead, which certainly works.
Salt – should be a high quality grey salt.
Chives – are there for extra flavour and colour.  You could leave them out if you want to have minimal ingredients.
Sesame seeds – provide yet more colour if you use black ones.
Cold pressed sesame oil – is there to bring the flavours together, but can be left out if you want to make this oil free.  Can also be substituted for olive oil.
Marinated mushrooms: Shiitake mushrooms work really well in this sushi, but you could substitute with chestnut mushrooms or even portobello too.
Apple cider vinegar – get a good raw one if you can, it's very easy to get now and contain the 'Mother' culture and all the probiotics that come with that.
Cold pressed sesame oil – adds a nice texture to the mushrooms and brings the flavours together.  Again, if you want to make this oil free you'll be used to not having the texture and taste oil brings, so you can leave out.  Can be substituted for olive oil.
Tamari – brings saltiness and depth of flavour.  Is naturally gluten-free.
Miso Sauce:  a homemade miso sauce for this sushi really brings it to life.  If you wanted something simpler, just a bowl of tamari is great for dipping.
Barley miso – red miso would also work wonderfully.
Umeboshi plum vinegar – is the most authentic for this dish, but if you don't want to buy it just for this, you could use raw apple cider vinegar.
Ginger & garlic – both peeled.
Maple syrup – a little sweetness is all that's needed.  You can substitute for your favourite liquid sweetener.
Water – filtered is best for health purposes, but also for affecting the taste of the recipe, which a lot of people don't consider.
Cold pressed sesame oil – will bring the flavours together and give a really nice consistency.  If you want to make this oil free you could substitute for a few cashews.
Toasted sesame oil – is there purely for flavour.  If you don't ant to use a toasted oil then just leave it out.
Nori sheets: the untoasted ones would be ideal for this raw vegan sushi.  They are darker in colour than the toasted version, which is lighter and has a green tinge.  It will usually say on the packet if it's toasted or untoasted.
Veggies for rolling
Red bell pepper – any colour would be nice.  I'd stay away from green, since there's already a lot of green in the roll.
Avocado – gives a lovely creamy texture against the crunchiness.
Salad cress – adds a fresh taste and is wonderful for presentation if you leave some hanging out the end.  Any kind of microgreen would be good for this.  Peashoots and sunflower greens are a favourite.
Cucumber & carrot: neither of them are included in this recipe, but they would make great additions.  Make sure they are cut into thin strips.  I'd suggest removing the seeds from the cucumber.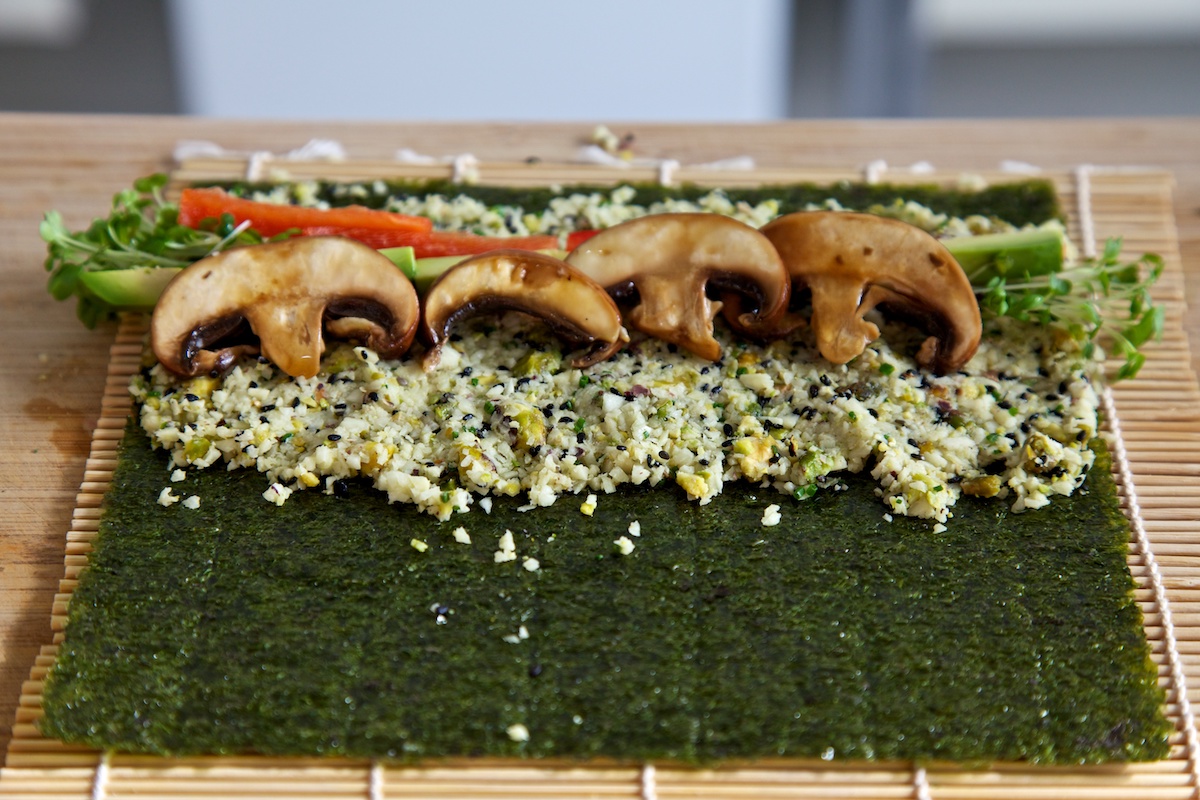 How to Make Raw Vegan Sushi
Refer to the full recipe below on how to make raw vegan sushi, but here's the basic method:
First prepare the marinated mushrooms.  It's definitely worth doing this step, since they'll provide a really nice flavour burst Vs just using dry mushrooms.
Next you're going to prepare your parsnip rice in the food processor.  Only pulse it enough to break it down to be 'rice-like', we don't want this turning into mush!
Next get your miso sauce done, so it's ready when your sushi is rolled and ready for you to eat.
Finally, assemble the sushi when you're ready to serve.  I find it easier to use a rolling mat and place my nori on top.  Nori is a type of seaweed that has many health benefits.

You'll be placing down the parsnip rice first, then the filling ingredients.  I like to use a rolling mat to roll.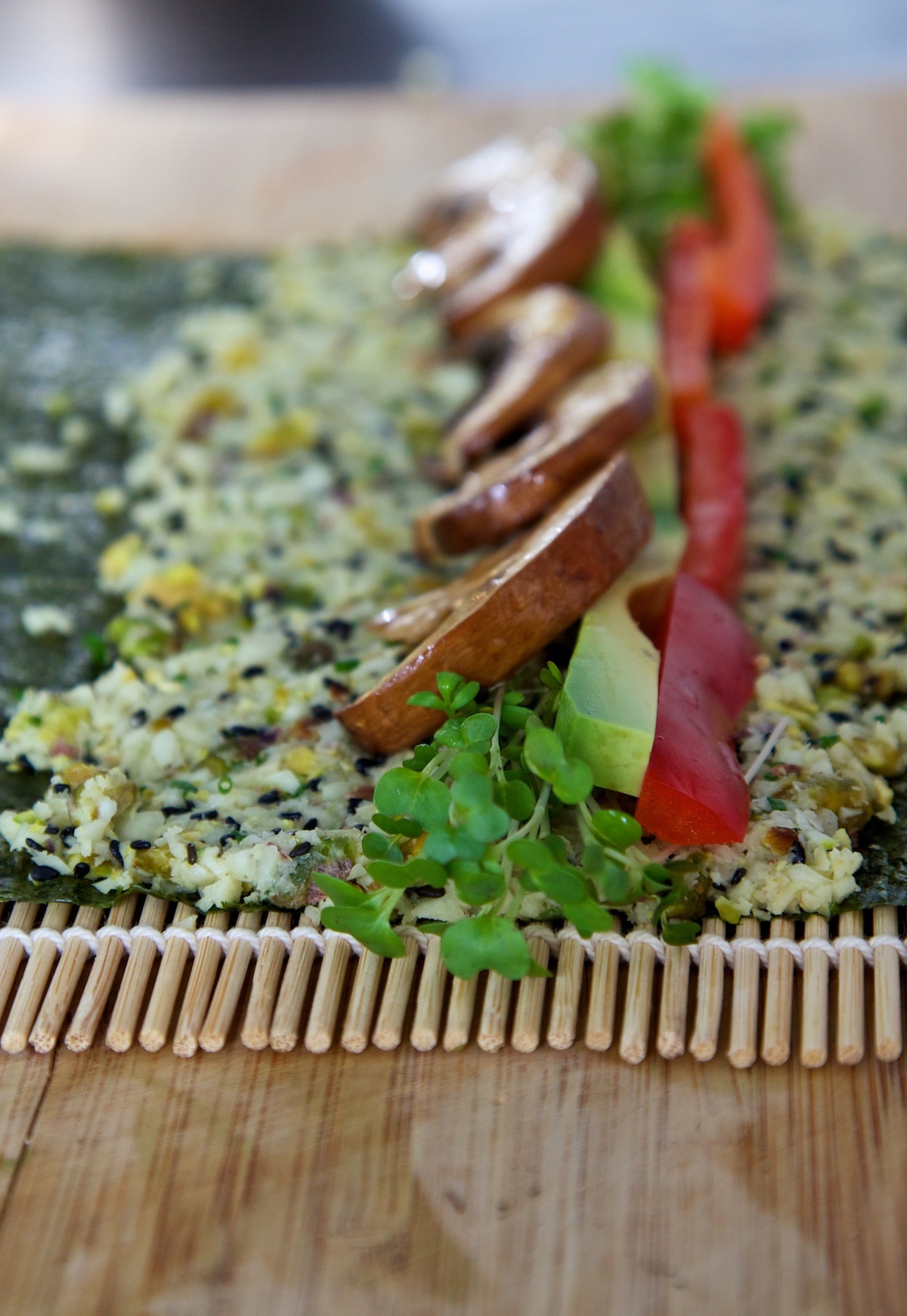 ⭐
When I moved my website over to a new platform, I lost all comments and ratings. So I would love to encourage you to rate this recipe - it helps it get seen. If you have a comment or question, please do leave it below too.
Recipe for Raw Vegan Sushi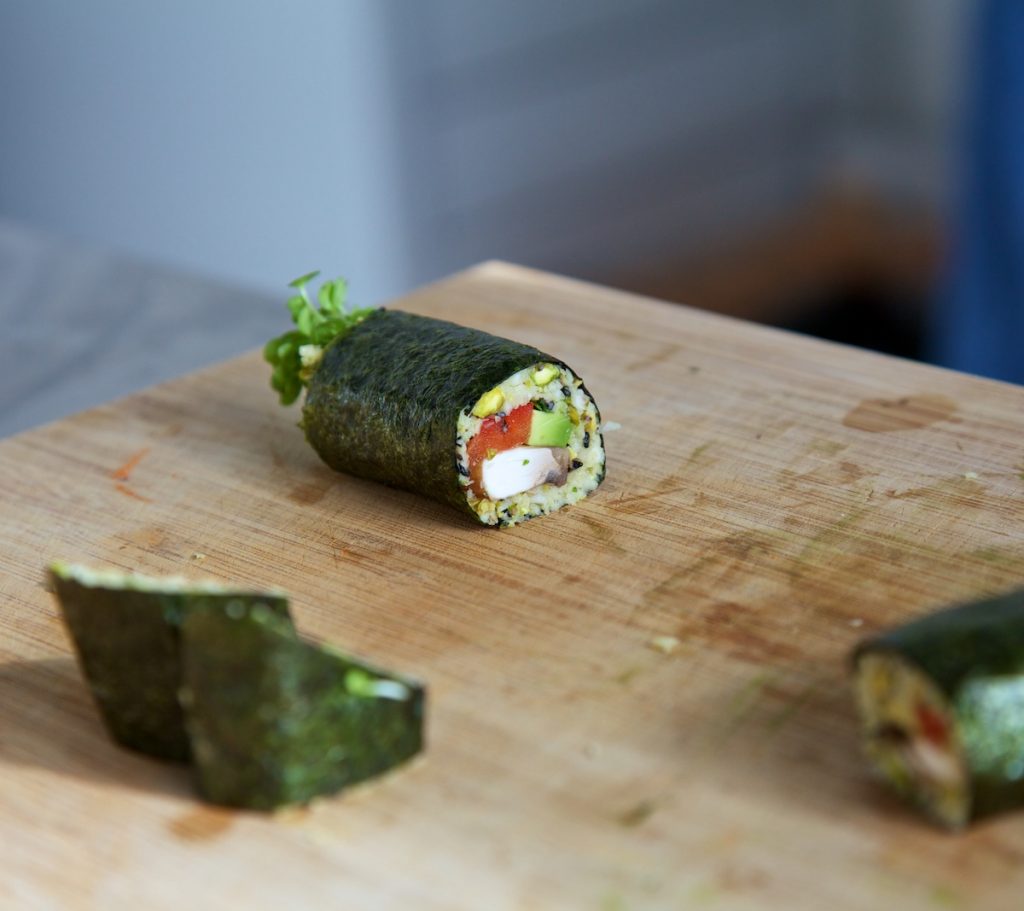 Raw Vegan Sushi Recipe FAQ
What types of sushi are vegetarian?
Any sushi without fish, shellfish or any kind of meat would be considered vegetarian.  Some sushi rolls contain cheese, such as cream cheese, which fits into a vegetarian way of eating.
Which sushi is vegan?
Some sushi has cream cheese in it, such as a Philadelphia roll.  You may also find some sushi rolls with eggs in.  Because vegans don't eat any animal products whatsoever, you'd need to avoid these as well as the more obvious fish and meat fillings.
Is all sushi raw fish?
Sushi refers to a dish with a type of seasoned rice.  The raw fish element is actually sashimi.  So not all sushi contains raw fish.
Is raw food vegan?
Raw food in its most common form is vegan, yes.  Some people that eat raw don't necessarily eat raw because it's vegan, they eat raw for the health benefits.

Some of those people may also include some raw eggs and milk in their diet, when they can get them from a high quality source.  Some people may also go further and have raw fish and meat.
Does raw food mean things like sushi?
The first time people hear about raw food, they tend to assume it means sushi, because that's the most well-known raw food.  But the most common version of a raw food diet is all vegan.  As mentioned in the answer above, some people do find they benefit from adding a little raw dairy or eggs.
For more raw food recipes like this, visit our Raw Vegan Recipes index page.
💡
Let's do more together
🎥
Join my YouTube channel.
Join as a 'Supporter' to support free videos, or 'Supporter+' to get access to YouTube livestream replays.
🌱
Take a raw food course.
Deep dives into all areas of raw food preparation with support via exclusive forums.
❤️
Subscribe to All-Access
on this site to unlock premium recipes and lessons (see below).