Watermelon 'Tuna'
The texture and taste of this watermelon tuna is quite something. Of course, it's not exactly like tuna, but it is a really fun new way to get a completely different texture to watermelon that can be used in your raw vegan sushi, or poké bowls.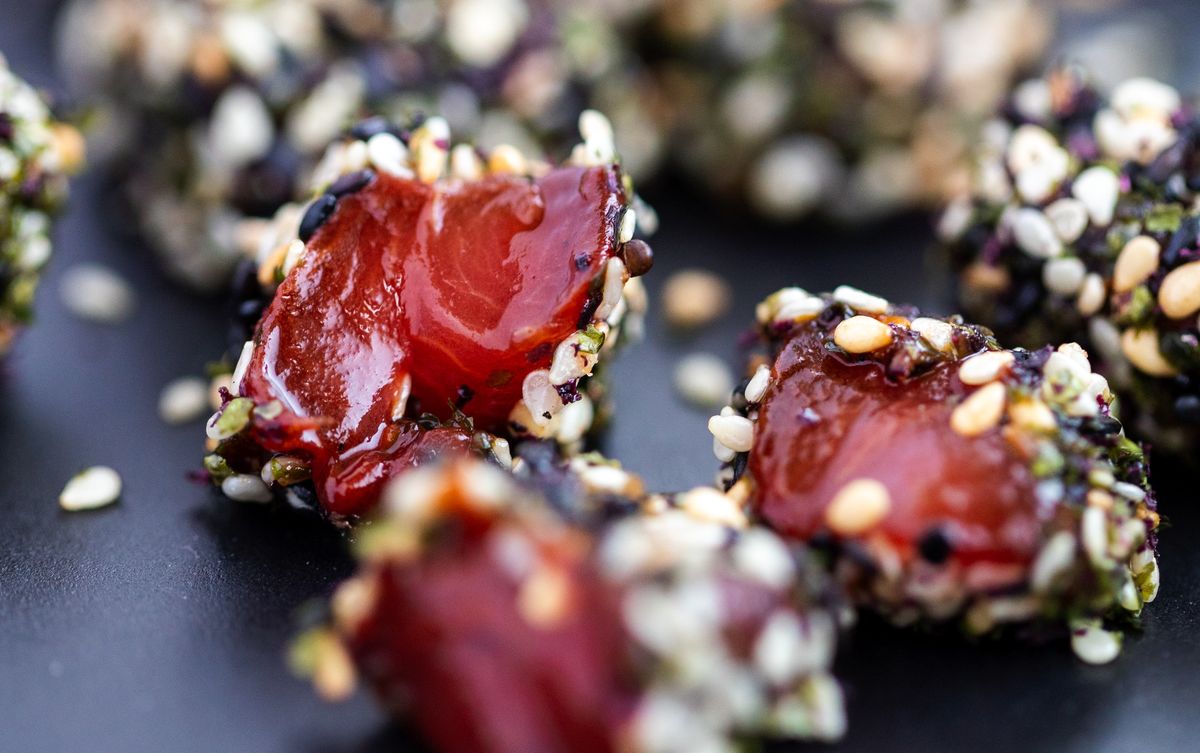 📺
I did a livestream showing how to make this pepperoni on YouTube
here
. Livestreams on YouTube are free for anyone to attend live.
If you want to watch the replay, that's available to YouTube channel members: Supporter+
My channel supporters help me create more free recipes and videos.
This is a fun little recipe. As you can see from the images, this ends up looking very much like tuna.
The texture is something to behold; the crunchiness of the watermelon transforms into soft, tender and flavourful replacement for its namesake.
But although you can use this as a replacement in sushi and poké bowls, I prefer to see it as a celebration of the fruit and what can be done with it. Rather than trying to make it, "just like tuna".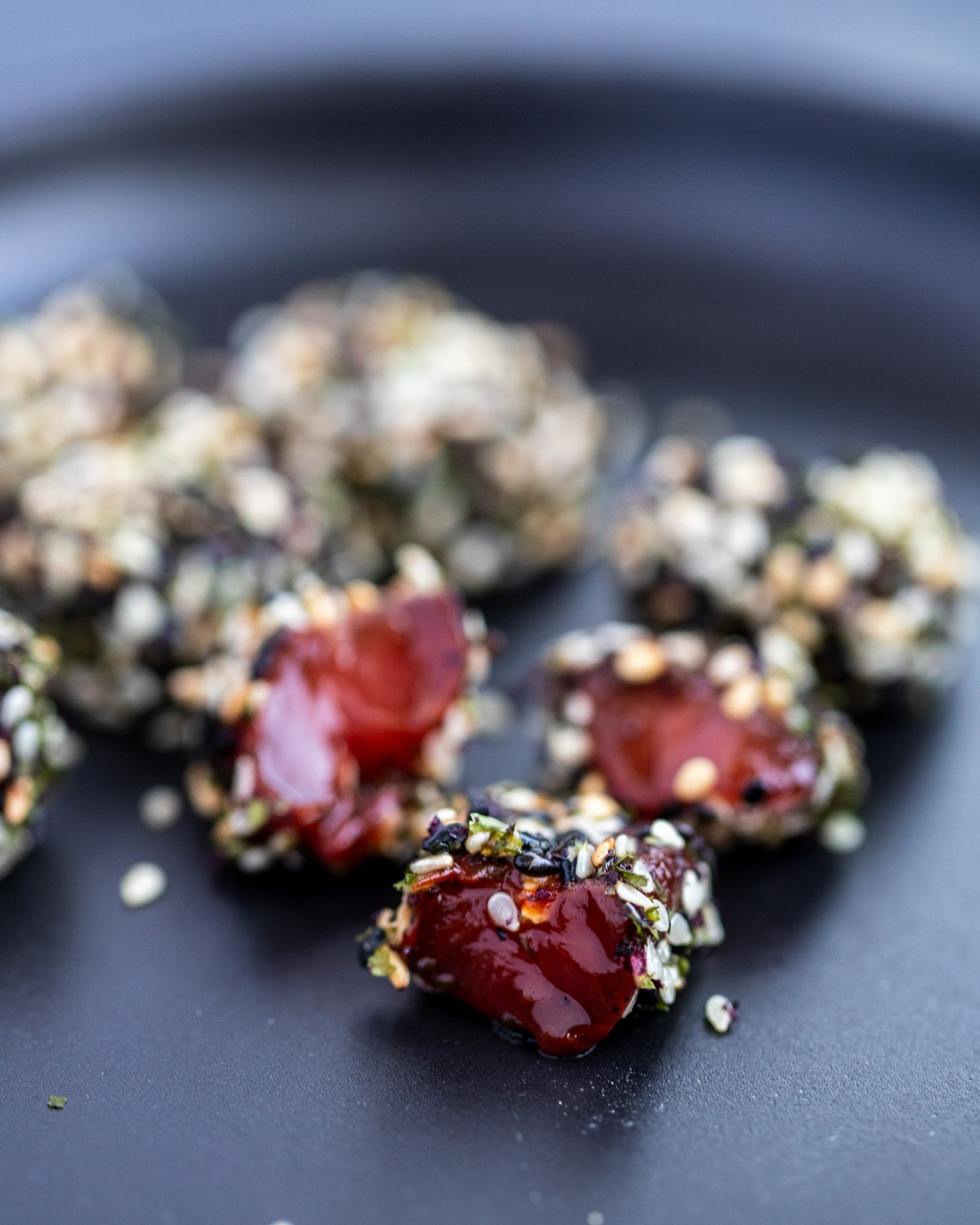 How to make watermelon tuna
The full recipe is below, but here's the lowdown:
Firstly you're going to cut your watermelon into cubes or strips. Cut them knowing that they will shrink a little during the process.
Then you're going to marinate in lime juice, fresh ginger, sesame oil, tamari, chilli flakes, nori flakes and olive or avocado oil.
I'd suggest marinating overnight if you have time. 4 to 6 hours is the minimum I'd say.
This is a raw food website, so of course I've given you the dehydrator version. But if you've stumbled upon this recipe (welcome) from a search engine, you may not have a dehydrator. So I've given you the cooked oven method too.
If you've got some leftover you can dehydrate it for longer, turning it into a sweet and savoury snack, a little like jerky.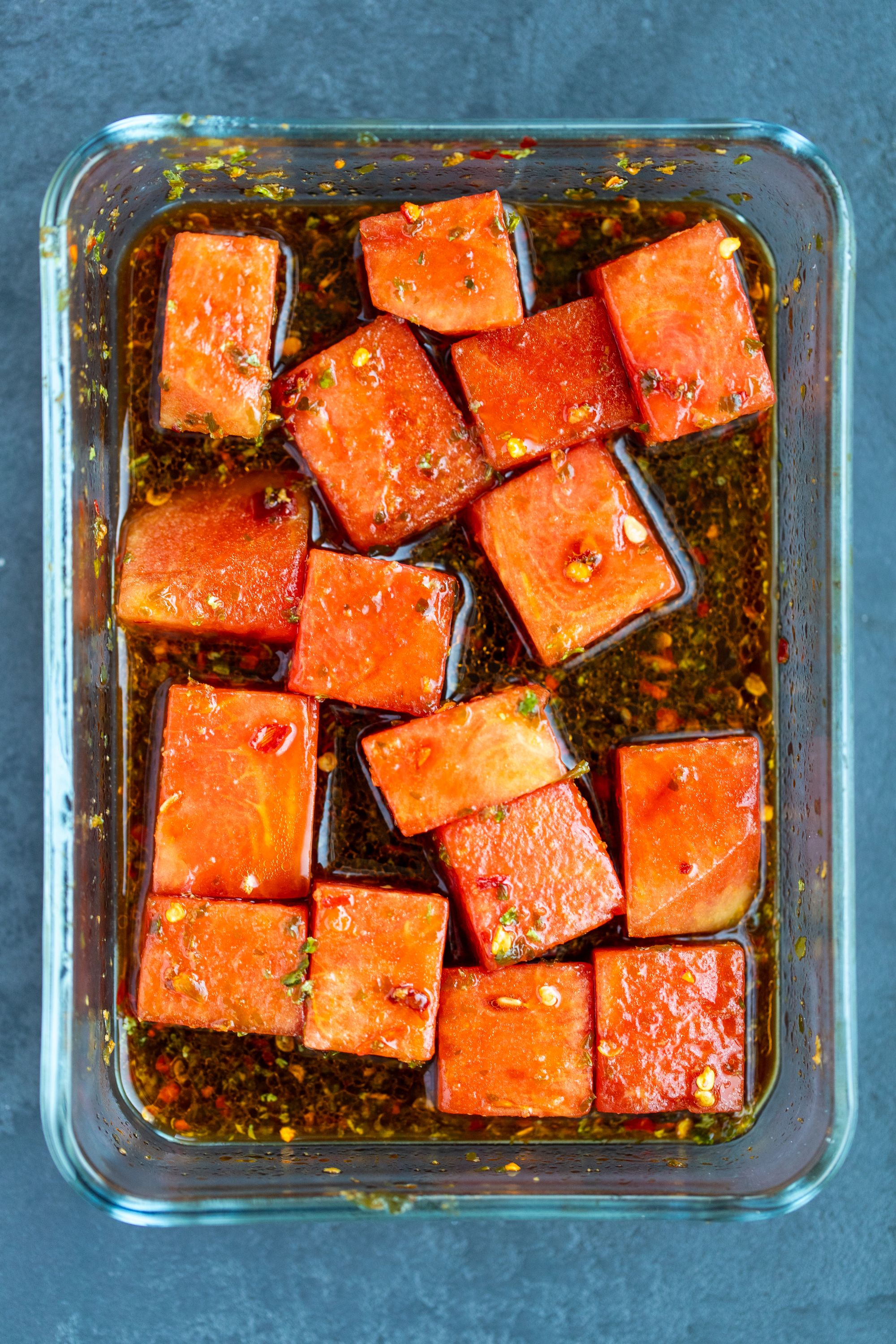 ⭐
When I moved my website over to a new platform, I lost all comments and ratings. So I would love to encourage you to rate this recipe - it helps it get seen. If you have a comment or question, please do leave it below too.
Watermelon Tuna Recipe