Raw Vegan Lasagne
Raw Vegan Lasagne is perhaps the most quintessential classic raw food dish. I'd say it's probably introduced more people to raw food via retreats and restaurants than anything else. This is my take on this classic raw food recipe.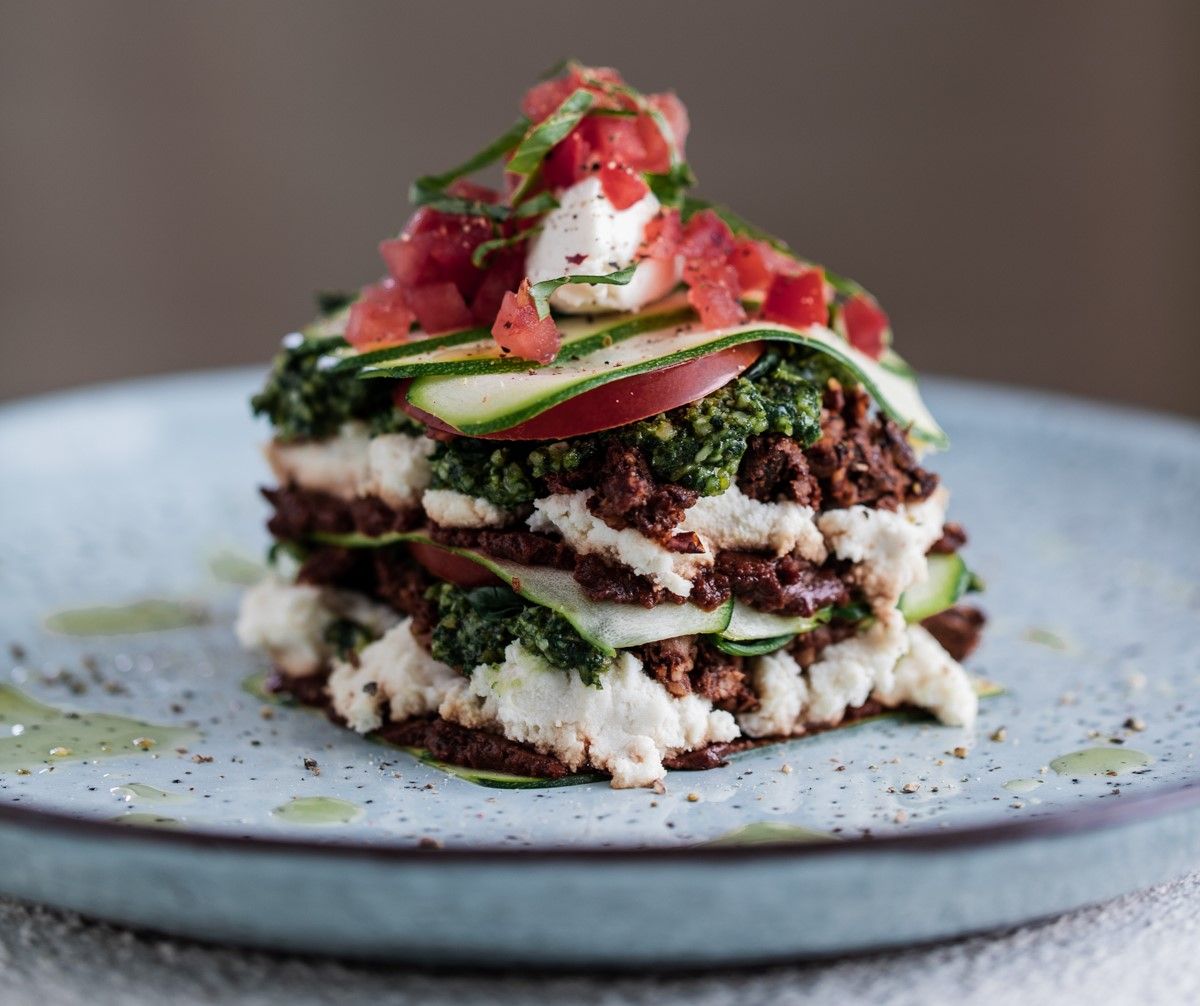 The absolute top of the pack raw food classic, raw vegan lasagne is always a crowd pleaser. It's got multiple stages, so it's going to be a dish that you create for special occasions. That being said, regular lasagne does take quite some preparation time too, so it's not that far removed from it's cooked inspiration.
If you do want to shorten the time you spend on this, you can leave out the fermentation stage of the cheese and simply blend all of the ingredients from the first and second stage together. I would definitely suggest taking the time to do the fermentation though, since you'll end up with a much nicer dish. It'll have more nutritional value too.
How to Make Raw Vegan Lasagne
Raw lasagne wasn't my idea, it's just one of those dishes that people love and have known about forever. Even today people are discovering raw food through this fantastic little dish. This is my take on that dish. I published the first version of this in 2007 and have only just given it a revamp, which shows you what a great dish it is, seeing as it's still consistently one of the top posts on my site.
In this post I'm going to show you how to make individual lasagne portions, built on the plate. Alternatively you could certainly use a baking dish to build one big lasagne, keep it in the fridge for up to 3 days and cut portions from it as needed.
You'll see most raw and plant-based lasagne recipes just include a nut cheese, pesto and tomato sauce, which is wonderful and more in keeping with the original recipes for this dish. I've also added a meat sauce element, which is entirely an option, but does give something extra.
If you want to add a raw plant-based parmesan cheese you could follow this recipe: Pine Nut Parmesan. Or you can make a quick parmesan by using a Microplane to grate macadamias very fine, then mix in a bowl with a little nutritional yeast and salt.
You'll definitely want to refer to the full recipe below, but here's an overview of how to make raw vegan lasagne:
As mentioned above I like to ferment the macadamias, so they make a tree nut cheese. If you want to save a bit of time and preparation, you can leave out the fermentation stage if you want and just blend the ingredients together.

You're also going to be making your other layers, for when you're ready to build your raw lasagne. That means the tomato sauce, the pesto, the walnut meat layer and the spinach.

The walnut meat layer is something I came up with as an additional layer, to make the whole thing a bit more meaty and substantial. Again, if you're looking to try this but want to start with an easier version of the recipe, you can leave out this layer.

The other thing you're going to need is fine cut zucchini / courgette strips for the 'pasta' layer. Ideally these would be done on a mandoline, but it's also completely possible to do them with a ribbon peeler.

In the video below you'll see me talk about making this lasagne as individual portions. I prefer this way of doing it because they look so fantastic served like this. However, a more practical and everyday approach would be to make one bit lasagne in a baking dish and cut individual portions as you need them.
Here's what the stages look like for building the individual lasagne. You'll see we've garnished with a quenelle and some small dice tomatoes, plus some chiffonade basil.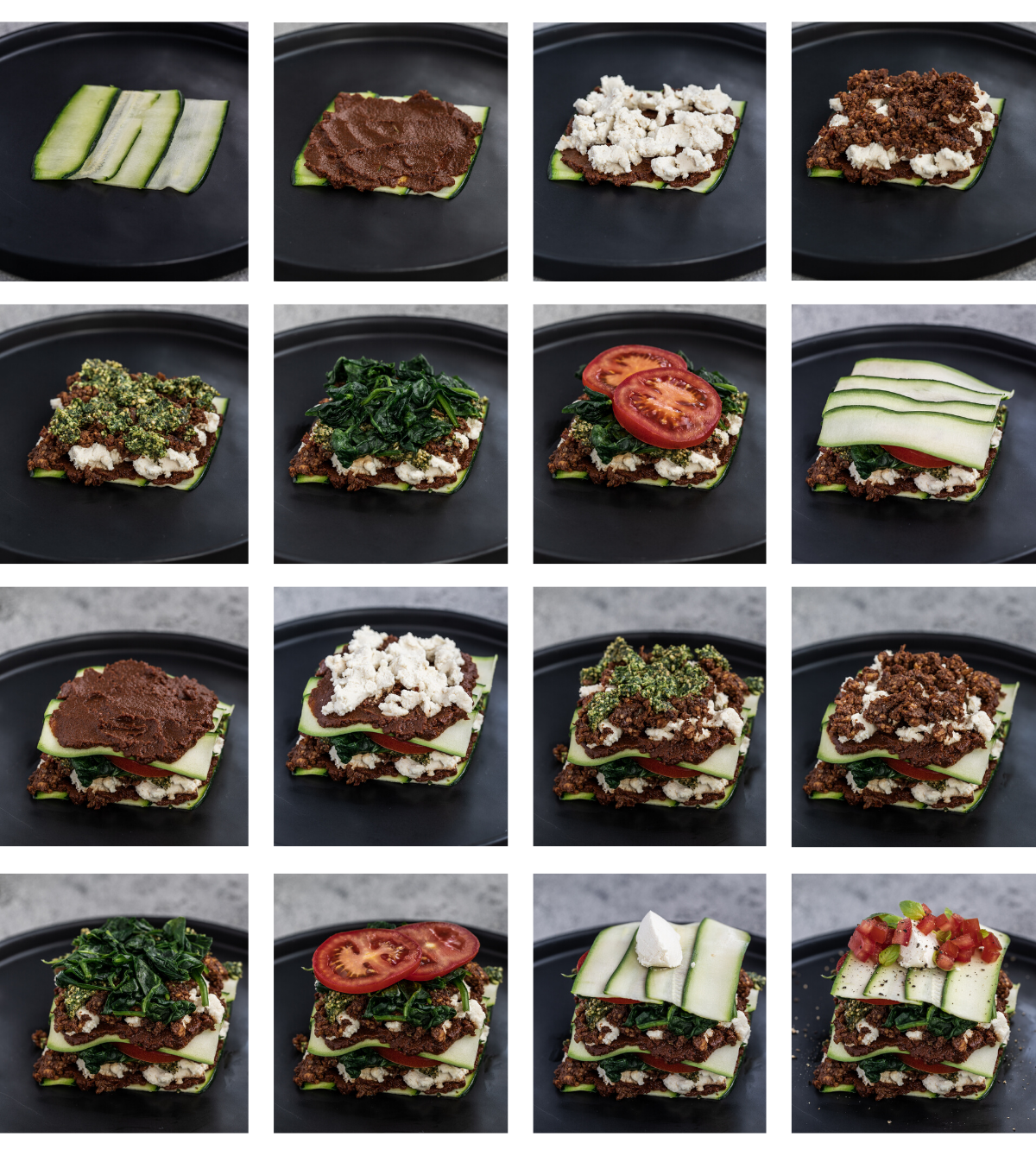 ⭐
When I moved my website over to a new platform, I lost all comments and ratings. So I would love to encourage you to rate this recipe - it helps it get seen. If you have a comment or question, please do leave it below too.
Raw Vegan Lasagne Recipe
Raw Lasagne Ideas & Variations
If you have leftovers of any elements in the recipe, there's a bunch of different ways you could use them.
An initial idea that comes to mind is to use some or all of the elements in courgette/zucchini rollups. This would involve cutting strips of courgette/zucchini and spreading a little of each the full length of the strip, then rolling up into bite size pieces.
You could also make the leftovers into an incredible salad. Get yourself a nice fresh green salad together, with some tomatoes, olives, peppers, cucumber – whatever you want really.
The pesto would make a great dressing on it's own. You could also combine the cheese and pesto, add a little water and maybe a dash of extra vinegar to make a dressing too. You could then crumble some of the walnut meat layer over the top.
Or you could mix the tomato sauce with the cheese and do the same, adding a little vinegar perhaps, to make a dressing.
If you have any raw breads hanging around, any of these leftovers will make fantastic open faced sandwiches, or even mini pizzas. OK, no I'm getting hungry thinking about how amazing that would be! 🙂
We have some free raw bread recipes here, or if you want a deeper dive into raw breads, including pizza bases, check out our online course: Raw Breads, Crackers & Wraps here.
---
Read Next...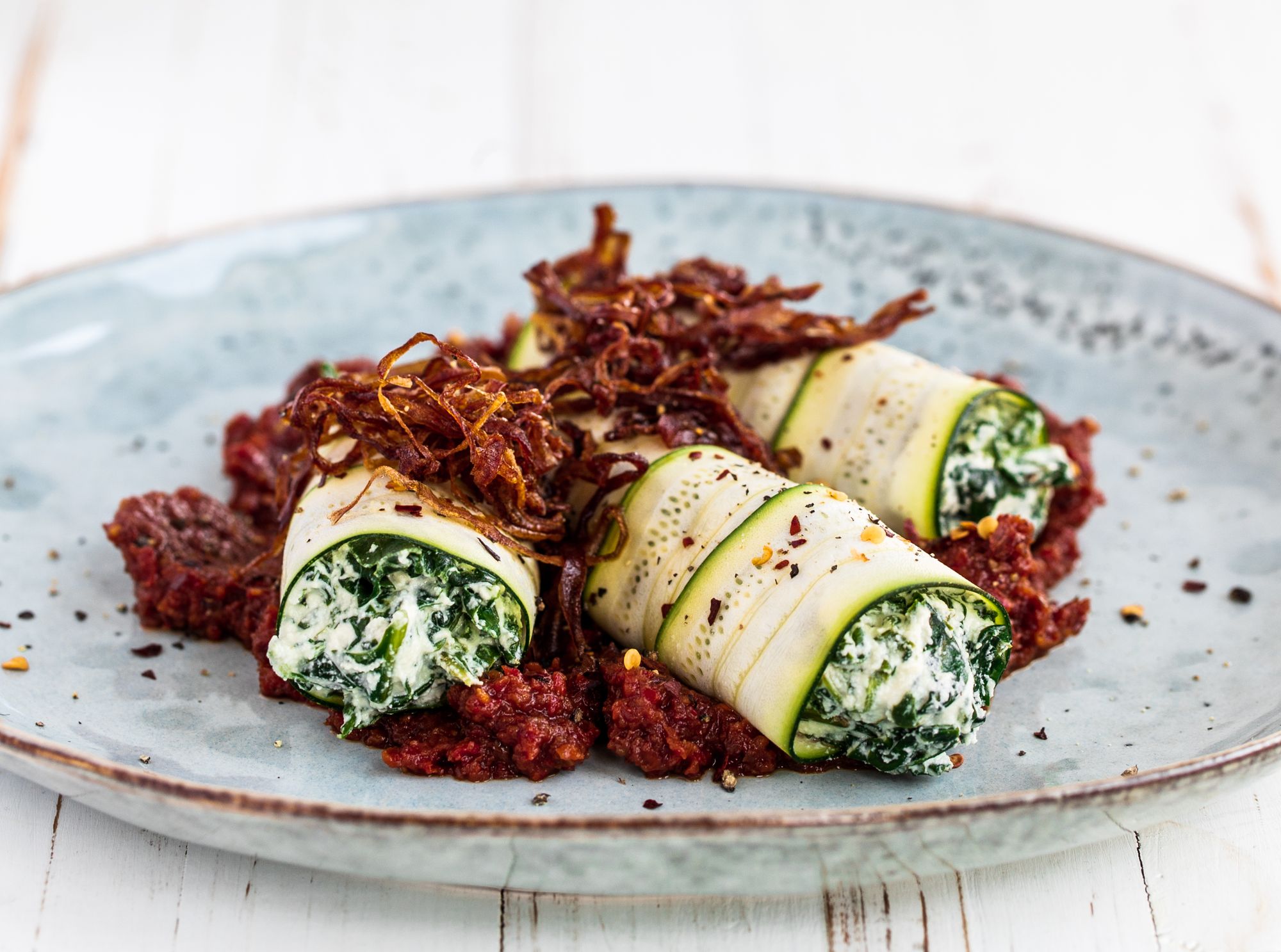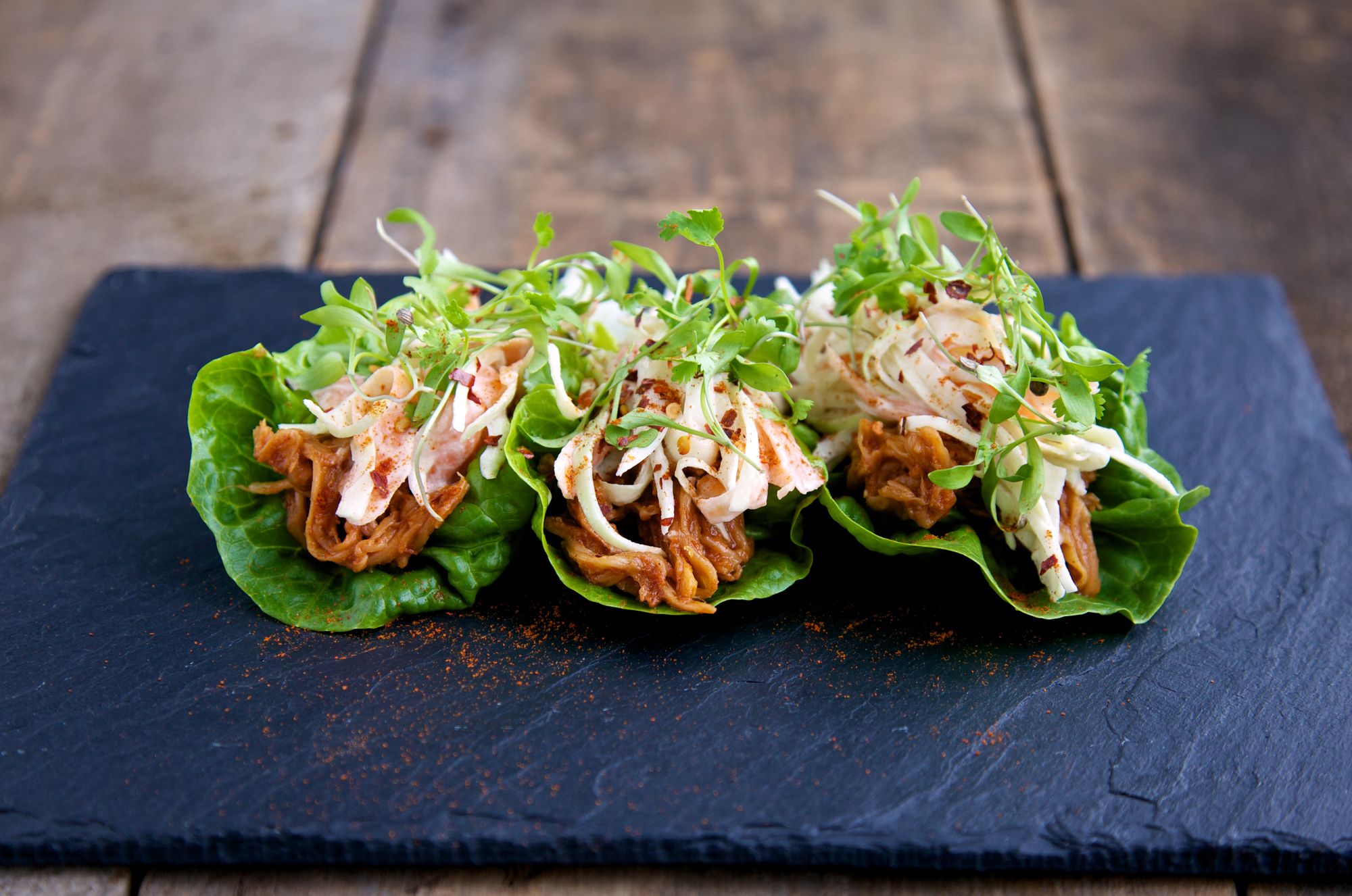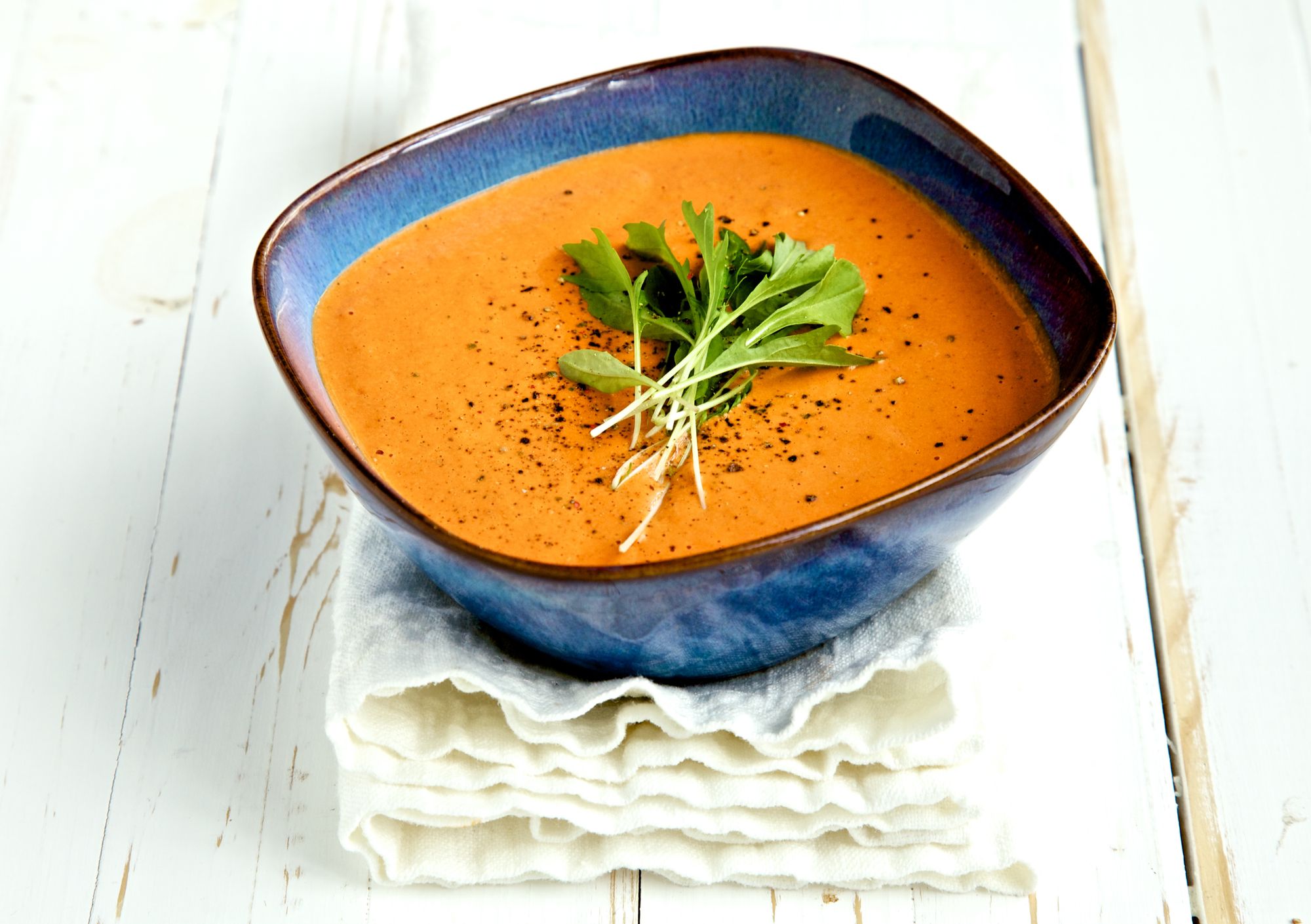 ---