Sauerkraut, Avocado & Cumin Bowl
I'm eating a LOT of sauerkraut right now. I mean, Eastern European amounts. I think I'd enjoy Eastern Europe… I really must spend some more time there.
If you'd like to join me in eating lots of sauerkraut (but not on hols in Eastern Europe) then I've got the perfect recipe here for you. But why would you want to eat lots of sauerkraut?
Well as it turns out, this stuff is really good for your gut (and so much more). And if you're like me right now – having had an issue with any type of parasite – by eating sauerkraut, you're creating an environment those little critters really don't like at all.
Sauerkraut is also a great way to get large amounts of Vitamin C into your system, so much so that Captain James Cook packed it for his crew to fight off scurvy in ye olden days.
I don't plan to travel to Eastern Europe on a tall ship – although the more I think about it, the more I like the idea – but I do intend to make those pesky parasites walk the plank
A tiny little plank, to their deaths. Making a main meal out of Sauerkraut is the way to go here. Varying the type of kraut you make will also stop you from getting bored. For a fool-proof Sauerkraut recipe, we've got you covered here.  That recipe uses just white cabbage.  For the colour you see in this pic, use half white and half purple.
Oh, and before you say that I've called it a 'bowl', but in the pic it's a plate, hold on, because I normally do eat it out of a bowl. . .quick and dirty.  But that doesn't make a very nice picture.  And I like nice pictures. 🙂
If you'd like a deeper dive into all things fermented, check out our Raw Fermentation at Home Online Course.  That course is also available in All-Access.
Here's the recipe. . .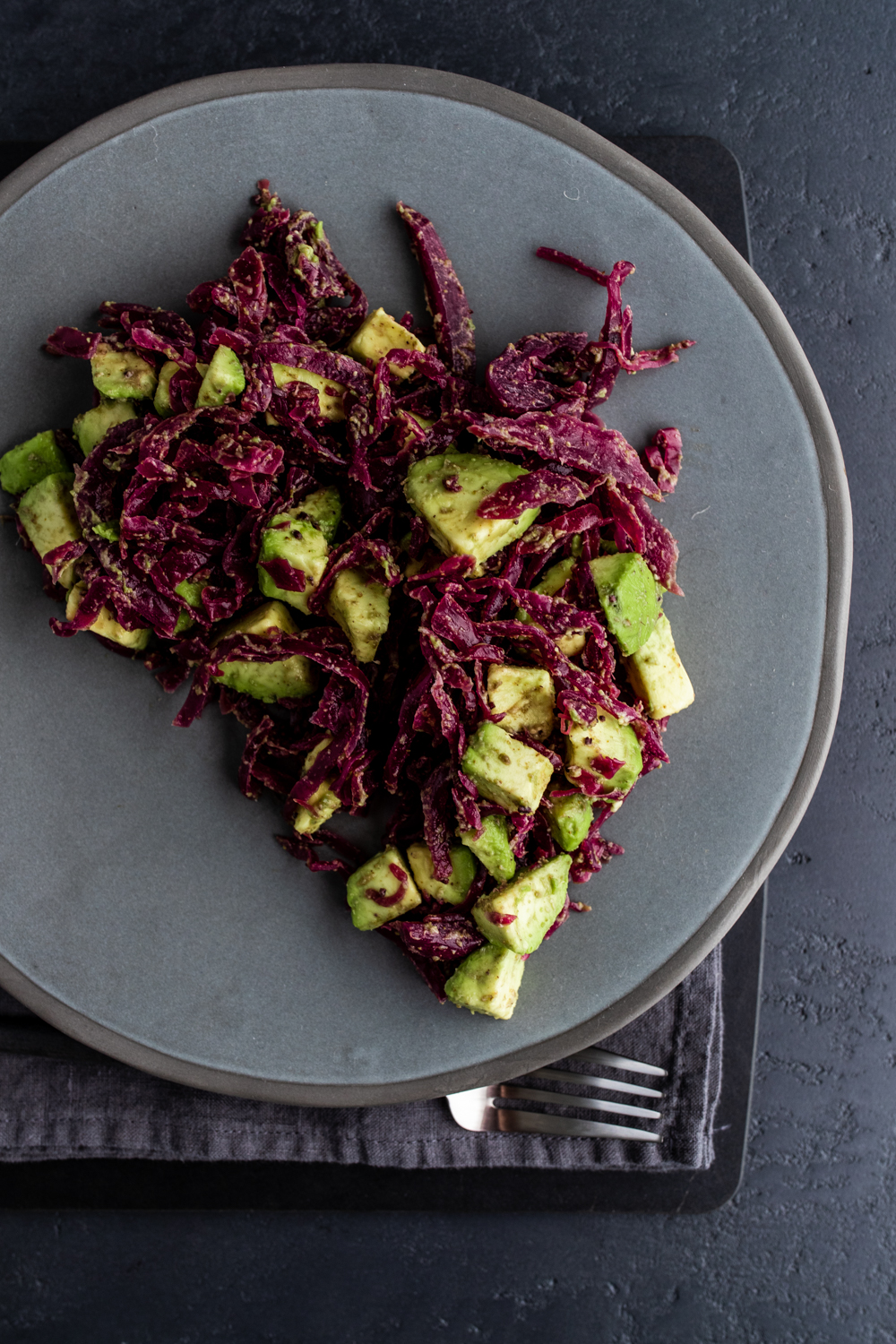 Rate This Recipe
Sauerkraut & Avocado Bowl
This recipe is very easy to make apart from making the sauerkraut.
Nutrition (For one serving)
Calories:
381
kcal
Carbohydrates:
27
g
Protein:
9
g
Fat:
30
g
Saturated Fat:
4
g
Sodium:
1245
mg
Potassium:
1366
mg
Fiber:
19
g
Sugar:
4
g
Vitamin A:
293
IU
Vitamin C:
41
mg
Calcium:
67
mg
Iron:
4
mg
Ingredients
1

avocado

1

cup

raw sauerkraut

1/4

tsp

onion powder

1/4

tsp

cumin

1/8

tsp

salt

optional as it depends how salty you made the sauerkraut

1

tbsp

nutritional yeast

optional
Instructions
Scoop the avocado and cut into chunks.

Combine everything in a bowl and eat from the bowl, or transfer to a nicer bowl/plate if you're feeling posh.
Notes
Other things you can add if you want to try them out: Pinch cayenne pepper 1/2 teaspoon chipotle powder 1/2 teaspoon smoked paprika 1/4 teaspoon apple cider vinegar Several handfuls of organic green leaves for a more hearty salad.