Sauerkraut Crackers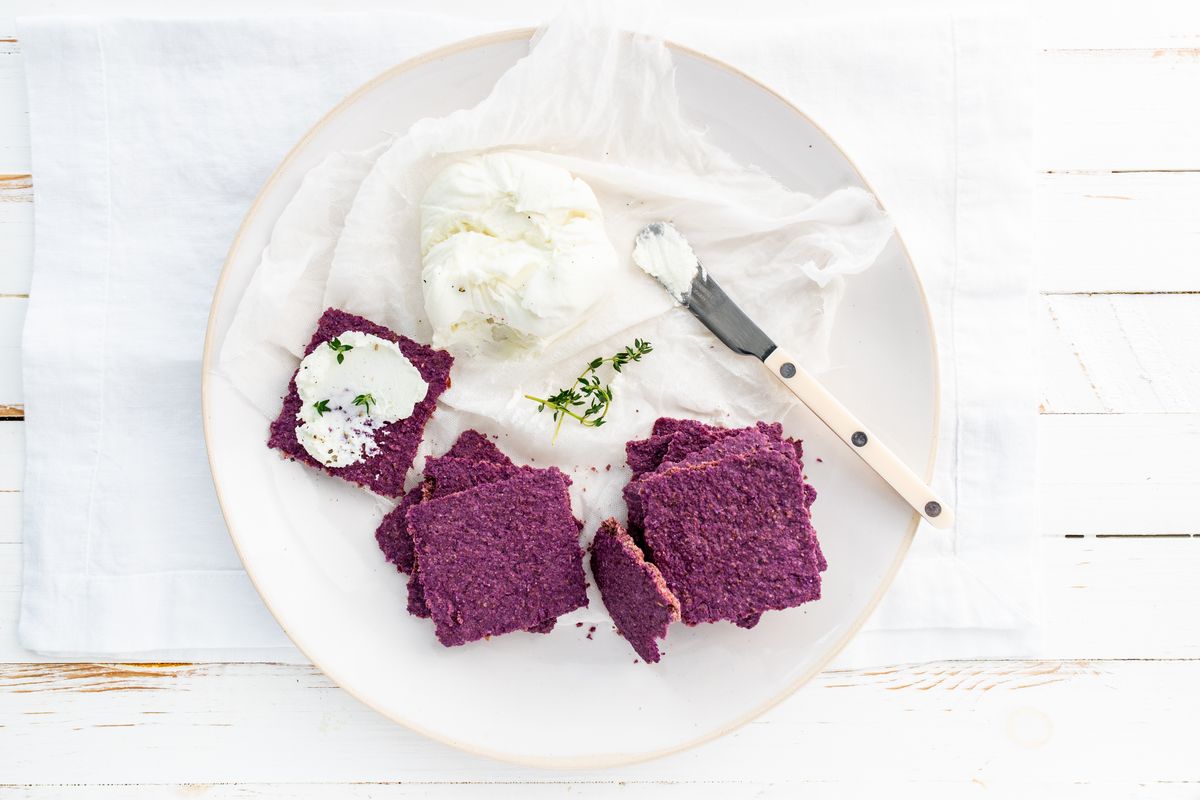 These Sauerkraut Crackers are not only beautifully piquant, they strike a perfect crumbly Vs crunchy mix and, oh, they're also full of gut friendly probiotics.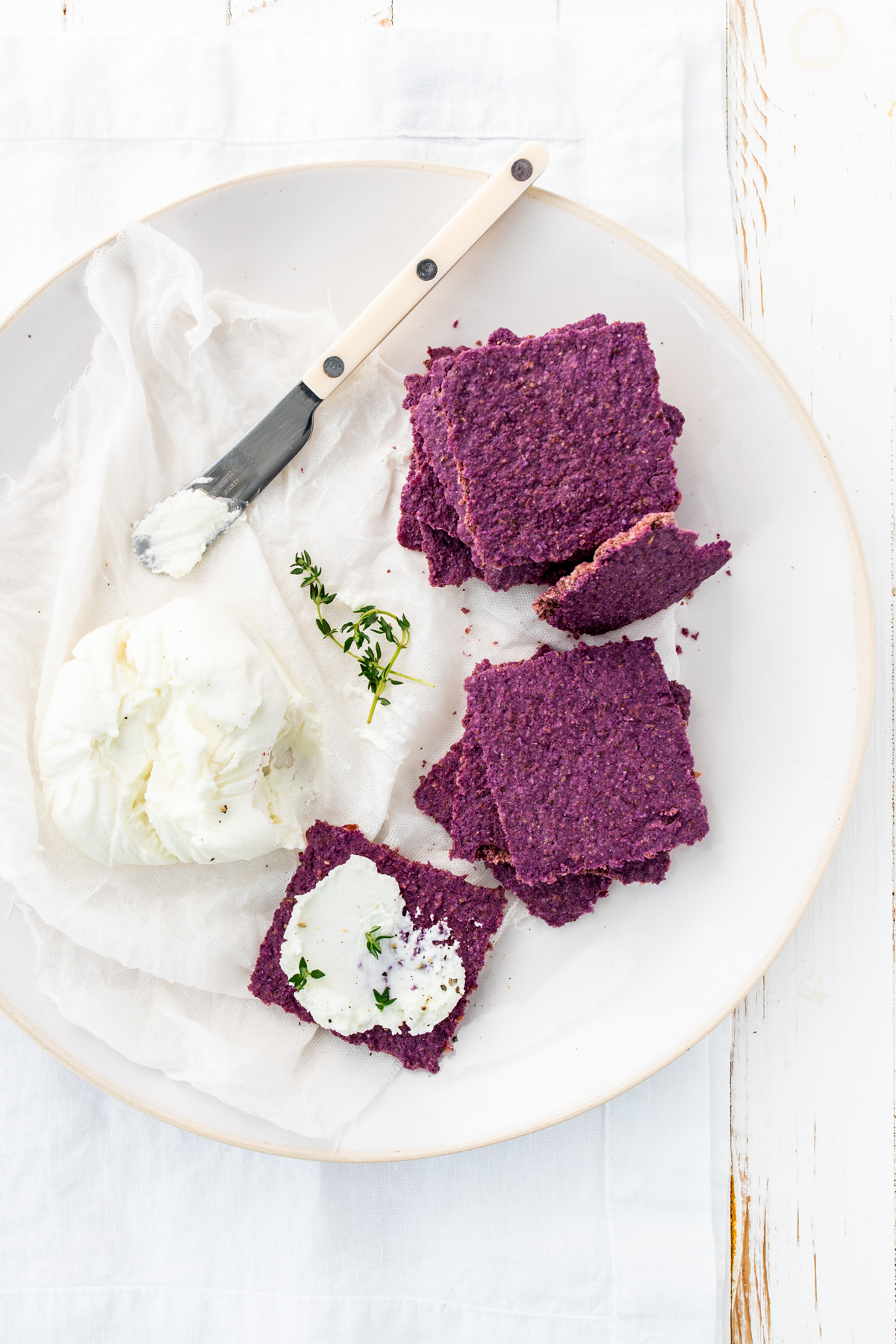 These are my new favourites!  These Sauerkraut Crackers are perfectly piquant and full of gut friendly bacteria from.  They go insanely well with spreadable cashew cheese, you really have to try them.
For the picture I've used red fermented cabbage, rather than traditional white sauerkraut because I wanted that beautiful bright colour.
The recipe calls for sauerkraut brine or water.  For nutrition purposes brine is better, since it has all of those bacteria in.  If you're using red cabbage as I've done here, using the resulting purple brine will give you an even more glorious colour.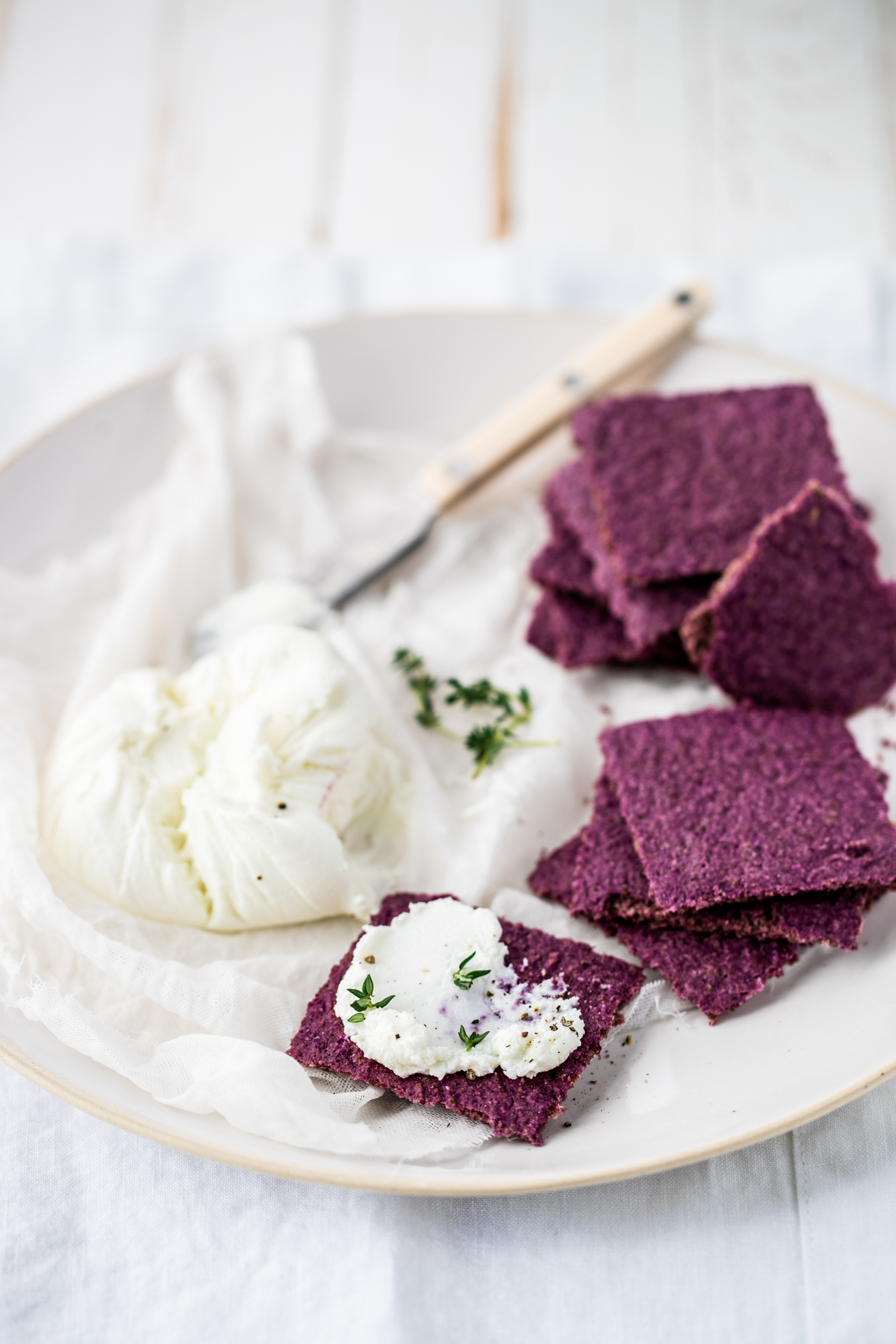 How to Make Sauerkraut Crackers
Here's an overview of how you'll be making these crackers.  For the full printable recipe scroll down to the bottom of the page.
Some simple preparation is needed for these crackers.  You'll need to have a batch of sauerkraut ready to go, preferably with a decent amount of brine in.

You'll also need to sprout buckwheat.  The rate at which it sprouts depends on the temperature of your kitchen (if that's where you're sprouting it).  As a general guide two to three day's worth of sprouting should see enough growth to x2 or x3 the volume of your original buckwheat.


The ground almond needed for this recipe is different from almond flour.  Ground almond isn't strictly raw because it's been blanched.  Unlike almond flour it still has the fat content.

You can substitute ground almonds with the almond pulp you get from making almond milk.  It will give a different texture to the final crackers, but they'll still be just as good; just a little different.  If you're using almond pulp I'd use 1.5x the amount.

You're going to gather everything into a food processor (I use the incredible Breville/Sage Kitchen Whizz Pro) and grind everything down to form a paste.


Taste the mixture for saltiness.  If your sauerkraut was salty it might provide all the salt needed for this recipe.  Remember that the final result will taste more salty in dry form because removing the liquid will intensify all of the flavours.

Similarly, if your sauerkraut had spices in it will effect the final flavour of the crackers.


Once you have it seasoned up to your taste, spread it evenly on to a square nonstick dehydrator sheet.


Dehydrate for 2 hours until it becomes dry enough to score into crackers and flip over to a mesh sheet, getting rid of the nonstick sheet.  This way air can circulate all the way around the crackers for a further 12 hours to get them completely dry.


They can now be stored at room temperature in a sealed container for several weeks…although there's no way they last that long without being eaten 🙂
Rate This Recipe4.16 from 57 votes
Sauerkraut CrackersThese Sauerkraut Crackers are not only beautifully piquant, they strike a perfect crumbly Vs crunchy mix and, oh, they're also full of gut friendly probiotics. Servings36 crackers
Nutrition (For one serving)Calories: 45kcalCarbohydrates: 3gProtein: 1gFat: 3gSaturated Fat: 1gSodium: 1mgPotassium: 35mgFiber: 1gSugar: 1gVitamin A: 4IUVitamin C: 1mgCalcium: 13mgIron: 1mg
1 cup ground almonds
½ cup buckwheat sprouted*
½ cup sauerkraut brine or  water
3 tbsp olive oil
¼ cup flax meal
5 ozs sauerkraut
2 tbsp nutritional yeast optional
1 tsp ground fennel seeds
1 tsp ground caraway seeds
Salt to taste
Instructions
Grind all ingredients in a food processor until smooth.
Spread thinly on a non-stick dehydrator sheet.
Dehydrate at 115F for 2 hours, remove from the non-stick sheet and score into individual crackers.
Return to the dehydrator on a mesh tray until crispy, which should be overnight or around 12 hours.
Notes*½ cup buckwheat in its dry state, which will be x2 or x3 when sprouted.For a video on how to sprout buckwheat search for 'the raw chef how to sprout buckwheat' in your favourite search engine.  Rate This Recipe  4.16 from 57 votes   Did you make this recipe?Tag @therawchef on Instagram or hashtag it #therawchef!